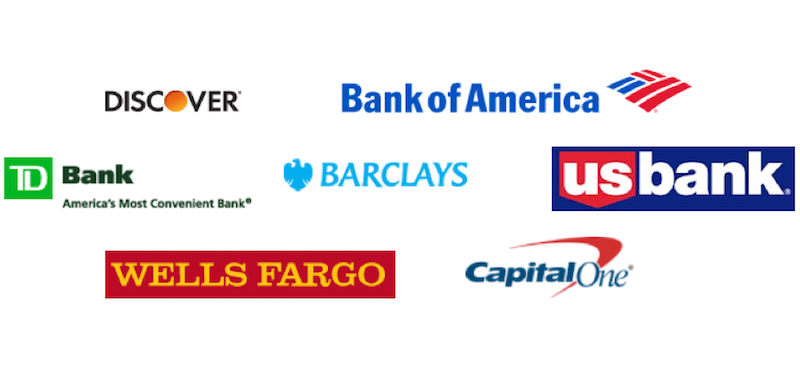 Beyond the big three banks with the best flexible points programs (Chase, AmEx and Citi) there's a second group of banks with travel/rewards credit cards worth exploring.
The longer you play this game the more limitations you start bumping into. Each bank has policies in place to limit repeatedly dishing out signup bonuses and rewards.
With the list below I sought to rank these "tier 2" banks in terms of the value of the credit cards in their portfolios so I could mentally prioritize my relationship with each of them going forward.
Conceptually, I considered the Net Present Value a typical points enthusiast could derive from each bank over the next couple of years considering signup bonuses, ongoing spend in the current climate, and the probability of malfunction with each of the banks.
Here's my ranking of these 7 "tier two" banks:
#1 Barclays
Pros
AA Personal 50,000 and Business 40,000 cards
JetBlue 40,000 card provides a path to Mosaic status without setting foot on a plane
Lufthansa 50,000 card opens award space on Lufthansa metal further out than for partners, and useful for domestic First on United
Arrival Premier offers value for those who easily spend $25,000 and make effective use of air transfer partners
Churnable
Cons
Unknown approval standards
Prone to shutdown
Review: They really missed the mark with their recently announced Arrival Premier card, but maybe they can patch things up by adding a signup bonus and opening up more transfer partners. Especially ones they already have relationships with. The real wildcard here is the probability of malfunction. Do I think you can get 4 Barclays cards in 2 years while churning cards from other banks? No. But you might be able to get 3, and with effective redemption you could get a lot of value out of the rewards associated with their cards.
#2 Bank of America
Pros
Premier Rewards card is worth $500 cashback
Virgin Atlantic 75,000 card has high but attainable min spend
Alaska 30,000 card is useful for a lot of partner awards, plus companion certificate
Increased credit card earning with Preferred Rewards makes their Premium/Travel Rewards cards 2.625% monsters
Cons
Will approve no more than 4 new BofA cards per 2 years
Setting up automatic payment of credit card online is ridiculously complicated
Prone to shutdown for high volume manufactured spend
Review: Not as free wheeling with approvals as they used to be, but as things currently stand there's some value to be had here. If you can get 4 cards every 2 years they're worth taking advantage of.
#3 US Bank
Pros
Altitude 50,000 card is worth an easy $750 towards any travel
FlexPerks program
[Targeted] $500 Business Edge card
Cons
Tough on approvals
Prone to shutdown for 3x digital wallet spend
Review: The inability to redeem rewards for more than 1.5 cents per point limits the upside of their programs.
#4 Wells Fargo
Pros
Visa Signature card earns 5x at gas/grocery/drugstore capped at $12,500 in spend first 6 months
Allows co-mingling points earned on different cards
Allows sharing points with others
1.5-1.75x upside when redeeming for air travel with Visa Signature
Cons
5x cards are severely capacity limited these days
Sinisterly incompetent customer service
Review: They once allowed an amazing amount of lucrative manufactured spend, but no more. This is a bank without a cohesive credit card strategy.
#5 CapitalOne
Pros
Venture card $500 signup bonuses
Spark $500-$1,000 signup bonuses
Simple redemption on 2x everywhere
Cons
They find it necessary to pull credit reports from 3 bureaus
Some have a hard time with approvals due to too many accounts across all banks
Shutdowns on business cards for spend "inconsistent with a business"
Review: Like Barclays, erratic approval criteria makes it hard to get excited about them long term.
#6 Discover
Pros
Double earning on rewards the first year, including 1.5x cashback card for 3% cashback first year
Cards with 5x in rotating categories
Strong online shopping portal
Good customer service
Cons
Acceptance isn't as widespread as Visa/MC
Shopping portal is hard to track and they want you to pay with a Discover card to earn cashback
Review: Solid cashback cards with little redemption upside.
#7 TD Bank
Pros
TD Aeroplan card
Some cash back cards
Cons
Small player, limited to the east coast
Review: For a bank that prides itself on being America's Most Convenient Bank they can sure be confusing to interact with.
Honorable Mention
Synchrony Bank for its Cathay Pacific 60,000 card
Banco Popular for its Avianca 60,000 card
And of course many regional banks
Further Reading: The Best "Tier 3" Credit Cards
What do you think? Any banks I missed? Disagree with the rankings? Let us know what you think.