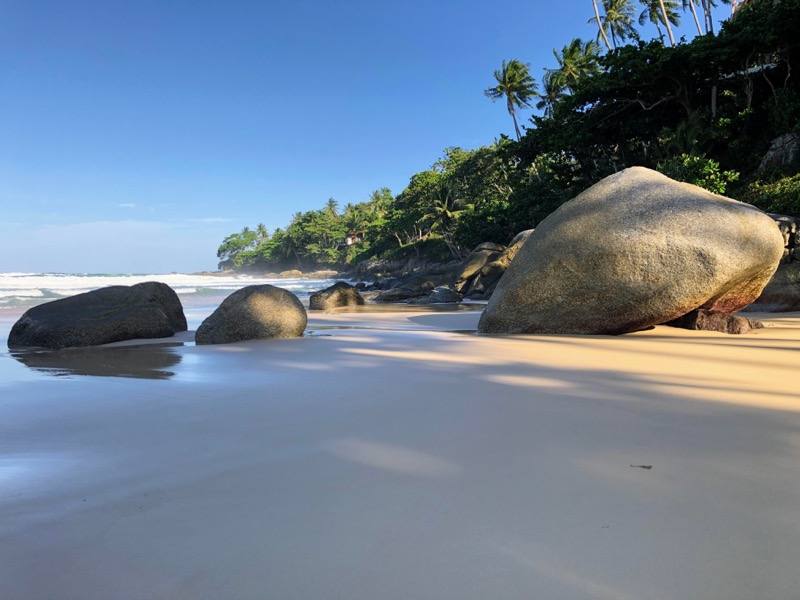 The main focus of our trip to Thailand was seeing rock formations in the Andaman Sea and staying at the Amanpuri resort in Phuket (pronounced Poo-ket). This post is an Amanpuri review. I cover a great tour of the Andaman Sea in this post.
Here's a quick 2 minute promotional video from Amanpuri that sums up the resort nicely:
Amanpuri Review: Selection
After arriving to the resort it occurred to me to "rewind" and remind myself how we ended up picking Thailand for this vacation, and specifically how we wound up at at the Amanpuri in Phuket.
Each year in August we've had the good fortune of having parents willing to take our kids for a week. They live about an hour from JFK, so we can go anywhere in the world hopefully with one-stop for the week.
Two years ago we went to the Park Hyatt Mallorca – which was fantastic. Last year we went to the Park Hyatt St. Kitts and the Four Seasons Nevis. The Four Seasons Nevis was a property I'd always wanted to visit, but it ended up being a disappointing stay mostly due to renovations.
I began to think I was expecting too much from the Four Seasons from a service perspective. Or that their best days were behind them. Or that only certain properties in their portfolio were truly outstanding. I did some research on the top luxury hotel brands and kept coming across Aman Resorts.
The Aman name came up again while doing research for honeymoon-worthy destinations near the east coast. But at $2,500/nt for the Amanyara in Turks & Caicos it was a non-starter.
With staff:guest ratios running anywhere from 3:1-6:1 depending on the property and season, and room counts typically in the 40 range, Aman promises a very unique experience.
As I considered destinations around the world, I wanted something tropical and exotic. Something we could get to with one stop and check out some interesting international carriers. And I kept coming back to Southeast Asia.
Travel inspiration comes in many forms over many years. Little anecdotes you pick up on here and there from friends and family. Mentions in movies and pop culture. Perhaps it all started with the 1988 SI Swimsuit issue. Or the 2000 movie "The Beach" with Leonardo DiCaprio. I didn't remember much of the story line until re-watching it recently but I never forgot the images of this beautiful area. Or maybe it was the tangential mention of nearby "Koh Samui" in the movie "Meet the Parents" (also 2000).
There actually is a Four Seasons in Koh Samui, but fearing a repeat of the Nevis experience, and with counsel from a friend who's visited both Koh Samui and Phuket, I settled on Phuket. Once I did that and realized that Aman's flagship property is there, it was settled. We were heading to the Amanpuri in Phuket, Thailand.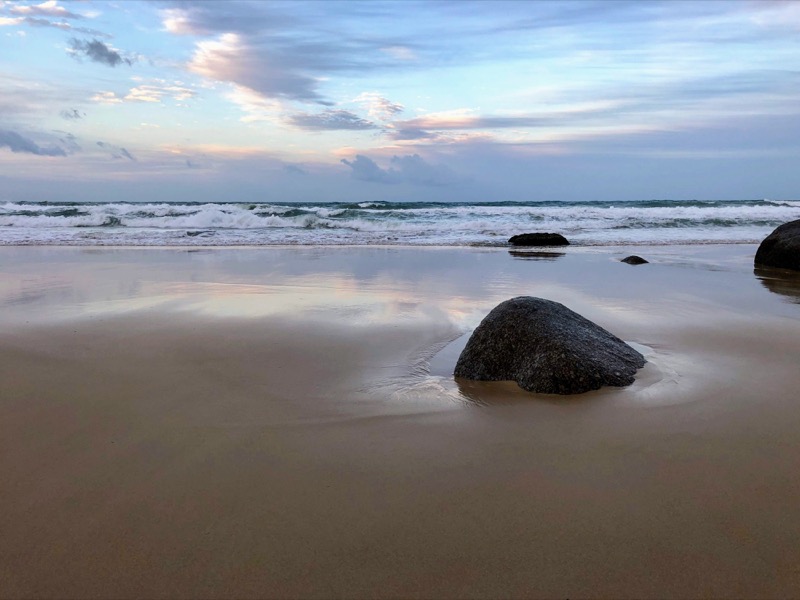 Booking
I had a mental anchor price in my mind of $2,500/nt for the Amanyara in Turks & Caicos. So although other resorts in Thailand can be very affordable I was looking at this as a way to experience an Aman property at a price point I could wrap my head around.
Room rates in August at Amanpuri were running around $650/nt. But for $100 more/nt they offer the Discover Amanpuri package which includes:
Round-trip ground transport to and from the airport in a 7 Series BMW
Daily Breakfast
Daily Dinner at the Thai, Japanese, Italian, or Lounge from a set menu with starter, main, and dessert
60 minute massage, one per person, once per visit
Sunset cocktails one evening
Daily Kanom Krok: Thai style afternoon tea served daily by the pool
Daily Group Wellness movement class such as Yoga, Pilates, fitness, Muay Thai or meditation
Complimentary use of selected non-motorized water sports equipment
I haven't seen Aman Resorts come up in online travel agencies which meant I couldn't book the stay with Chase Ultimate Rewards or Citi ThankYou Points.
However, I was able to book it by calling the Citi Prestige Concierge. What I liked about this was that since my room rate included meals and other perks, a higher percentage of my vacation would be reimbursed by the Citi Prestige 4th night free benefit.
This sort of Citi Prestige booking won't be possible starting September 1, 2019 because we'll no longer be able to book through the Concierge. Which means we can only choose from properties bookable through the Citi ThankYou portal. And Aman Resorts aren't listed in the ThankYou portal.
Summing it up: Yes, $750/nt is a lot for a hotel room in Southeast Asia. But considering what was included in the package, the 4th night free rebate, and my interest in staying at an Aman property – I could get behind this booking.
Location
To get to Amanpuri you'll want to fly into the HKT airport. Amanpuri is about 45 minutes south of there by car.
You can fly into the HKT airport from some rather far-flung locations (check flightconnections.com) but there are no direct flights from the US to anywhere in Thailand.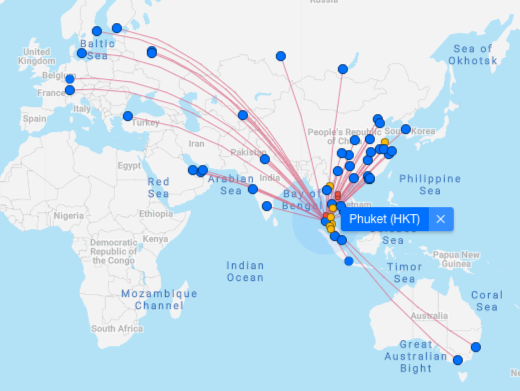 We ended up flying in on Thai Airways from Bangkok (BKK) by way of Cathay Pacific through Hong Kong (HKG). And returned on Etihad through Abu Dhabi (AUH).
I think the best option to Phuket (HKT) all things considered from the US is Cathay Pacific using American miles since the HKG-HKT leg is on Cathay Dragon (and Alaska isn't a partner of Cathay Dragon). It would be 70,000 AA miles in Business Class pp one-way. Or 80,000 in First (on the US to HKG leg) if space is available.
Tinkering with award flights was something I did endlessly for this trip. There are so many options to get there and a lot of interesting products to try. Finding the award space and putting it all together can be challenging (or fun) depending on how you look at it.
Arrival
Once we cleared customs we quickly connected with a resort employee holding an Amanpuri sign. A BMW 730Ld arrived shortly thereafter with cold water, cold towels and we were on our way.
Upon arrival at the resort we were greeted by the hotel manager, and several staff members. We were given a quick tour of the property. Check-in was completed in our room while our bags arrived.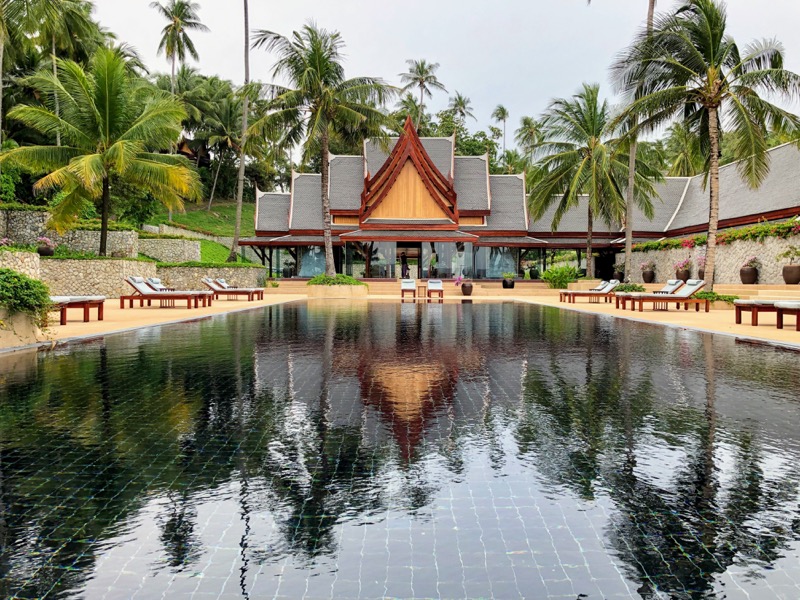 Room
Amanpuri has 40 Pavilions and 44 Villas.
We were upgraded from our entry-level Pavilion to a Garden Pavilion, close to the resort pool, lobby and restaurants. This was nice because some of the villas were quite a hike up multiple sets of stairs.
I thought the room was very nice, unique, and intriguingly appropriate to the locale. It was also laid out perfectly for a couple with two sinks, two areas for luggage, and plenty of space.
There was so much wood in the place it almost felt nautical. I don't know how they keep up with the maintenance, especially so close to salt water in such a tropical climate.
The more we got to know the room, the more we appreciated how thoughtfully it was designed. For example, the frosted glass allows natural light in without conventional windows and blinds.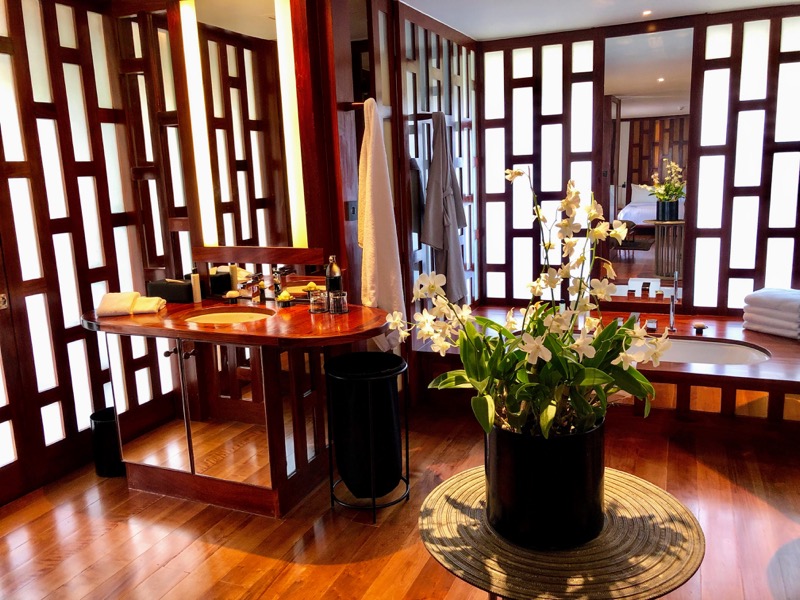 Three of sets of sliding doors could be opened to provide an open-air experience weather permitting. That said, while we were there we kept the air conditioning cranked down to 22C (71.6F) which the unit handled nicely.
Each pavilion also includes a couple of lounge chairs and an outdoor sala. It was too hot while we were there to enjoy the space, and the rest of the resort was wide open so we spent our time elsewhere. It was a nice private space though.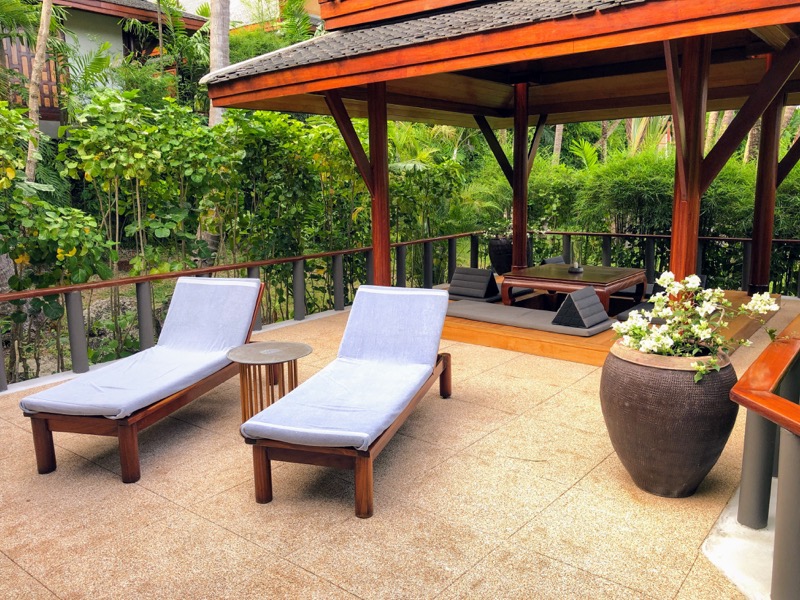 One really nice touch was a Nespresso machine with an Aeroccino milk frother and complimentary milk in each room. A lot of hotels have Nespresso machines, but this is the first that I've seen that thought through what a guest is going to do with the espresso. It was fantastic to prepare perfect cappuccinos in the room each morning.
I thought the room had a classic, timeless look to it. But it clearly wasn't brand new. We learned that they close the resort for a month once a year in July for maintenance. And this year that included some new electronics in the room. Temperature and lighting are controlled by touch-sensitive units located throughout the room, or on an iPad. I thought they worked really well.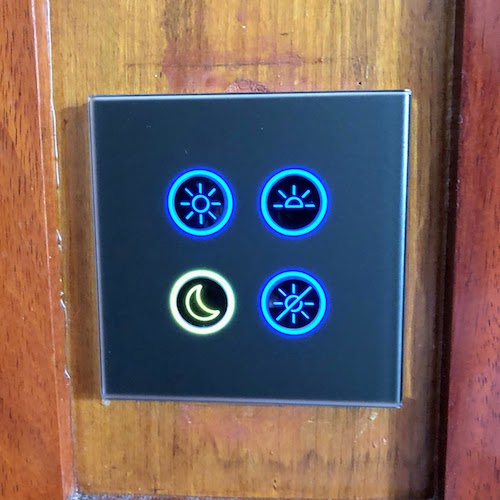 Until just this year, the rooms didn't have TVs. They liked it this way, thinking that guests are better off disconnecting and getting out and enjoying the resort rather than holing up in their rooms.
The compromise they came up with is for the TV to be placed behind a sliding wall. It can connect to your Netflix account, supports AirPlay, and you can connect your phone or laptop to the Bluetooth speaker for audio streaming. Quite nice.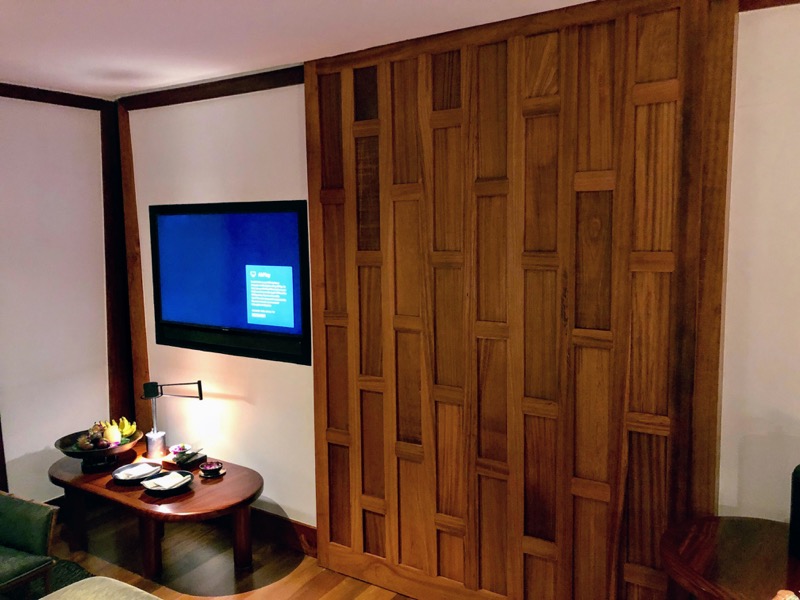 Like I said upstream, the room – and whole resort really – revealed more of its charm over time than was evident at first glance.
Take for example the placement and lighting of the floral arrangement in the image below. When you place the room in night lighting mode, one low-level light remains on above the orchids which is in turn reflected in the mirror across the room. From the bed it looks like a museum piece. Really beautiful.
I thought to myself, "Someone really put some thought into this."
I was reading this Harvard Business School case study on Aman Resorts and noticed this line:
During the building stage, [Aman founder Adrian] Zecha visited each property several times. Few details escaped Zecha's attention—even down to the arrangement of flowers in suites.
It's a small thing, but small details can create big differences in an overall experience. It's not a high "bling" factor kind of place. But they have really thought about the guest experience from end to end here. That's rare. If you can slow down and appreciate it, Amanpuri can be appreciated as a very special place.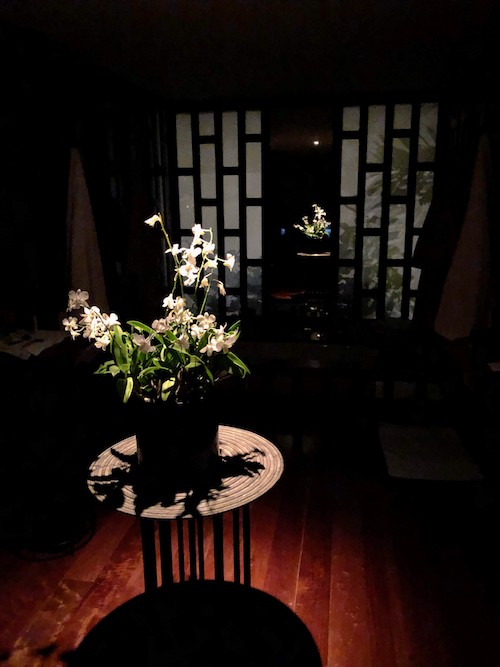 Beach
Amanpuri is situated on a very nice beach with soft sand and warm water. It was windy while we were there with steady waves and a red flag up for most of our stay.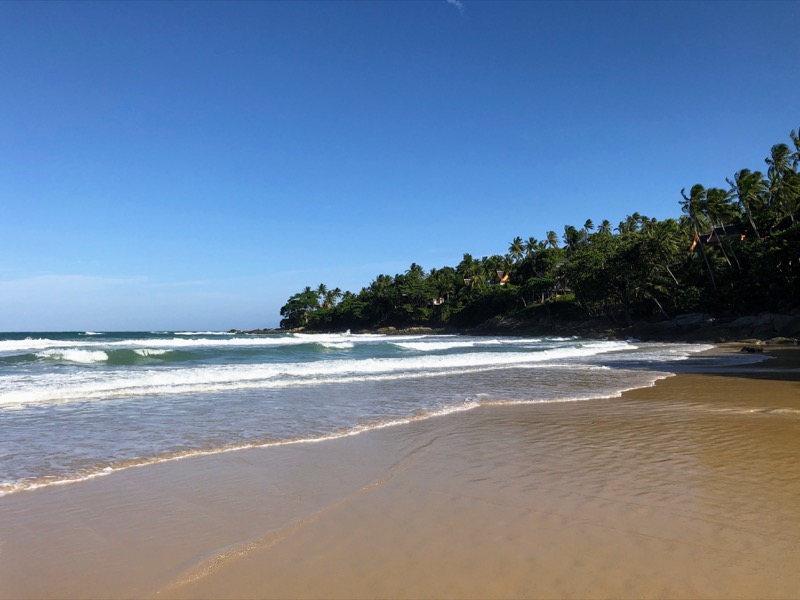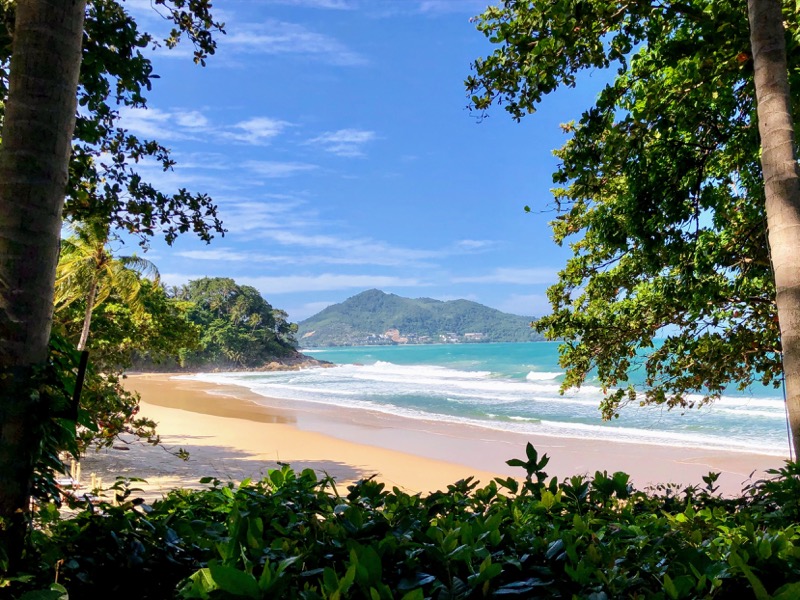 There was never the slightest contention for lounge chairs or day beds by the water.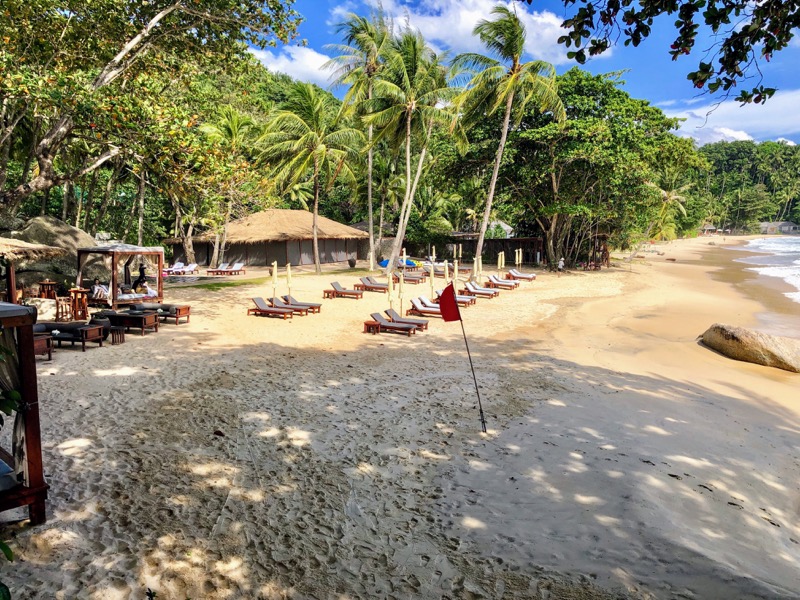 We enjoyed setting up shop in one of these day beds in the shade. Food & drinks were available here all day, and the service was fantastic. As soon as I'd look around over to the bar area a server would notice right away and come right over.
This is so different from the experience at say the Hyatt Regency Maui for example where people wake up before sunrise to reserve lounge chairs. Even though there are rows and rows of lounge chairs packed around the pool there are never enough for the entire resort full of people.
Things might be a little different at Amanpuri in high season but I have a feeling that there's still plenty of space for everyone.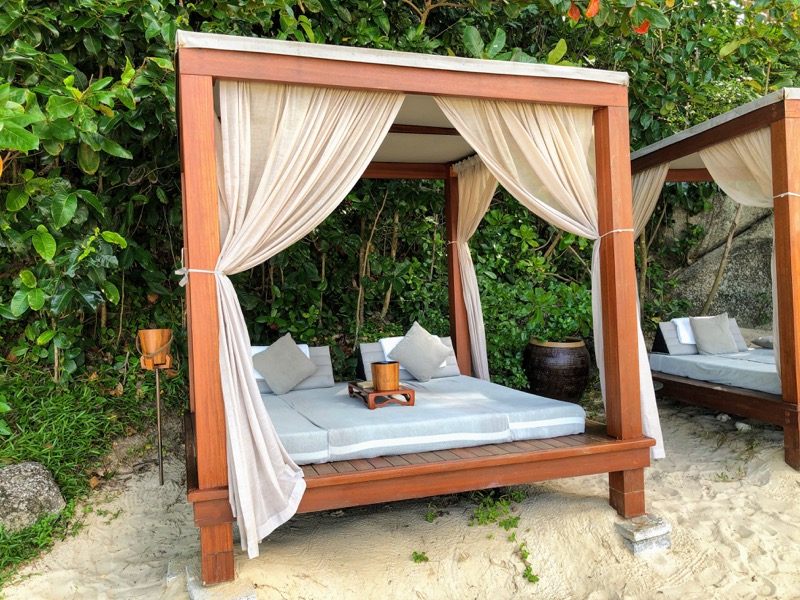 Pool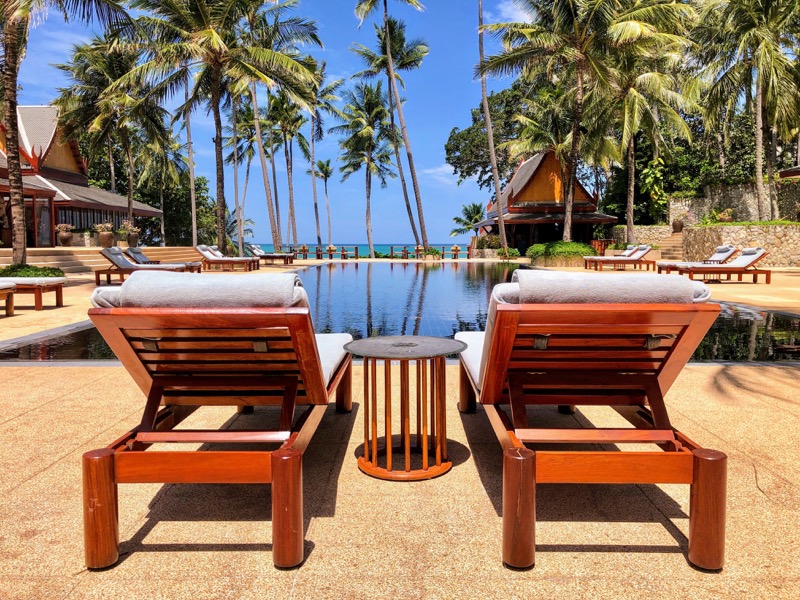 The hotel lobby and restaurants are centered around a black-bottomed pool. I don't think we ever saw more than one set of lounge chairs occupied at any given time.
While I'm looking at the photo of the pool I'm reminded of a quick example of the Aman style of service…
I wanted to take a quick dip in the pool to cool off before going down to the beach. But before I did that, I stopped by the lobby to inquire about a late checkout on our departure day.
The agent in the lobby said she'd check on the late checkout and let me know. So I stopped by the pool and was swimming around a bit. A pool attendant appears and says she'll set me up with some water. I say I'm okay because I'm going to join my wife down at the beach in a few. The pool attendant says, "Can I get you anything else?" Come to think of it a beer would hit the spot.
So she signals to a guy who goes to the bar and gets a beer and some complimentary olives to snack on. And when I finish my swim the agent from the lobby comes and tells me my late checkout will be no problem.
During all of this, I was never asked my room number once. And I'd never met any of the people I interacted with. They all just somehow knew who I was making it easy for me to enjoy my time there. I don't know how they do it, but it's pretty impressive.
Gym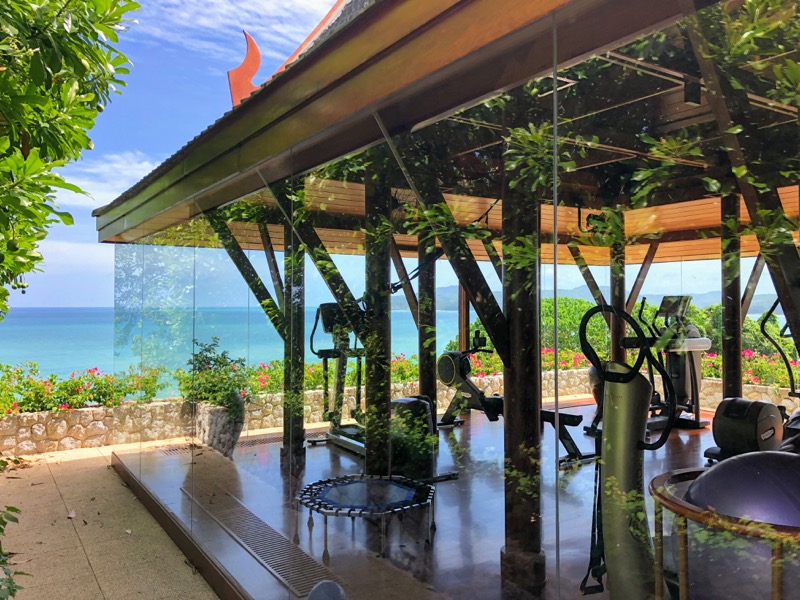 The gym is located up the hill and is absolutely gorgeous with amazing views.
I think it used to be located down by the beach but was destroyed in the 2004 Tsunami that hit Phuket and relocated to higher ground. More on that here.
We enjoyed playing tennis a couple times, once as part of a complimentary clinic and again just the two of us. Court time, rackets and balls are complimentary. Private lessons with a pro can be arranged for like $150/hr.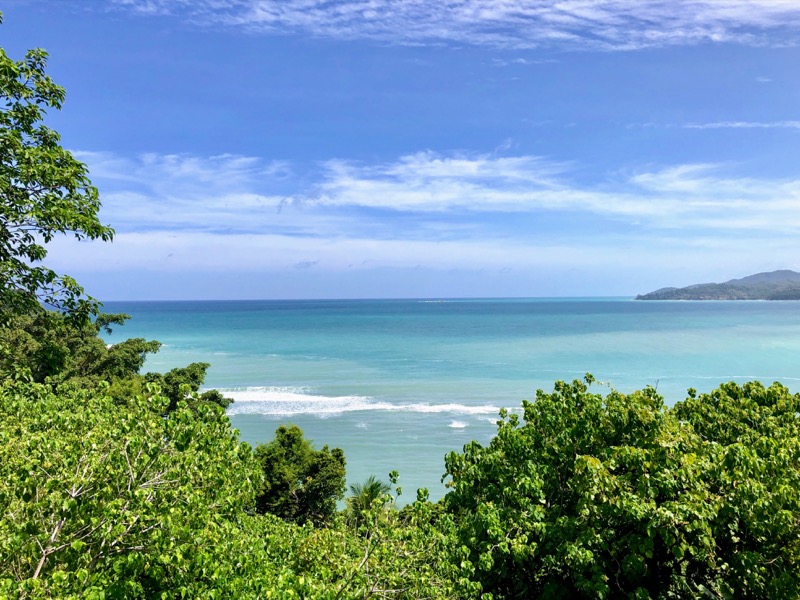 Spa
I'm not a big massage guy, but I thought the spa was very nice. I appreciated that they let us take our 60 minute massage included with our package as a couples massage. And I also appreciated that we were able to schedule our treatment just a couple hours ahead of time.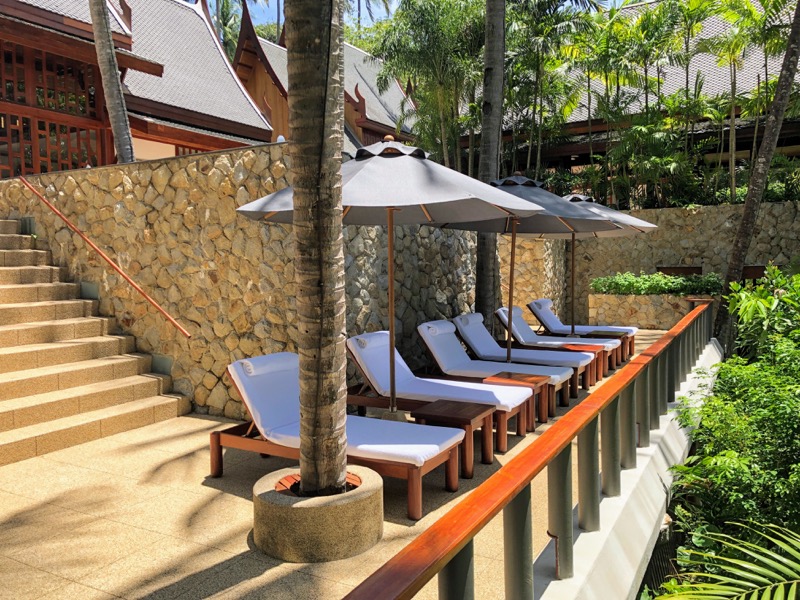 Food
I thought the food overall was good but not quite great. Or at least not consistently great. I say this in comparison to the Park Hyatts we've stayed at the past few years – they set the bar pretty high.
See: Park Hyatt St. Kitts Private Dining Experience
On the bright side, the service was fantastic and the environment it was served in was amazing. There would typically be only 2 or 3 other tables (if that) being served at each restaurant which made for a very private experience each night.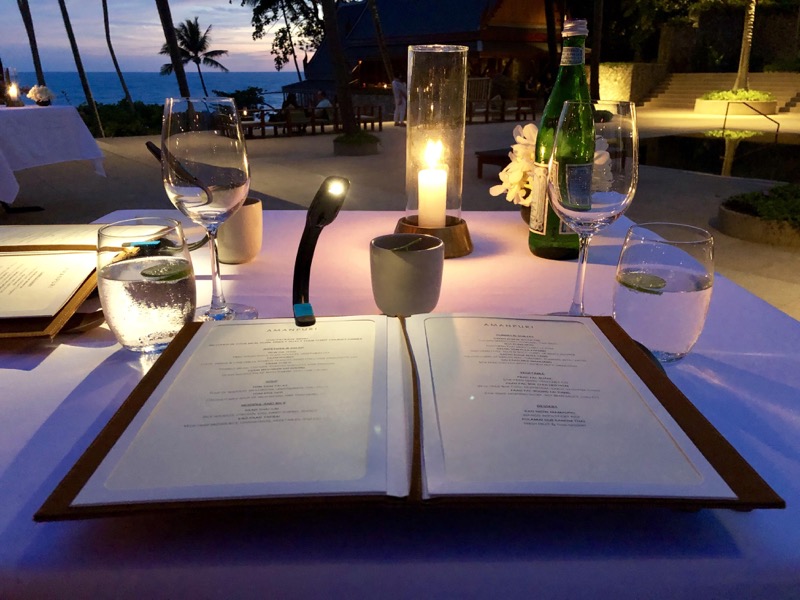 I appreciated that no reservations were required. We'd just show up and wander into whichever restaurant we wanted to and they were happy to serve us.
I also appreciated that even though it was low season they still kept all four restaurants open. There was a Thai restaurant (of course), a Japanese restaurant, an Italian restaurant, and a Mexican/Latin American Lounge to choose from. We tried them all except for the Italian restaurant, opting for 2 nights at the Thai restaurant instead.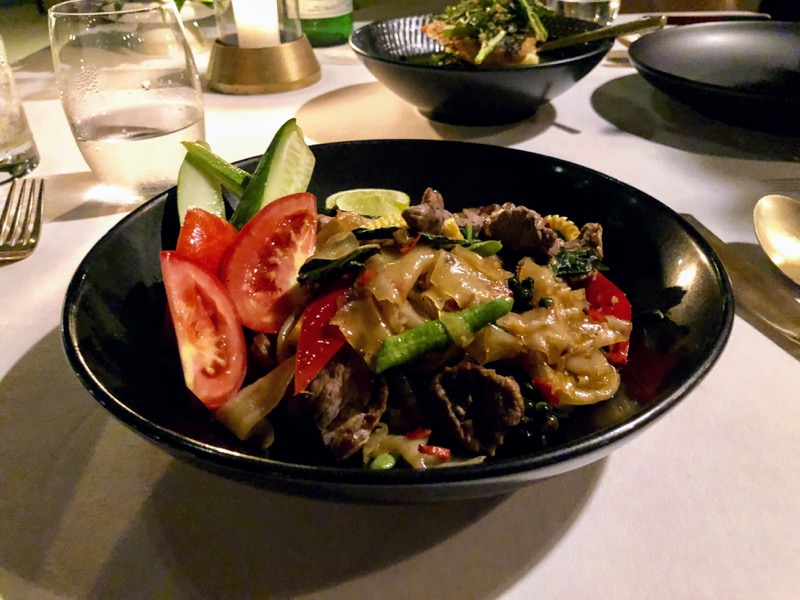 One thing I wasn't crazy about was the way the Discover Menu only allowed for a subset of menu items to be selected. I can accept that they don't want people to take advantage and order everything under the sun, and I can see that they don't want people to order a $150 USD Steak Florentine every night (or equivalently expensive items at the Japanese restaurant). But eliminating an option like fajitas from the menu and leaving less expensive items like bite-sized tacos seems a bit chintzy. And strange too because I enjoyed a Wagyu beef steak at the Japanese restaurant. I think they should open it up to one of any starter, main, and dessert on the menu. Or perhaps offer some "sampler" entrees especially at the Thai restaurant to allow more "discovery" of Thai dishes.
Breakfast was very good I'd say with fresh fruit and a wide variety of options.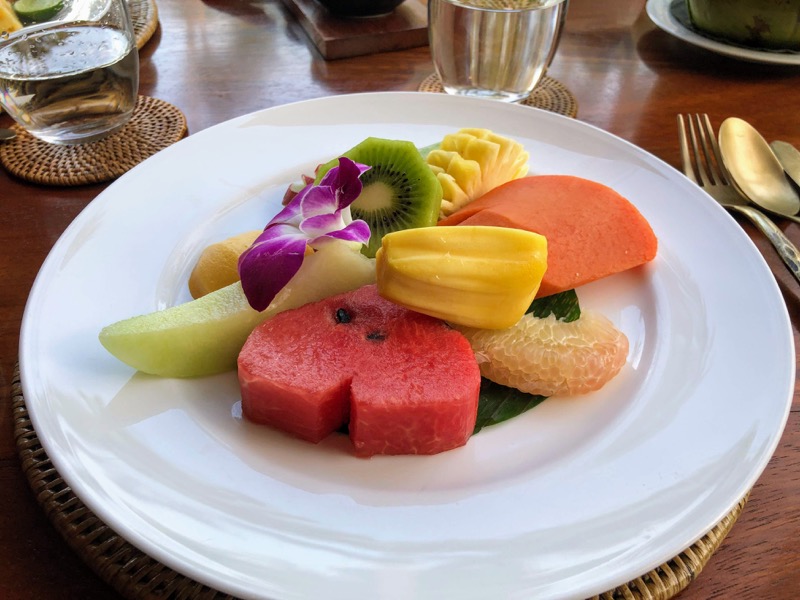 I appreciated the ability to explore Thai dishes at breakfast that I wouldn't ordinarily think of as typical breakfast items.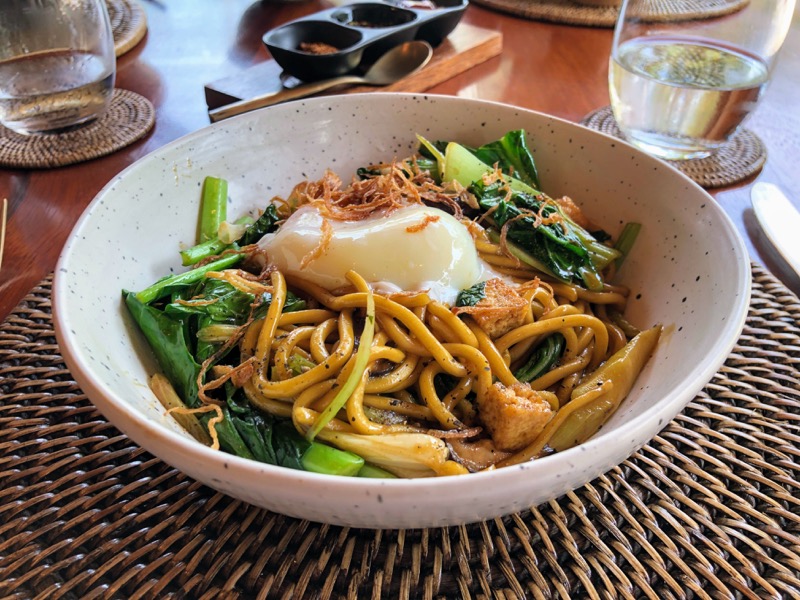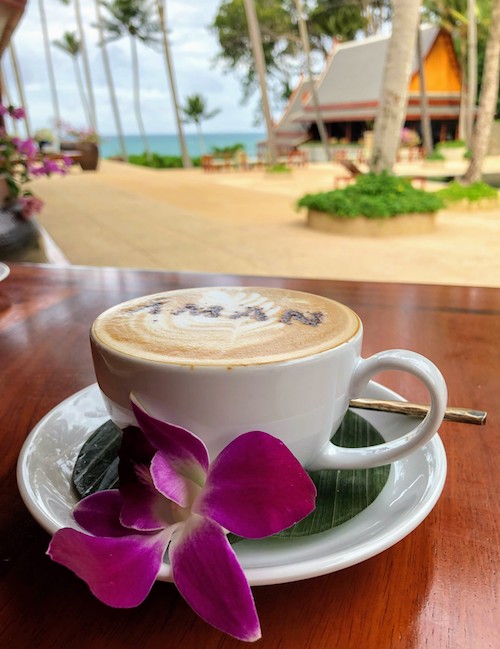 The afternoon tea and snack service was a welcomed complimentary treat offered from 4:30-5:30p every day. Some variety could be nice here as it was the same exact thing every day. Good, but it got a bit monotonous by the 4th day.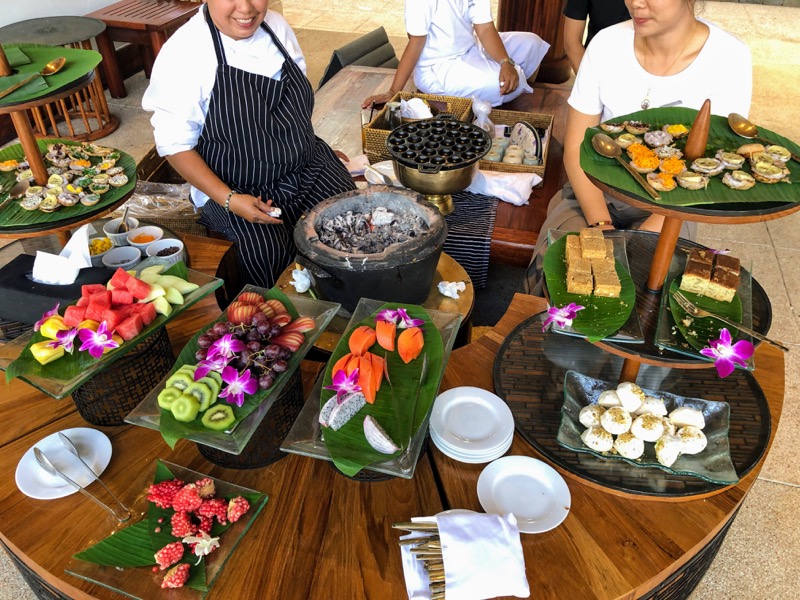 Since breakfast and dinner were included in our package our incidental food costs were relatively minor in the form of snacks and drinks at the beach, and drinks with dinner. Some randomly chosen items off the menu to give a sense of pricing:
Singa Beer 230 THB ($7.46 USD)
Pik Gai Coconut Chicken Wings 350 THB ($11.35 USD)
Satay Beef Skewers 500 THB ($16.21 USD)
Caesar Salad 770 THB ($24.97 USD)
Cheeseburger 1050 THB ($34.05 USD)
Wine markup was off the charts. Like a $20 retail bottle from the US or Europe was like $150. That being the case, I didn't go for any wine while we were there.
Departure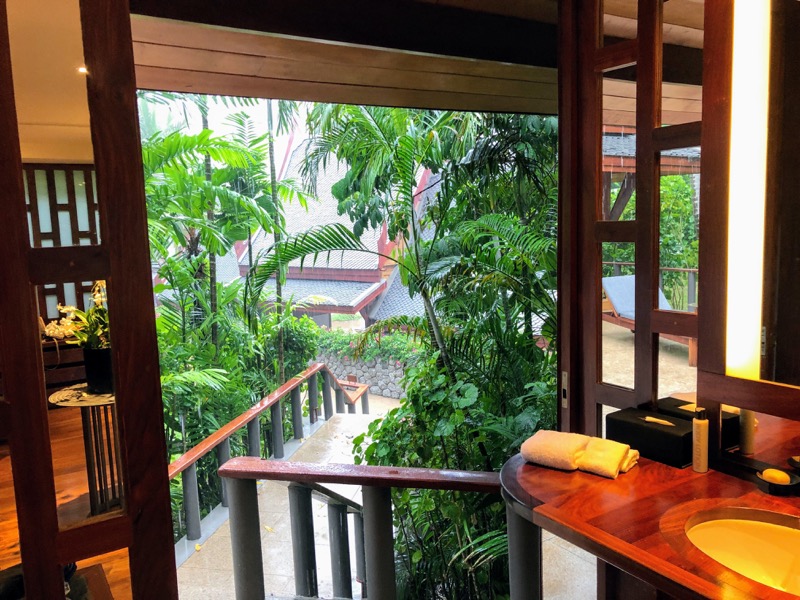 August is squarely in Thailand's rainy season. When we looked at the weather forecast a week prior to our arrival, thunderstorms were forecast every day.
Fortunately, we didn't see a drop of rain until our last day there. And when it rained it was actually kind of neat because it cooled things off and provided a different vibe to the resort while we were packing.
Our flight wasn't until 8:30p out of HKT so I asked the front desk what time they'd recommend departing. They said 5:30p or 6:00p would be fine.
We made our way over to the lobby where I settled the bill. I joked on Twitter that I cried twice while checking out. Once when they rang the Thai gong three times announcing our departure. And again when they swiped my credit card.
We said our goodbyes to the hotel manager and staff. The ride back to the airport went smoothly. At the airport Amanpuri staff helped check us in and accompanied us all the way to security.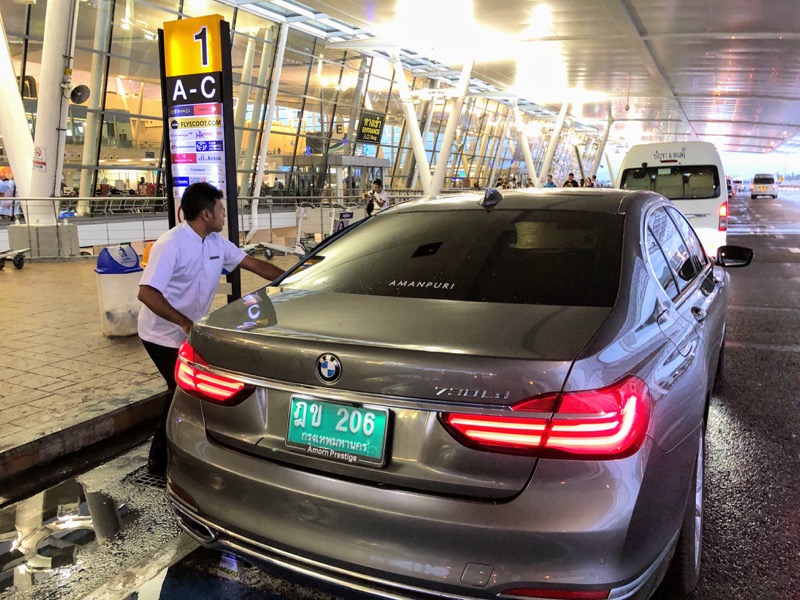 Bottom Line
We had an outstanding experience at Amanpuri and I was glad to have gotten a chance to experience an Aman resort. Their overall style is one of a kind, and their service standards are truly impressive.
I came into this trip looking for an exotic, high quality alternative to a resort in the Caribbean. This stay delivered on that and then some. They just did so many hard to do things right.
Would I go out of my way to stay at another Aman Resort? I'd give them a look if they were in a region I was looking to visit. But I wouldn't make the resort the destination itself.
Could I see myself becoming an Amanjunkie? I doubt it. There's something about the place that's almost too private. Too quiet at times, if that's possible. Like, I wouldn't have minded mingling with other guests a bit more when we were feeling social. Or more group activities to take part in when we wanted to. But it's a tricky balance to strike because one person's idea of fun is another person's idea of tacky.
We were discussing the Hotel Loyalty Status Trap on a recent episode of our podcast. A key concept of that discussion was to take the vacations you want to take rather than shape your travel around hotel chains with loyalty programs. This stay was an example of that mindset.
It's good to have options in hotels and I'm happy to include Aman alongside my enthusiasm for exploring brands like Park Hyatt, Rosewood, and Four Seasons.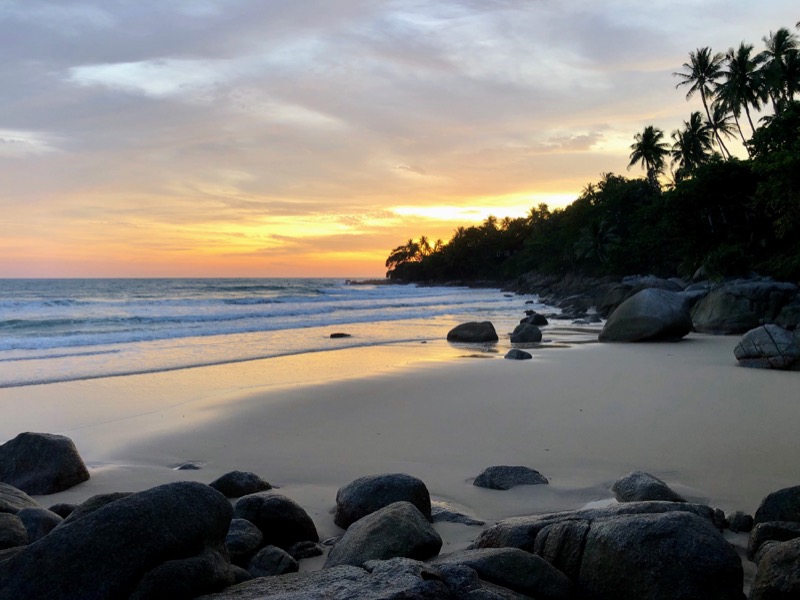 What do you think of Aman Resorts?