In this post I'll discuss redeeming City National Bank Rewards through their Concierge, and leveraging its $100 Visa Infinite Discount Air Benefit. The upshot is that for low-priced roundtrip domestic flights in Economy, this is one of the best CNB Rewards redemptions possible.
We've discussed City National Bank and their Crystal Visa Infinite card quite a bit here on the blog. Most of those discussions centered around acquiring the card with a welcome bonus. And earning CNB Rewards through bonused spend. Although the card is not currently available for application online, a lot of us have the card along with a stash of CNB Rewards.
CNB Rewards Devaluation
Unfortunately, CNB decided to devalue their rewards points recently – without warning. We discussed this in Episode 47 of our podcast.
Whereas they used to be worth somewhere around 1.3 cents a piece towards travel they're now worth:
Around 1.2 cents a piece of you book through their portal
1.1 cents a piece if you book through their Concierge
I say "around" because they tend to inflate prices in the portal.
The net of it is I now think CNB Rewards are worth around 1.1 cents a piece.
However, we can improve the per-point value towards domestic air travel for two by leveraging the card's $100 Visa Infinite Discount Air Benefit.
$100 Visa Infinite Discount Air Benefit
The CNB Crystal card is a Visa Infinite card. This means it comes with a $100 discount on certain types of air travel:

To be eligible for the $100 discount, the air travel:
Needs to be In the domestic US
Roundtrip
In Economy (Basic or Main Cabin)
For 2 to 5 travelers
The restrictions don't seem terribly restrictive, but in practice I've found few trips that are a good fit for this program.
You only get the $100 discount once regardless of whether there are 2 or 5 people in your party. Business or First Class tickets are ineligible. It has to be booked as a roundtrip. And there are almost always other ways to book airfare with miles or other bank point currencies that seem better suited to the situation.
To get the discount you need to book in one of two ways:
The benefit of calling the Concierge is that you should be able to redeem CNB Rewards -and- get the $100 discount. When booking online you don't have the option of redeeming Rewards.
Booking through the Concierge is key because as much as I like the idea of a $100 discount, I don't want to pay cash in order to realize the discount. By calling the Concierge and stacking the $100 discount we can use points to pay for travel that is maximally discounted rather than an inflated price. This is a constant struggle when living a bank point lifestyle but with the right finagling it works out well here.
Establishing a Baseline
The first thing I do when search for something like this is establish a cash baseline.
I usually start with Google Flights then confirm that price directly on the airline's website. In this case the price of each ticket is $136.60 pp roundtrip in Basic Economy:

I also compared the prices to award tickets, but let's focus on using CNB Rewards in this post.
Booking through the CNB Rewards Portal: Inflated, no Visa Infinite Discount
The most straightforward way to redeem CNB Rewards is to go to cnbrewards.com and price airfare.
Unfortunately, when we book this way prices are inflated and we can't get the $100 Visa Infinite Air Discount.
The price is inflated by 1.03 + $15 as outlined in this post:
See: The exact value of CNB Crystal Visa Infinite Points from Frequent Miler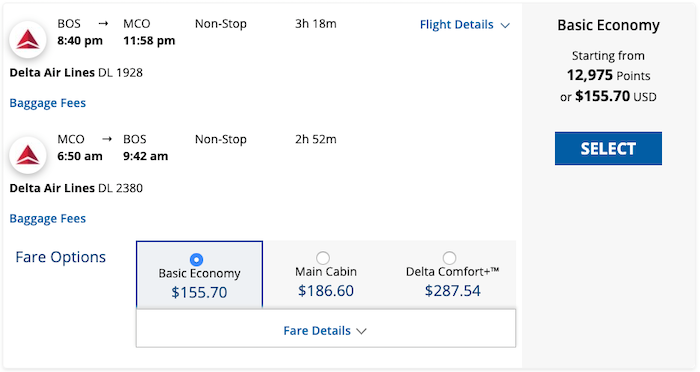 Booking through Visa Infinite Site: Can't use CNB Rewards
If you're willing to pay cash for the flights you can book online:
In this case, the price shown is not inflated like it was through the CNB Rewards portal.
You can mix airlines (which is nice) and choose from Basic or Main Cabin Economy.
The price is reduced by $100 for 2 tickets as desired.

If we wanted to pay cash we could book through the Visa Infinite Site straight away.
But by calling the Concierge we can get the $100 discount and pay with CNB Rewards.
Booking through the Concierge: Use CNB Rewards + $100 Discount
To start the booking process, call the CNB Concierge: 1-800-595-8950
I've heard anecdotally that it might not be possible to stack the discount and pay with points so I was prepared to call a few times if necessary. But the concierge I got knew exactly what I wanted to do and efficiently worked through the booking.
I fed the concierge my credit card information and flight details, and she found the exact prices I was seeing. I think they log into the same Visa Infinite Air Discount portal that we do which is nice because you shouldn't have to battle to get them to see the same flights and pricing you're seeing.
The booking is then passed over to another team to complete and in a couple hours they should send you a ticketed itinerary.
The way they've implemented it, the charge initially shows on your credit card. Then 2-3 weeks later points are redeemed at 1.1 cents per point of value to exactly offset the charge.
CNB Visa Infinite Air Discount: Determining Value
In this case I paid 15,746 CNB Rewards for flights that cost $173.20. That's 1.1 cents a piece of value towards the discounted fare.
If we compare this to the undiscounted fare of $273.20, it's a 1.73 cent per point redemption.
In my mind, it's fair to compare to the $273.20 price because that price isn't available without a Visa Infinite card with the air discount.
Since they are paid tickets, bank point bookings like these earn miles. Even in Basic Economy.
To maximize the impact of the $100 discount you'll obviously want to find the cheapest tickets possible such that the $100 discount is a high percentage of the overall fare. That's often challenging and why I've never used the benefit until now. But in the right situation, it can unlock value.
Bottom Line
It's a shame that CNB decided to devalue their rewards especially without notice. CNB doesn't have transfer partners so it was a haircut across the board. But what can you do besides assess whether there is value in the program going forward, and redeem your points as effectively as possible?
Like other bank point programs, there are multiple booking channels for point redemption. Knowing which channel is best depending on redemption type is key to maximizing value.
The ability to use points (with uplift) while leveraging the $100 Visa Infinite Air Discount is something you can do with CNB Rewards that you can't do with other programs. The Chase Ritz-Carlton card has the $100 discount, but you have to pay cash for the tickets. The Chase Sapphire Reserve is a Visa Infinite card but it doesn't have the $100 discount. UBS has a Visa Infinite card but requires an investment relationship.
Although it's not as good as it was, there's still value to be had with CNB Rewards.
What's been your experience redeeming CNB Rewards?