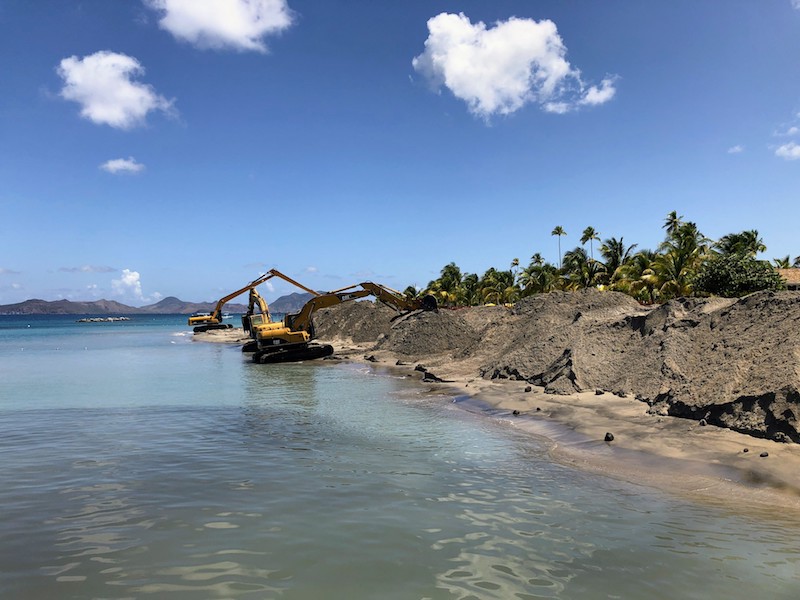 So we're enjoying the pool at the Park Hyatt St. Kitts, chatting with a couple that checked in the same time as us.
We ask them where they went for dinner the night before and they say:
"We went over to the Four Seasons Nevis: DON'T GO."
Don't go? We were scheduled to spend four nights there after our time at the Park Hyatt. What's the matter with the Four Seasons?
They explained that they're huge fans of Four Seasons hotels. That they'd been to a bunch of them. But the Four Seasons Nevis wasn't just sub par: It was downright awful.
They said the lobby was closed, most of the restaurants were closed, some of the pools were closed, and the resort was generally very tired and undergoing a much-needed massive renovation.
I thought for sure they were exaggerating but I could see from the looks on their faces they were earnestly trying to give us helpful guidance.
I'd read a lot of Four Seasons Nevis reviews prior to arrival and they looked mostly positive. What was going on here?
I call over to the Four Seasons to speak with the front desk. I explain what I heard and how I was concerned the hotel wasn't prepared to give us the kind of experience we were looking for.
What I heard from the front desk at the Four Seasons was what our fellow guests at the Park Hyatt were telling us: The hotel is undergoing heavy renovations. And our stay will be impacted.
Pre-Arrival
Let's turn back the clock a bit. Remember how I wrote a couple of months ago how I booked this stay?
The Four Seasons Nevis had a 4th night free offer with daily free breakfast and a $250 resort credit. I booked it through the Citi ThankYou portal to stack Citi Prestige 4th night free with 1.25 cent per point uplift through the Citi Premier card.
The upshot of it was I paid about $2,100 (by way of bank points) for a four night stay in an entry-level suite.
I intentionally booked the Four Seasons after the Park Hyatt thinking I'd leave the best for last. In hindsight, I had no idea what was in store for us at the Four Seasons.
While on the phone with the Four Seasons from St Kitts, I asked what kind of compensation they could offer for the inconvenience of the renovations. I felt we weren't adequately informed of the state of the resort before arriving.
If you go book a stay at the Four Seasons tonight, this is what they tell you:

If I've never stayed at the hotel before, I have no idea what any of these restaurants are. It just sounds like "some restaurants are closed, but others are open. Oh well."
I went back and looked at my email from a few days before I arrived. It said:
Thank you again for choosing Four Seasons Resort Nevis! The team is looking forward to welcoming you to our Resort in Paradise and offering you our warm Nevisian hospitality.

Prior to arrival, I want to take the opportunity to inform you of some operational adjustments during your stay with us.
The Caribbean is still recovering from last year's hurricane season while simultaneously preparing for this year. To that end, a few days ago the Resort was given the opportunity to perform some preventative maintenance to our beaches, which will protect our guests and the Resort during any future potential storms. During your stay, one of our three pools and half of the beach will be unavailable, however our other beach and pool areas will be open for your enjoyment with our team on hand throughout the day to welcome you.

Your dining options will include Cabana and Mango, as well as Burgers on the Beach. Cabana will be open for breakfast and lunch daily, and will serve dinner on Mondays, Wednesdays, Fridays and Sundays. Cabana will also be featuring dinner specials like delicious fried chicken on Mondays with all the fixings, taco night on Wednesdays, served with house made guacamole and Italian night on Fridays with freshly made pasta and garlic bread.

Mango will be offering dinner service on Tuesdays, Thursdays and Saturdays, featuring all of their regular Caribbean-Latin fusion favorites. And, finally, Burgers on the Beach on Wednesday and Friday, will be serving a delicious variety of premium burgers, appetizers, rum punch and local beer.

Please rest assured that our entire team is ready to make sure you enjoy you enjoy your time with us in Nevis. We look forward to welcoming you!
I found the timing of the email too late to alter course. Once I booked non-refundable flights I felt committed to visiting the resort. Plus the email is rather abstract ("the Resort was given the opportunity to perform some preventative maintenance to our beaches?") and I was left thinking [hoping?] they'd still be able to provide a quality experience.
The hotel said they'd call me back in a couple of hours. They did, and offered a $500 resort credit on top of the $250 resort credit and daily complimentary breakfast.
Wanting to experience the island of Nevis we decided to adjust our stay to include 4 nights at the Park Hyatt and just 3 nights at the Four Seasons, even though we paid for 4 nights at the Four Seasons.
Arrival
The Four Seasons would have you believe this is what arriving at the resort looks like:
https://www.youtube.com/watch?v=ABpVYRPMwUg
Our arrival experience was nothing like what's shown in the video.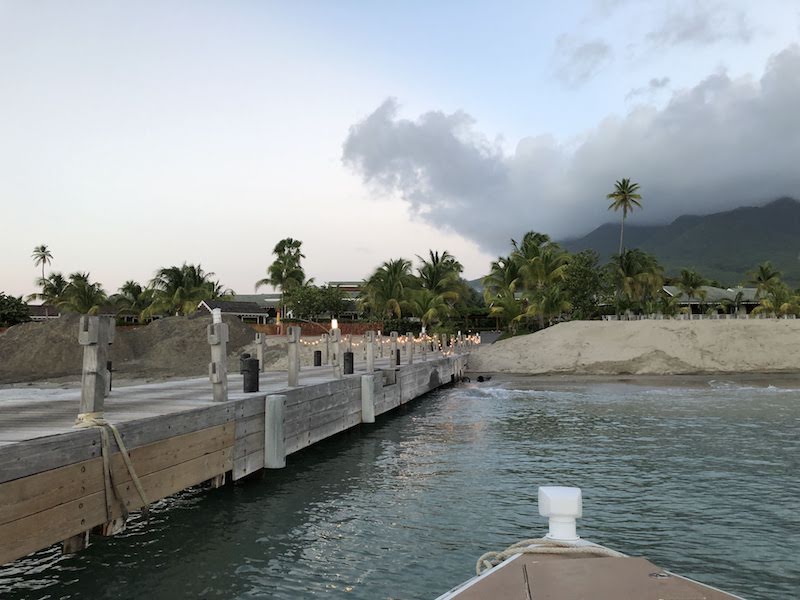 I told the resort we'd be arriving at 6:30p. We arrived at 6:37p and our first impression was "why is the beach a big wall of sand?"
There was nobody there to guide us where to go and it was getting dark. The resort is poorly signed, so we bumbled around with our luggage trying to find our way to the lobby.
We eventually found the temporary subterranean lobby and got our room assignment. The hotel upgraded us to a slightly larger suite than we booked.
The first impression of our room was: Musty
But we were tired and wanted to get settled in so we accepted the room. The room wasn't terrible on its face, but it was indeed surprisingly musty for a room with a tile floor. One of the lamps in the room was blinking like a neon sign outside a cheap motel room.
And the mattress was lumpy. Would you like to be the last person sleeping on a mattress at the end of its useful life?
The next day we were moved to a smaller, fresher room. But I get the sense they pounded it with air freshener prior to our arrival because the familiar swampy odor eventually revealed itself in the new room as well.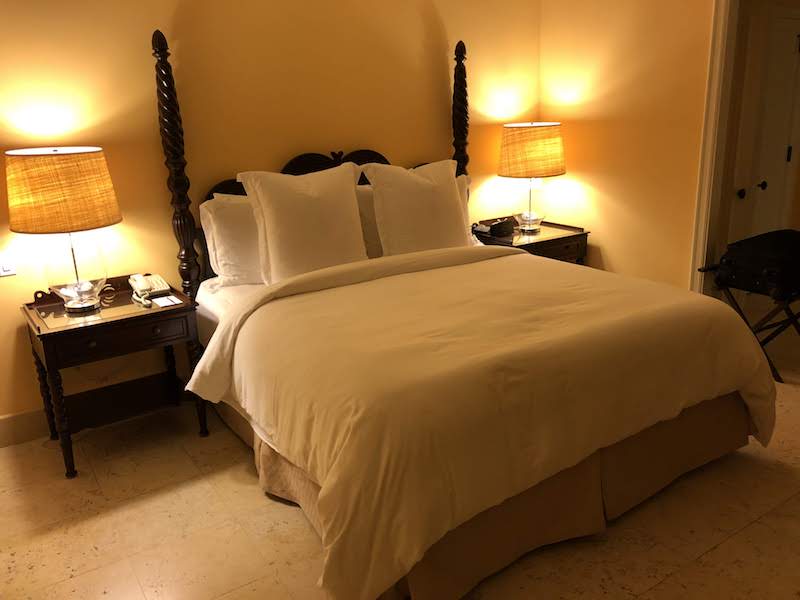 Dining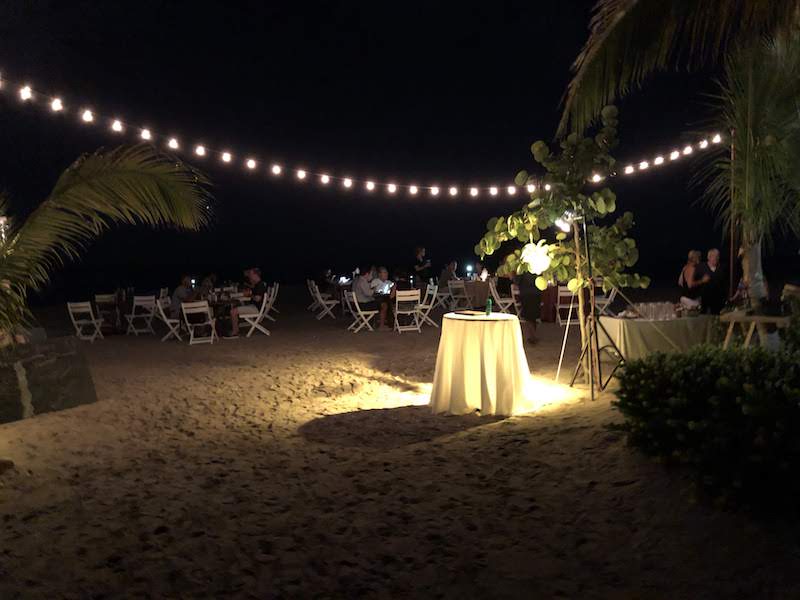 So many of the restaurants were closed they were supplementing dining options with "Burgers on the Beach".
Sounds great, but immediately upon arrival I felt an air of dread. I sensed that everyone staying there was frustrated with the state of the hotel. And the staff was tired of apologizing for sub par conditions.
We had a Rum Punch, a burger, and Carib beer and called it a night…
The restaurant closures are such that the resort is, hopefully, as bad as it will ever be. They've taken what should be a beachside/pool bar and turned it into the main restaurant. So breakfast is served in a spot where it's not normally served. And you lose what's normally a beachside bar.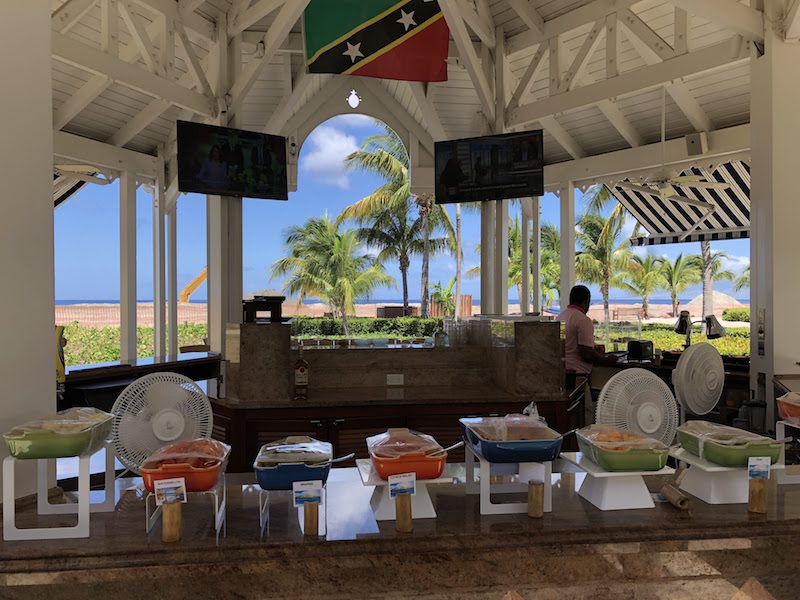 Birds were picking off the improvised buffet, so we tried to get into the spirit of the island by ordering one of the more local a la carte options off the breakfast menu.
It was fine, but so far off the pace the Park Hyatt St. Kitts set it was disappointing.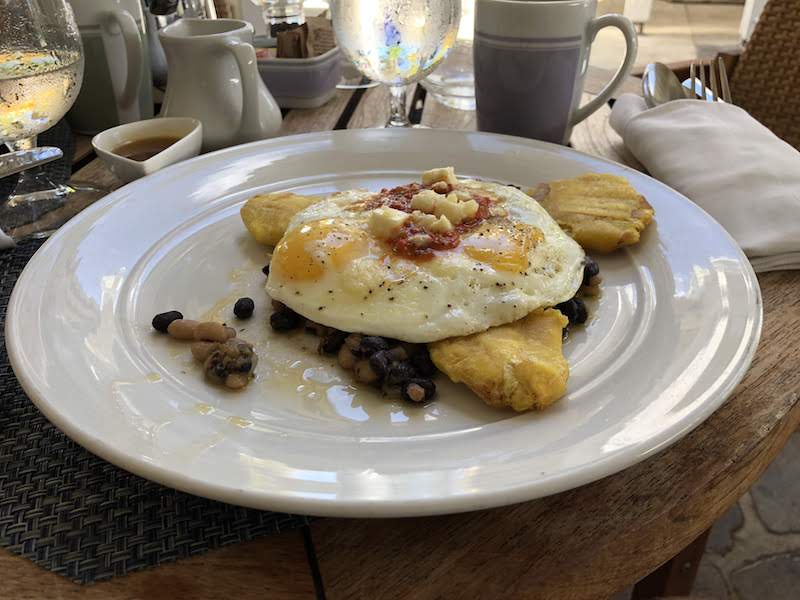 At this point I was getting concerned about our ability to enthusiastically spend $750 in resort credit during our stay. So I booked a table at Mango, their oceanfront fine dining establishment.
It's undeniably a beautiful venue. But the menu was uninspired and the service wasn't very good.
For example they cleared our silverware after the appetizer course. When our entrees were presented they dropped them and ran without replacing the cutlery. We're looking around trying to get a server's attention for 5-10 minutes and I'm thinking:
"Are we seriously going to have to snag silverware off a nearby table at the Four Seasons?"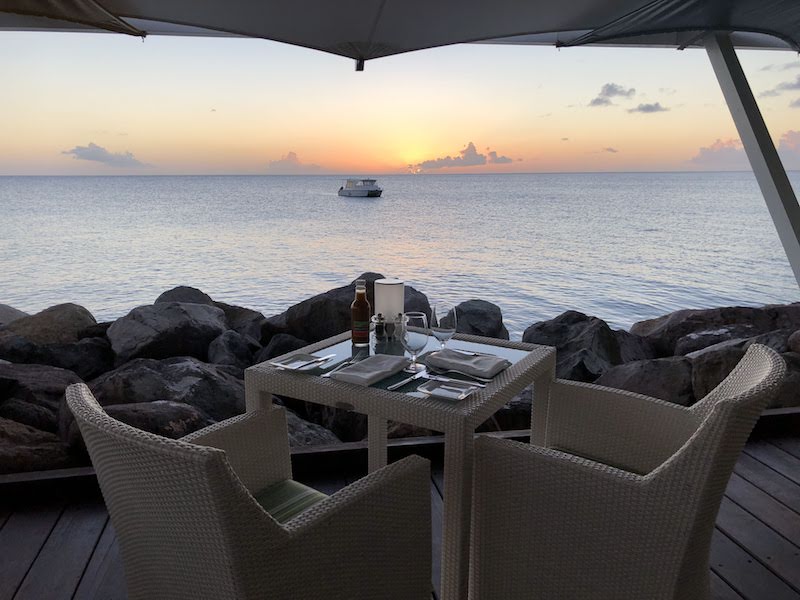 The last night of our stay the only dining options were Cabana (the poolside bar where breakfast was being served) and Burgers on the Beach.
Both options were unappealing to me so I inquired about a Couples Beach Dinner I saw featured here:
https://www.youtube.com/watch?v=9VBGedsBesY
We thoroughly enjoyed a private dining experience at the Park Hyatt St. Kitts so we wanted to try to replicate that at the Four Seasons.
They informed me they weren't offering the Couples Beach Dinner with all the renovations going on so I instead booked room service on our patio.
That worked out well in a sense, but the roar of heavy machinery moving sand on the nearby beach made for a comically lousy situation.
Crews were noisily working on the beach (and the lobby) from 7a-7p every day.
Resort Overall
To me, the resort felt like a Sheraton in need of a remodel.
And while some areas are under heavy renovation others remain untouched and in a state of disrepair.
Take for example this random abandoned bar. Cabinets hanging askew off their hinges with beautiful palm trees and construction vehicles in the background.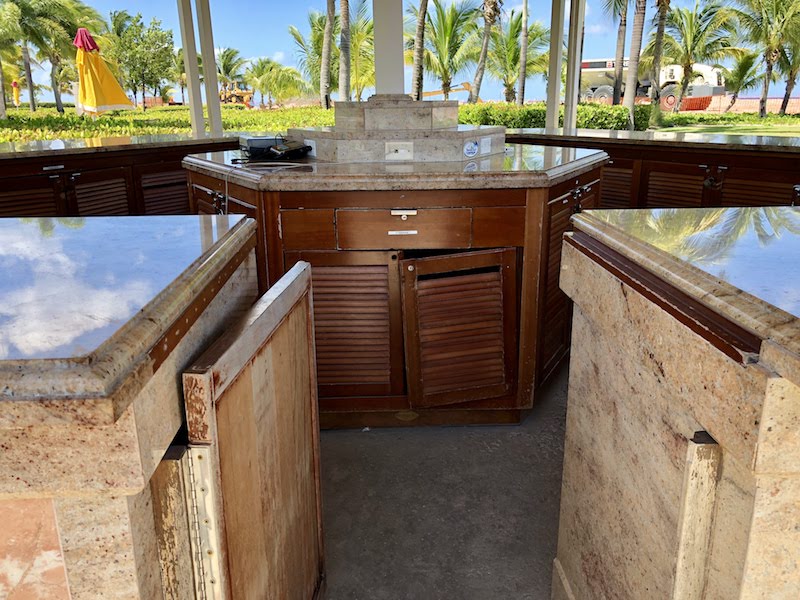 The resort's main pool was closed during our stay. But it wasn't clear whether they were renovating it or just cleaning it.
"Getting set up" by the pool is one of my favorite things to do at a Four Seasons resort. It's telling that we didn't visit the pools once during our stay. The pools that were open looked small and in need of repair (broken/missing tiles, etc).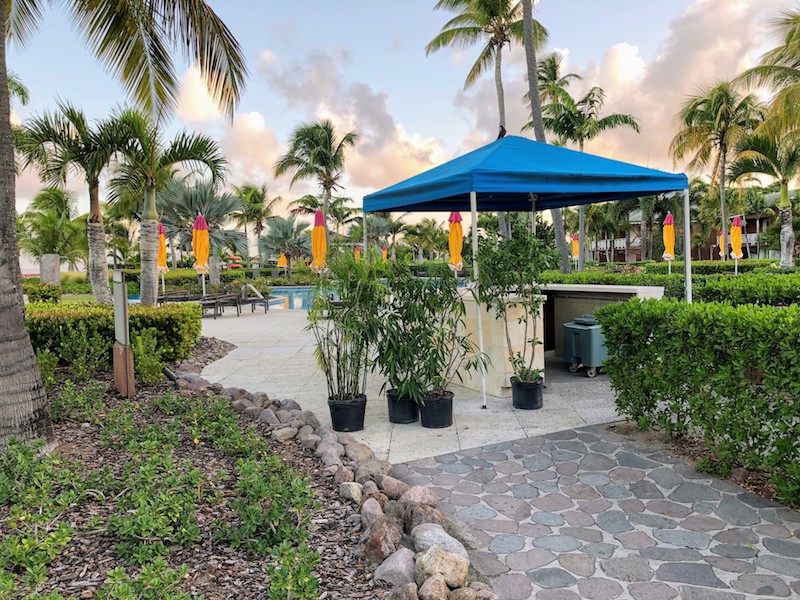 When I heard the lobby was closed for renovations I thought "big whoop, who cares about the lobby?". But the lobby also houses the main restaurant and a bar. So it's more than just the initial impression of the resort. It closes off the hub of the resort.
Machines were hard at work in the lobby making noise all day.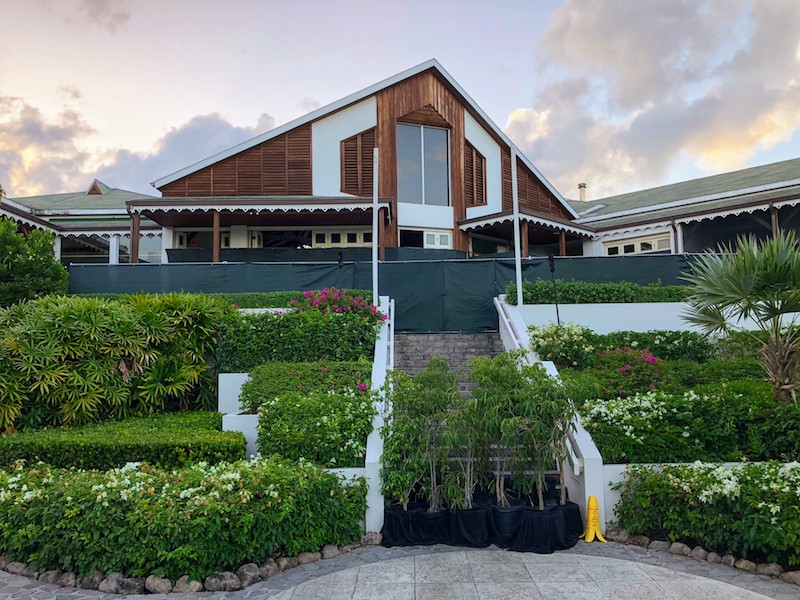 Good Things
The resort does have some undeniably good things going for it.
The grounds are mature and has a tropical feel. We thoroughly enjoyed walking the adjacent golf course each morning and especially seeing monkeys.
The beach, though in shambles at the moment, has calmer waters with less seaweed than the Park Hyatt St. Kitts.
The island of Nevis is inherently more tropical and beautiful, from what we saw, than St. Kitts.
Since the resort was so "meh" we were anxious to get out and explore, and I'm glad we did. We caught a taxi over to the nearby Alexander Hamilton birthplace museum. I asked our driver, "Humpy", how we could catch a ride back when we were done. He said he'd wait for us.
The museum is a quick stop, but we liked him so we spent the afternoon getting a tour of the island. Our stops at Hermitage, Golden Rock, and Montpelier Plantation are all spots I'd love to visit in the future. Absolutely gorgeous.
The spa was nice.
Four Seasons Nevis Reviews
Overall I felt like I was staying a different hotel than I booked. It felt like a classic Oyster hotel fakeout situation.
After staying, I thought "How did I miss this? How could I have found out about this before we arrived?"
The Oyster review is very positive. Ironically, the one "Con" they list for the property was the small size of the spa. I felt this was one of the nicer parts of the resort. Likewise, Oyster says "The gorgeous room here may be the highlight." Seriously? Why are they investing so much money to renovate them if that's the case?
When I checked recent TripAdvisor reviews they were all sunshine and flowers. Until one very recent review that was published during our stay.
Perhaps these renovations appeared completely out of the blue, but they looked to me like they'd been going on for quite a while.
Bottom Line
I think the Four Seasons Nevis should be closed during these much needed renovations. The property is owned by Bill Gates so you think he could take the hit.
If they're not going to close it they should inform guests of the extent of the renovations while booking and price it to the quality they're delivering.
To do otherwise shakes guest confidence in Four Seasons as a collection of hotels. I'll definitely do my homework in the future before trusting that all Four Seasons are quality hotels.
I'd be leery of visiting the hotel even after the renovations are done because, as extensive as they are, I don't think they're going to bring the property up to par. We experienced quality issues and service gaffes that had nothing to do with the renovation. I have no reason to believe they'll resolve once the job is done.
Staff told us the renovations were supposed to be done by "November". From the article it makes it sound like it will be until November 2019 rather than 2018.
Ultimately, they squeezed some money out of me for this stay but they lost a big fan of the brand.
I followed up with Four Seasons corporate asking for compensation. I'll follow-up if I hear back from them.
My rating: 60/100 points. Unacceptable conditions and a terrible value.
I recommend avoiding the Four Seasons Nevis until further notice.