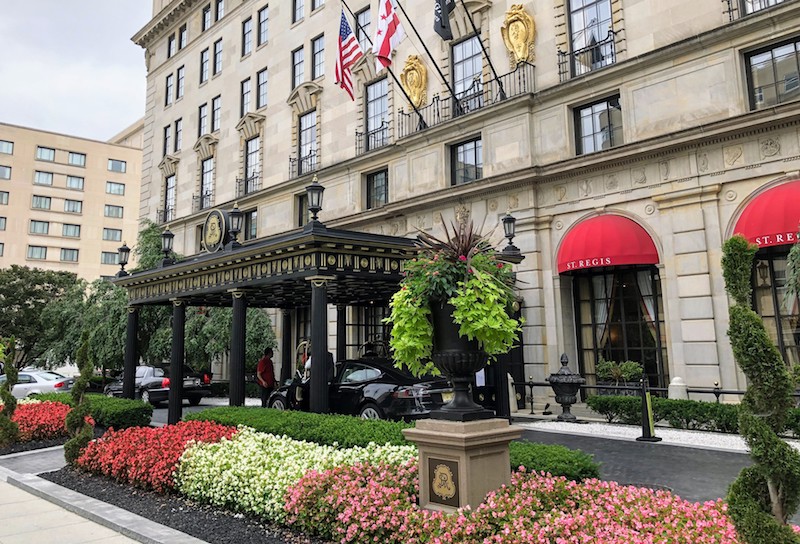 Quick Summary: We just completed a stay at the St Regis Washington DC. Although it's a very nice property, don't expect a lot of leverage out of SPG Platinum status.
We chose the hotel because we thoroughly enjoyed a stay at the St Regis New York last year (Instagram review). Every room there comes with butler service, and it was surprisingly non-awkward and actually pretty great. At the Washington DC property butler service only comes with suites.
I booked a Superior King for $284/nt. I hoped my SPG Platinum Status would get us a suite upgrade and other status perks.
SPG Platinum Status Benefits
SPG Platinum is earned after completing 25 stays or 50 nights.
See: SPG Platinum Member Benefits
Key perks include:
Your choice of welcome gift upon arrival — choose from bonus Starpoints, continental breakfast or local amenity.
An upgrade to best available room at check-in — including a Standard Suite.
Arrival – St Regis Washington DC Platinum Treatment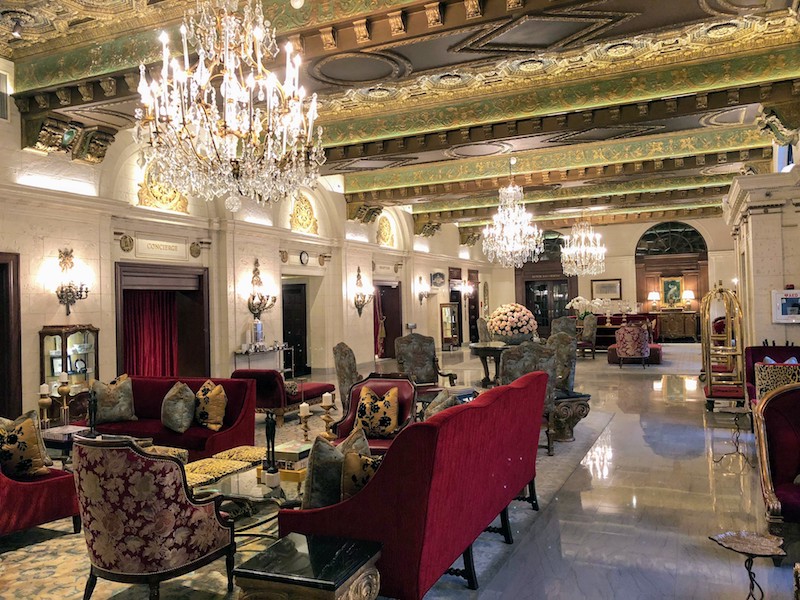 We arrived at the hotel at 3:30pm, shortly after their 3pm check-in time.
There's not a typical "front desk" at the property. Instead, Reception and Concierge activities are conducted in small curtained rooms off the lobby.
We were nicely greeted and my SPG Platinum status was verbally acknowledged. I was informed that we'd been upgraded from our Superior King room to a Grand Luxe King room which is slightly larger but not a suite.
Checking Room Availability Online
Before arriving, I checked to see if any suites were available for booking and indeed there were: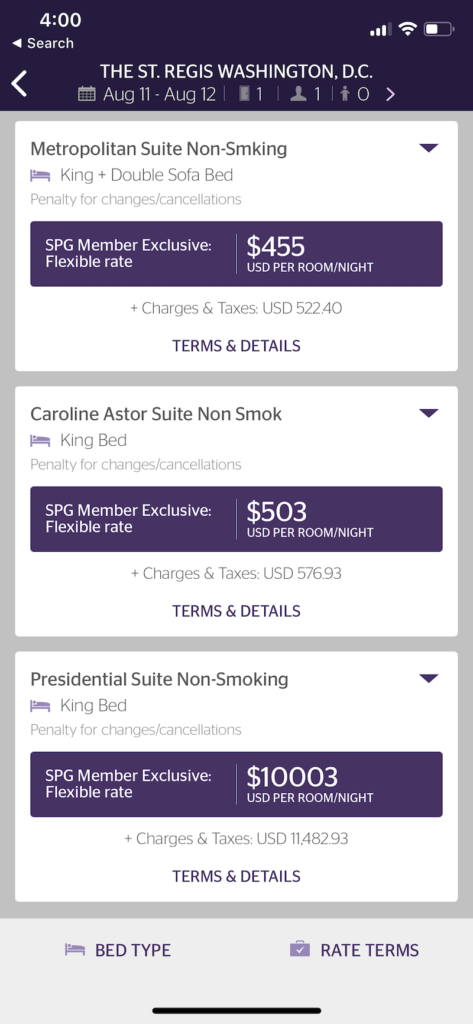 I had a feeling I wouldn't be offered a suite, so I asked if any were available. The rep said they had some cancellations, so she checked and found that if we were willing to wait a couple of hours until a Platinum guest in a suite vacated the room we might be able to get one.
We were tired from a day of travel so the prospect of waiting for a suite didn't seem worth it.
We accepted the non-suite room, but the situation didn't sit well with me.
It seems the T&Cs are pretty clear that if you've got Platinum status and they've got a suite available they should give you one.
Before arriving I did some research on this property and found at least one other person had been denied a suite upgrade when they were available for booking online. In that case, the FlyerTalk user booked the suite on the spot and cancelled their previous reservation.
I don't like to get into confrontations while checking into a hotel. I'd rather they just treat me well, and I'd prefer they honor the T&Cs of the loyalty program they're associated with. So this was a disappointing start to our stay.
Room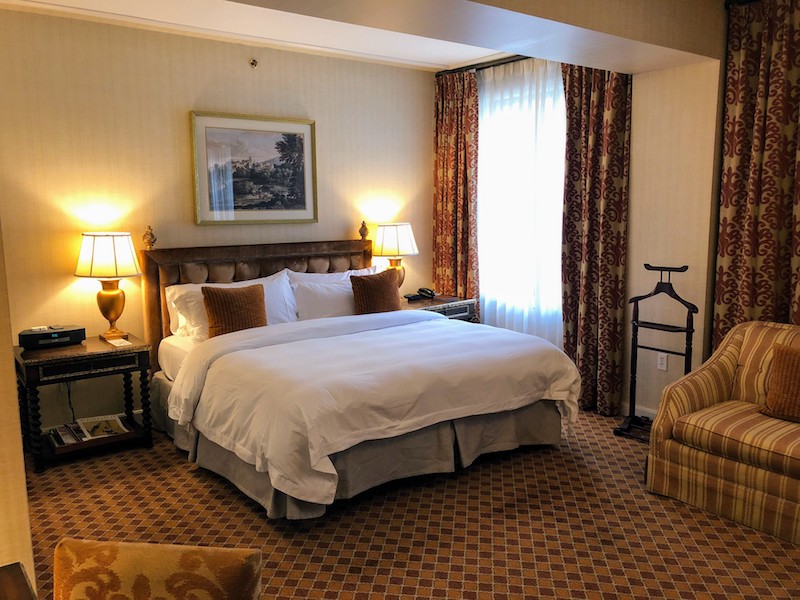 The Grand Luxe room is around 450sf (whereas the Superior room I was originally booked into was around 350sf). It included a pullout sofa that would be a nice inclusion for smaller children.
The bed was supremely comfortable and well-appointed. The room was equipped with plush bathrobes and massive bath towels. Like the New York St Regis, they get these details right.
The overall feel, to me, was of a hotel that harkens to a gilded era that's been kept up fairly well.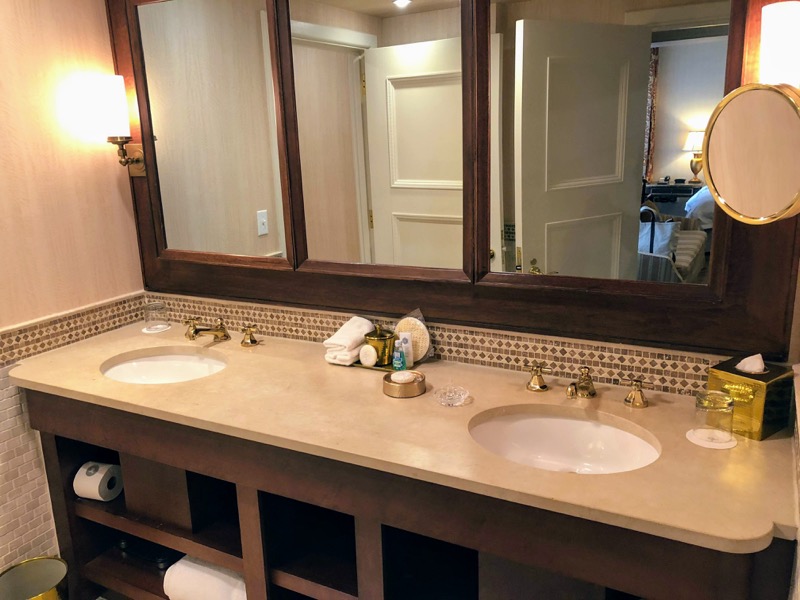 The view wasn't so great.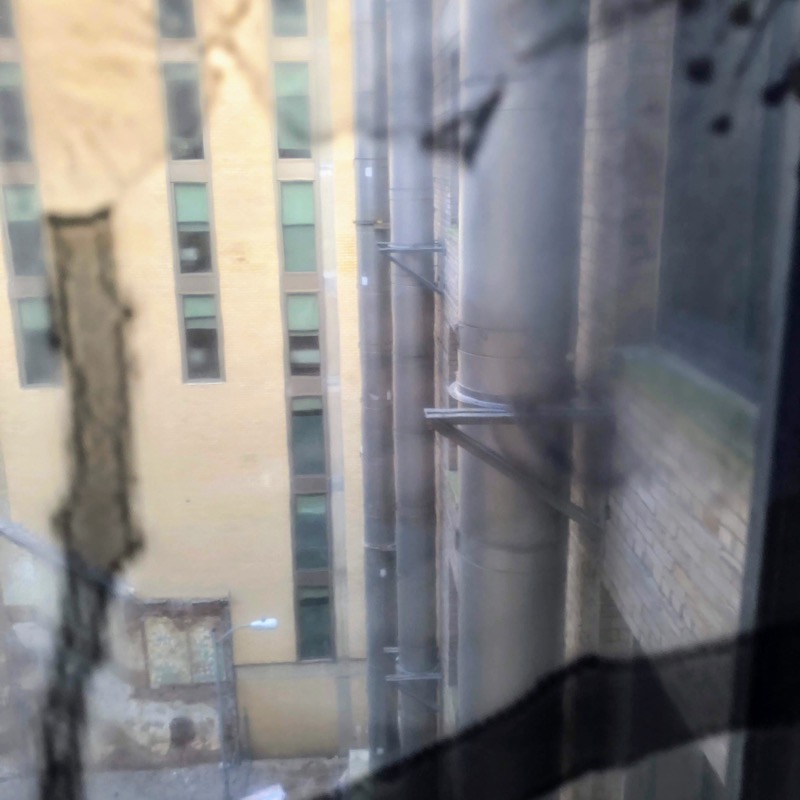 Like many hotels, device charging standards are bit behind the times.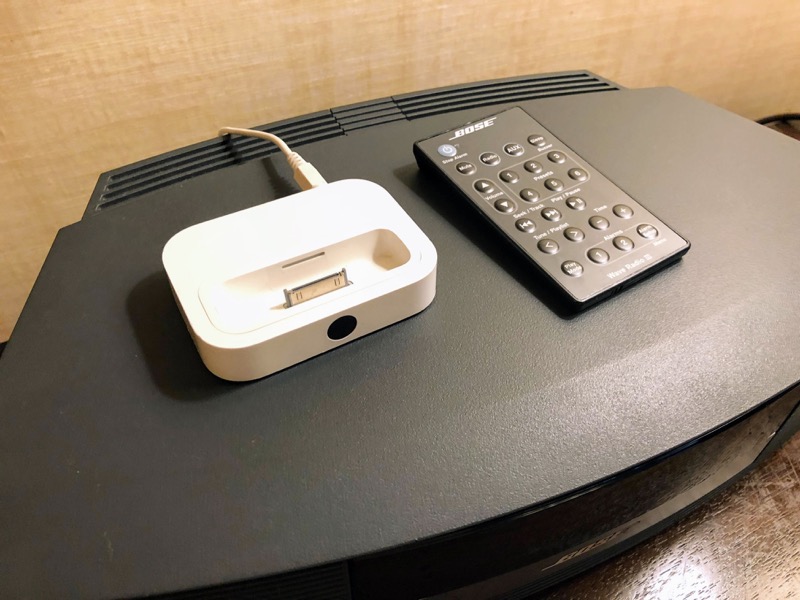 Turn-down service was provided in the evening without needing to request it. They freshened the towels, made the bed, dimmed the lights, drew the curtains closed, placed slippers next to the bed on mats, and turned soft classical music on the stereo.
Evening Champagne Sabering
Each night at 6pm there's a ceremony in the lobby where they saber [and serve complimentary pours from] a bottle of sparkling wine.
This is a St Regis tradition observed at most properties, and I enjoyed it.
I thought it was interesting how they displayed [empty] bottles of Krug on ice (~$200 retail) but sabered and poured from a much less expensive bottle of Spanish Cava (a Segura Viudas Reserve that sells for ~$20).
The Cava was tasty, and I commend the artistry.
Breakfast
Breakfast is served in Alhambra, the hotel's French Mediterranean restaurant.
The SPG Platinum T&Cs say that "Continental Breakfast for 2" is complimentary. It's always interesting to see how hotels navigate this. They did a terrific job explaining how it worked without making the exchange awkward.
Upon being seated, the hostess asked for our room number. I placed the Platinum Breakfast card they gave us at check-in on the table and she explained that we could order anything we'd like off the menu and we'd receive a credit for ~$50 of it.
This bit of clarity put us at ease to enjoy what we wanted while still getting the benefit of some amount of complimentary breakfast.
Our server further clarified that it would be a $49.50 credit, which covers the $19 continental breakfast plus tax + tip.
I went with the Maryland-Style Crab Cake Cakes Benedict which I thought was excellent. These guys know how to poach an egg.
We ended up going about $9 over.
Breakfast overall was outstanding. Although the elite benefit isn't as generous as the Park Hyatt DC's Blue Duck Tavern (Instagram review) the overall experience was on-point for our situation.
But if we were travelling with kids or additional family in a second room, limiting the benefit to just 2 people would have been problematic.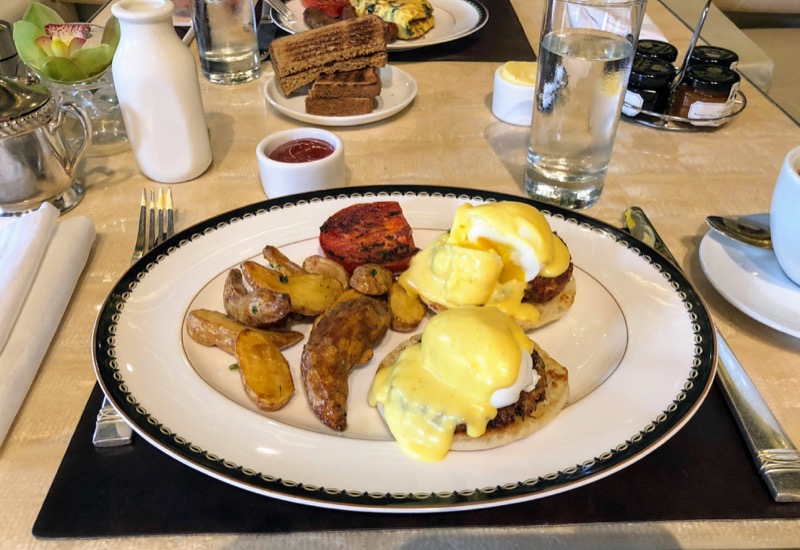 So What's Up with the Non-Upgrade?
After we checked out of the hotel I pinged @SPGAssist on Twitter. They're generally helpful and act human, so I said [paraphrasing] "Hey, I enjoyed the St Regis DC but it seemed strange to me that I didn't get a suite upgrade when suites were available for booking online at the time of check-in."
They said there were no Standard suites available which is why I wasn't upgraded and offered 4,000 Starpoints as a goodwill gesture.
I asked how I could tell which suites were standard in general, and specifically which suites at the St Regis DC were considered Standard?
They said I could ask them to find out, and that at the St Regis DC the St Regis Suite, the Metropolitan Suite and the Caroline Astor Suites are suites I could be upgraded to based on availability at the time of check-in.
I said, did you see the screen grab I sent from my phone? It shows the Metropolitan Suite and Caroline Astor Suites are both available, but I didn't get upgraded it to a suite even when I asked.
They said that sometimes there's inconsistency between what's shown online vs what's actually available at the hotel.
It all sounded pretty fishy to me at the time and still does as I think about it. I think they did have space [they were selling them online after all] but they just didn't want to give the upgrades away, perhaps because of the additional expense of providing butler service with the suites.
Summing it Up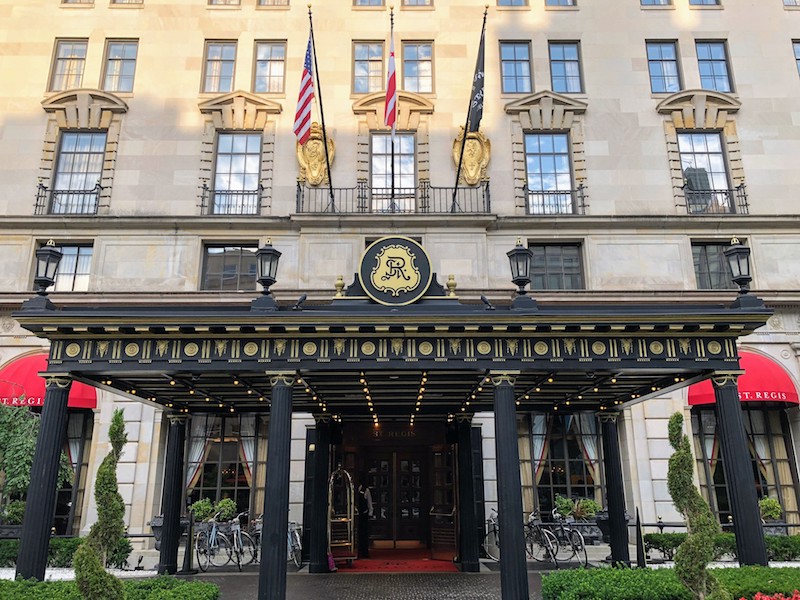 The St Regis Washington DC is a fine hotel with weak status recognition.
They didn't upgrade me to a suite even though they showed suite availability online at the time of check-in. This is a strike against the hotel in my book, but more importantly a strike against SPG/Marriott loyalty.
If "space available" upgrades aren't provided when there is available space, supposedly a key benefit of SPG Platinum, what's the point of holding status?
We'll go into more thoughts on the current state of hotel loyalty programs and our strategies going forward in an upcoming Shop Talk.
We'd love it if you subscribed to the blog for future updates.