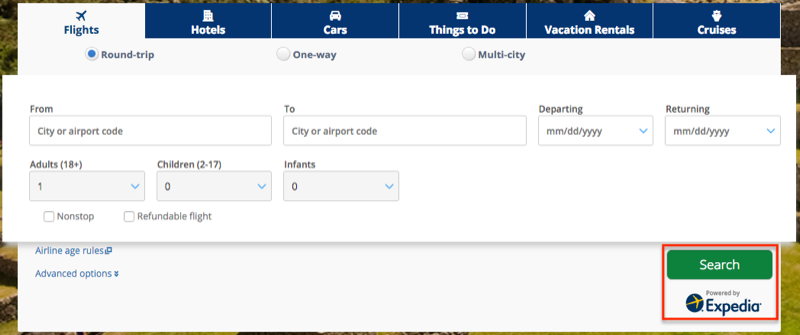 Chase recently announced they're partnering with Expedia as the online travel agent for Ultimate Rewards redemptions.
This change occurred with the Chase Freedom card on August 12th and they're planning to roll it out to other Chase cards in coming months. You'll know you're seeing the Expedia version of the portal when you see "Powered by Expedia" on the lower right hand corner of the search page.
Since the Freedom card doesn't have any uplift towards travel, it doesn't make sense to use the portal yet. But once they roll it out to cards which do provide uplift towards travel, especially the Sapphire Reserve which enables 1.5 cent per point redemption of all your Ultimate Rewards, the portal will be worth taking a look at.
I say that because you can book things through Expedia that you couldn't book through the old Chase portal, and the prices are more in line with what you see across other online travel agencies.
Since Chase allows co-mingling of Ultimate Rewards across personal and business cards -and- between spouses this will make the Sapphire Reserve even more attractive from a redemption perspective once the Expedia booking engine is in place on that card.
Things You Can Book through the Chase Ultimate Rewards/Expedia Portal
There some things you can book through this new UR/Expedia portal that you couldn't book through the old portal:
Vacation Rentals (they list HomeAway inventory, but every date I've checked shows Sold Out currently)
More hotels, especially boutique hotels in foreign countries (for example this one in Tuscany)
Walt Disney World hotels (strangely the Chase UR portal doesn't show these, yet the Citi ThankYou portal does)
Disney Park tickets
In my experience the Chase portal tended to be a little more expensive than what I saw when booking hotels directly.
I did some spot checking of hotel prices through the new Expedia portal and the pricing matched the best pricing I saw on the hotel's site.
Initial Impressions
The prospect of booking Vacation Rentals with 1.5 cent per point uplift is very appealing. However, every single date I've checked shows Sold Out. I've looked close-in and far-out at a variety of destinations. Seems to me like they haven't quite fully turned that feature on yet.
The ability to find a broader range of hotels is very appealing to me. Especially desirable off the beaten path hotels that aren't part of loyalty programs.
Being able to book Disney stuff directly is also appealing to me personally.
There are more cruises listed, though I still don't see Disney cruises.
A Workaround
Long-time bank point enthusiasts know you can book Cruises & Tours plus much more by calling the Chase Cruises & Tours desk.
They can book Disney vacations, find obscure hotels, and potentially match hotel-direct pricing.
The quality of the Cruises & Tours agents varies. I've found one that is hands down the best travel agent I've ever worked with. Keep calling until you get agent you like, and when you do don't let go of their contact info.
Possible Downsides
Having a wider selection of self-bookable vacation components is a great thing. But one little mention in the CNBC article gave me concern:
Previously, J.P. Morgan used a company called Connexions Loyalty, part of privately-held Affinion Group.
Remember that great Cruises & Tours travel agent I mentioned? She works for Connexions Loyalty. I'm concerned that once Expedia is fully rolled out as the Ultimate Rewards booking solution that we'll lose the ability to work with a human being on more complicated booking scenarios.
Things like going to bat for me and getting discounts after I've booked a hotel but I'm inside the cancellation window.
We'll see how these new online booking options affect other booking channels Chase provides.
Bottom Line
I'm cautiously optimistic about this development.
Having more options is a good thing, and the Expedia portal opens up a lot more ways for Chase customers to easily redeem their rewards for good value. It also enables customers to use credit card rewards for much more complete vacations than we've traditionally thought of as being fundable with points & miles.
Have you seen anything in the Chase/Expedia portal you can book that you weren't able to before?
Anything showing up at a good price vs what you see in the old portal or booking direct?