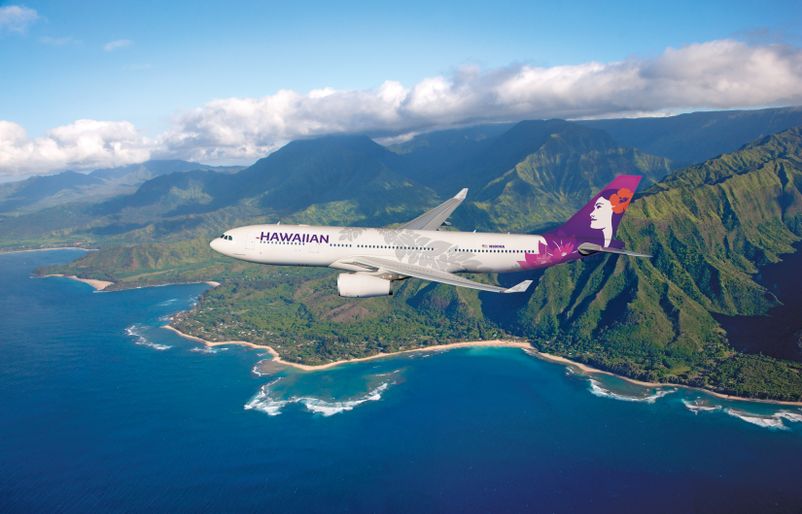 Hawaiian Airlines announced direct service to Boston starting in April 2019.
With flights 5 days a week on A330s equipped with 18 lie-flat seats, this will be by far the most comfortable and direct way to get to Hawaii from New England. The 11h 35m flight will be the longest regularly operating US flight in history.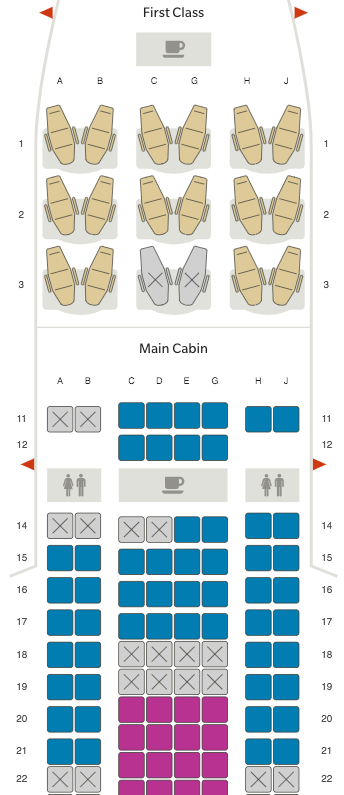 Getting to Hawaii from the East Coast is quite different than from the West Coast. The flight duration makes it significantly longer than getting to Europe from the East Coast. So premium cabins, or at least a little extra leg room, are much appreciated.
As a Boston-based flyer, I hadn't examined their program closely before. Because if I had to route through JFK I may as well connect elsewhere. Hopefully this post is helpful in answering some of the questions I had when I learned they were flying to Boston.
Today I'll look at the best ways to book this new flight using cash, bank points, and airline miles.
Fare Sale for April 2019
Before we get into it, it's worth mentioning that they're offering some terrific fares to kick things off.
$309 pp one-way in Economy and $888 pp one-way in First. Before you get excited thinking "these dates work perfectly for April break!" recognize they're blacking out those dates:
Book between September 14, 2018 and September 16, 2018. Travel April 4, 2019 to April 30, 2019.
Blackout dates: April 12, 2019 through April 14, 2019 to Hawaii; April 19, 2019 through April 21, 2019 from Hawaii.*
Those are some restrictions to dodge around, but if you can make the dates work it's a great deal. But you have to pull the trigger by Sunday, September 16, 2018.
Cash Prices
Checking fares on the route from May through August I see:
BOS-HNL in Economy for ~$500 pp one-way
BOS-HNL in First for $1500 pp one-way
We've observed lately that bank points are best for domestic flights and miles are better internationally.
These flights are somewhere in between domestic and international price-wise so it makes sense to price out bank points vs airline miles.
Using Airline Miles
Here's an outstanding comprehensive guide for getting to Hawaii using airline miles by @ljsbrooks:
Hawaii Miles And Points Guide Part 2: Best Award Rates
For this route, you'll want to focus on the Hawaiian Miles section of the post. It summarizes how many Hawaiian Miles -or- partner miles you'll need if there's award availability.
If you have Hawaiian Miles, or can generate them, they're likely your best option for booking with miles. Partner award pricing isn't significantly better, though you may find it easier to generate partner miles.
Hawaiian isn't part of a traditional airline alliance. Instead they have partnerships with individual airlines. The partnerships aren't uniform. For example, United is a partner but you can only use United miles to fly between Hawaiian islands on Hawaiian metal.
These are the partner airline miles you can use to fly Hawaiian metal from the mainland to/from Hawaii:
Korean Air
JetBlue
Virgin Atlantic
Virgin Australia
Of these I'd say Virgin Atlantic is the most useful because of their co-branded BofA credit card with a 75,000 point signup bonus. Plus the fact that they're a 1:1 transfer partner of all three flexible bank point programs.
Some of JetBlue's redemption rates sound intriguing. But with space availability limited to [at best] times when Hawaiian has saver level availability it's not likely to bear fruit.
Generating Hawaiian Miles
You probably don't have any Hawaiian Miles, but you may be able to generate some:
American Express Membership Rewards transfer 1:1 to Hawaiian. And they sometimes run heightened transfer bonuses.
Marriott Rewards transfer 60,000:25,000 to Hawaiian. This is a carry-over of the old SPG 20,000:25,000 transfer program.
Finally there is a co-branded credit card that currently has a 50,000 mile signup bonus
Searching for Award Availability Using Hawaiian Miles
You can search Hawaiian award availability on their website: www.hawaiianairlines.com
To perform an award search you'll need to create a frequent flyer account and log in.
Here's their award chart.

As you can see, it varies from 20,000-60,000 pp one-way in Economy.
And between 40,000-130,000 pp one-way in First.
I do see a fair amount of availability for 4 people in Economy at the 20,000 SuperSaver level for dates in April and May.
First Class seems pegged at 130,000 pp one-way for the entire schedule.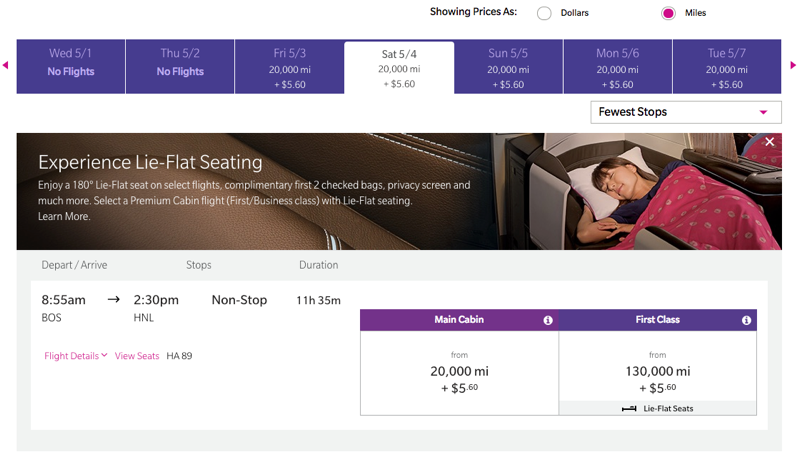 With cash prices around $500 pp one-way in Economy that's roughly a 2.5 cent per point redemption and a pretty good value in Economy.
With cash prices around $1,500 pp one-way in First it's a poor redemption at 130,000. You'd be better off using bank points for First.
Searching for Awards Using Partner Airline Miles
None of their partner airlines show award availability on Hawaiian metal online. To check availability you have to call the airline whose miles you want to use.
It's not necessarily cheaper to use partner miles. Hawaiian's chart is pretty generous. It's more a matter of partner airlines having more 1:1 flexible bank point partners than Hawaiian. Or perhaps you have a stockpile of certain partner miles you'd like to utilize.
If Hawaiian shows Saver level availability I'd say it's worth calling the partner airline to check for availability.
Can You Use Hawaiian Miles to Upgrade to First?
Yes, if it's a paid ticket. Upgrades from Economy to First are between 25,000-50,000 pp one-way. Upgrades are subject to availability.
See: Upgrade to First/Business on Hawaiian's site

Let's run the numbers on whether this might make sense…
Say an Economy ticket is $500 and First is $1,500. If you bought an Economy ticket then upgraded to First for 50,000, the upgrade would be roughly a 2 cent per point redemption. I'm assuming that if the only award availability in First is their highest "Flex" level that the upgrade possibility, if any, would also be at the highest level.
If you paid for the Economy ticket with bank points with 1.5 cent per point uplift that would cost 33,000 bank points + 50,000 transferred 1:1 to Hawaiian for the upgrade. That's a total of 83,000 bank points pp one-way, which is better than the 100,000 bank points you'd pay if you just bought the seats in First with bank points. And a lot better than the 130,000 Hawaiian wants to book the award directly.
Not too bad if you really want to fly the route in a lie-flat. And I would on the return red-eye flight especially.
If you're unsure whether you'll be able to upgrade with miles, you could book the Economy ticket then attempt to upgrade it. Be sure to do this within 24 hours of booking the ticket so if upgrade availability or pricing isn't what you expected you can cancel the tickets.
Hawaiian Airlines will:

allow customers to cancel reservations made 7 or more days prior to departure without penalty if requested within 24 hours of purchase.
See: Customer Service Plan on Hawaiian's site
Similarly, flights booked with bank points from American Express or Chase Ultimate Rewards also allow refunds within 24 hours.
On Hawaiian's site in the upgrades section it makes an ambiguous mention of discounted flight awards for Hawaiian credit card holders:
Pualani Platinum, Pualani Gold, and Hawaiian Airlines® MasterCard® holders have access to additional discounted flight awards for travel on Hawaiian Airlines. These members may login to view discounts.
I thought perhaps it was referring to some discount on the number of miles required to upgrade to First but I think it's referring to this benefit whereby Economy awards can be had at a discounted rate.
Note: You cannot upgrade an award ticket with miles.
Does Hawaiian Do Status Matches?
Accord to recent datapoints on StatusMatcher, yes.
Richard Kerr's piece on TPG suggests they require "documentation of flights completed that earned the elite status" but datapoints on StatusMatcher suggest that showing a screenshot of the status you have on the other airline along with expiration date is sufficient.
I wouldn't run out and attempt this until you have plans to fly Hawaiian in the near future.
Can You Upgrade an Economy Ticket to Extra Comfort?
Yes, even if it's an award ticket purchased using HawaiianMiles.
See: Extra Comfort Seats on Hawaiian's site
Can I upgrade a Coach award ticket that I've used miles, to purchase an Extra Comfort Upgrade? 
Yes. Coach tickets that were purchased using HawaiianMiles can be upgraded to Extra Comfort, however the upgrade must be made in USD. HawaiianMiles cannot be used to purchase Extra Comfort upgrades.
It costs $145 pp one-way to upgrade from Economy to Extra Comfort.

Bid For an Upgrade to First Class
Hawaiian has an scheme whereby "eligible tickets" can bid for First Class upgrades.
The way it works, you submit a bid 48 hours or more before takeoff. Elites get complimentary upgrades 72 hours prior to departure so they're auctioning off remaining seats to the highest bidders. You find out 24-48 hours prior to departure whether your bid was accepted.
I can't tell whether award tickets are eligible for Bid Up. It seems like maybe they are because "Pass Travelers and Booking with Infants" are listed as reasons why someone might be ineligible to Bid Up.
Here is a FlyerTalk thread with successful/unsuccessful datapoints.
Cash Day of Departure Upgrades
So let's say seats remain in First Class on the day of departure. This means nobody booked these seats as an award because they're 130,000 pp one-way. Nobody booked them on a paid ticket in Economy then upgraded with miles. No elites were given the seats as a complimentary upgrade 72 hours out. And no Bid Ups were accepted 48 hours prior to departure.
If all of these conditions are met and seats remain in First Class you can upgrade with cash on the day of departure.
It costs $799 pp one-way for JFK-HNL and I'd imagine the same would apply for JFK-BOS.
Hawaiian elites (Pualani Gold/Platinum) get discounted paid upgrades. Elite upgrades to First Class require certificates, and an elite might or might not have enough certificates and/or may want to pay to upgrade companions.

Upgrades with Hawaiian Status
Hawaiian elites are eligible to upgrade to First Class on a space-available basis between 72 and 4 hours prior to departure. Though complimentary, each upgraded segment requires the use of a certificate. It's…complicated and program terms are changing from 2018 to 2019.
Read all about it in the Pualani Platinum Upgrade Certificate Terms & Conditions.
It might be possible to get a Pualani Platinum status match and effectively leverage it to upgrade you and a companion to First Class. Or at least Extra Comfort. But it will require a successful status match (that includes the upgrade certificates) a little luck with space availability.
I'll look forward to learning more about this.
Can I Connect to Another Hawaiian Island on a Single Award Ticket?
Yes, you can. And it won't cost you any more miles if there's award availability.
Here's a search for Boston to Maui stopping in Honolulu. 20,000 pp one-way in Economy, just like Boston-Honolulu:

You Can Fly Boston to Tahiti Entirely in Lie Flats with One Stop

Getting to the south Pacific from Boston is quite difficult. With this new Boston-Honolulu route you can make it there in a single 18 hour day of travel.
I get an error when trying to price it as a single award ticket. I thought perhaps it had to do with minimum connection times, but it prices as paid ticket. If you're serious about flying to Tahiti you may want to given them a call.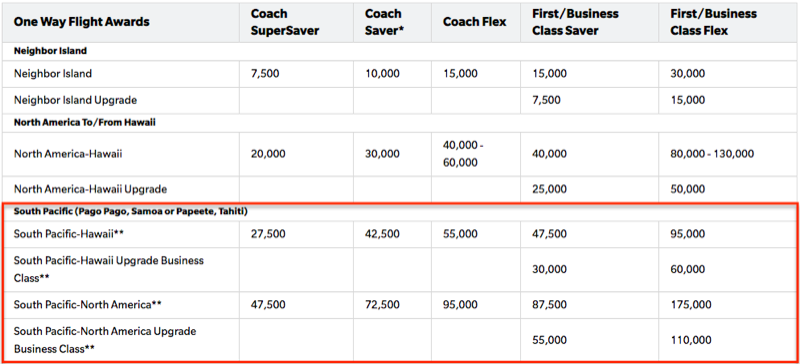 Bottom Line
This new direct flight from Boston to Honolulu is a welcome addition. It's better and more affordable than the previous best options, which invariable involved one or more stops. And rarely included lie-flats unless you really worked hard to find them.
We'll see how prices and award availability trend as the route matures. Hawaiian doesn't have a great reputation for saver level award availability, but then again neither does their competition.
Do the math on whether cash, bank points, or airlines miles work best given the currencies you have on hand.
Ping us on Twittter (@milenomics or @robertdwyer) or drop us an email if you'd like to compare notes on how to best book these flights.
Any angles I missed? Any questions?