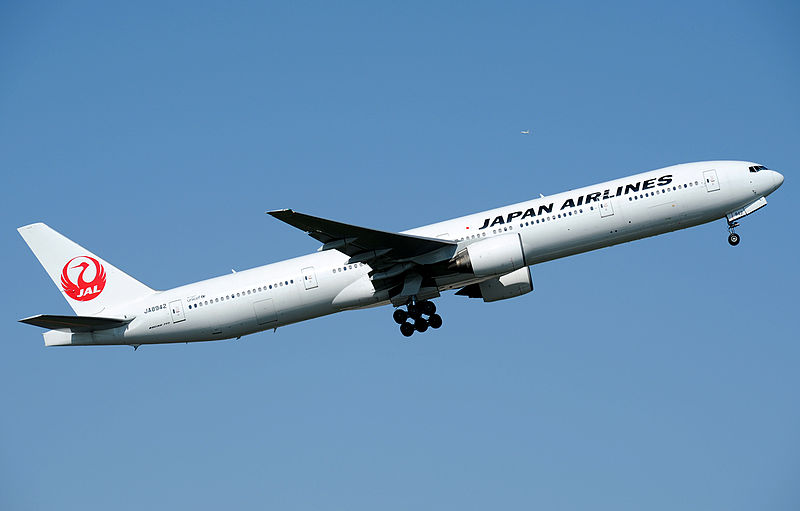 Have you ever arrived at an event – say a theme park – right when it opened and felt like other people had been there long before you?
Disney does this at their parks. People staying at their hotels get in early. And they sell tickets to events before the park opens/after it closes, effectively selling park access multiple times a day.
I've always felt this way while looking for award travel to Tokyo.
The past few years, I dutifully searched for award space on JAL's Boston-Tokyo direct flight using Alaska miles right when the flights first became bookable with Alaska miles. There has never been space in Business Class for 2 people, let alone 4.
Space might have opened up later/closer to departure. But at school break, the odds of that happening are slim.
This year I decided to push harder for it. And I was successful! But my goodness, the things you have to go through in this game.
Here are some tips and tricks for booking premium cabin flights on JAL from the east coast for a family of four during school vacation.
Check Award Availability at the End of the Schedule
Before the booking window opens for the dates you're interested in, check how many seats the airline tends to release right when the schedule opens. Every airline is different in terms of how many seats they open in each cabin when they release the schedule (if any). Airlines are also different in terms of when they release their schedule, and it varies depending on the miles you're using.
In the case of JAL they follow this pattern:
360 Days – JAL Mileage Bank
355 Days – British Airways
331 Days – AA
325-330 Days – Alaska (330 days for roundtrip, 325 for one-way)
Until recently JAL, BA, and AA all had access at 331 days. But recently JAL and BA started gaining access to JAL flights much earlier than AA or Alaska (HT TravelSort).
JAL Mileage Bank miles are relatively hard to earn since they aren't point transfer partners of any banks. And British Airways charges a ton of miles (plus taxes + fees) to fly on JAL. But nonetheless, by the time you're able to book with AA miles, or especially Alaska miles, the inventory may have been picked over by people using other currencies.
The good news is that JAL has reliably been releasing 2 seats per cabin per flight.
Here is a snapshot of BOS-TYO at 355 days out on BA's site. 2 seats in Premium Economy, 2 seats in Business Class. There is no First Class cabin on this route.

Fly a Route with Business -and- First
Since I noticed they were releasing 2 seats in each cabin I thought "hey – I wonder whether that means they'll release 2 in Business and 2 in First on four cabin planes"? They do.
Here's a snapshot of JFK-TYO at 355 days out on BA's site. 2 seats in every cabin, but someone has snatched up the Business Class seats on the Tokyo Haneda flgiht. My guess is this was someone booking with JAL Mileage Bank miles at 360 days -or- they used BA Avios as soon as the schedule opened. But there are still 4 seats to Tokyo Narita available (2 in Business, 2 in First).

So position for a flight with a Business Cabin and a First Cabin if you want to get 4 people in Business or better far out on the same flight.
Search Award Availability on JAL Metal Using AA Miles
AA's online award search doesn't show JAL partner award availability. To search AA award availability on JAL metal, first search on BA or Qantas. If space shows at 331 days out, call AA and they should be able to see the space.
In my tests, if space shows on BA's site AA phone agents can book it.
Tip: Google "331 days from now" to determine the date schedules open
AA 5-Day Holds
One really nice thing about AA miles is they allow 5-day partner holds.
You don't need to have enough miles in your AA account for the award, and you can hold multiple flights concurrently.
If you call and search for space and an agent finds it, they often offer to hold the award as a courtesy.
These holds can be great because:
It gives you time to think about it/check vacation schedules/get buy-in from family members
Gives you time for a Marriott point transfer to occur (they take a couple of days)
You can wait for an AA credit card statement to close to boost your mileage account balance
It provides time for AA domestic connection space to open (sometimes it opens at 328 days rather than 331)
It gives you time to research a return flight
We talk more about ways to use these 5-day holds, including a "catch and release and catch" technique on the podcast:
Episode 21: JAL Premium Cabin Award Tips & Tricks
Will Space Remain for Booking with AA/Alaska miles?
It's hard to say what impact those booking with JAL/BA miles at 355+ days will have on availability for booking with AA/Alaska at 330/325 days. Until just recently JAL, BA, and AA all released at 331 days.
But Alaska releases at 325 days for one-ways, and 330 days for roundtrips.
Here's a look at JFK-TYO 325 days out on Alaska, for a Tuesday in March. Not bad. 2 seats remain in Business and First on the flight to Tokyo Haneda.

Here's a search at 323 days out on Alaska's site for a Sunday flight. No availability in Business/First.

So space goes quickly especially during the 325-331 day window.
The trend I've seen since JAL/BA started having access at 355+ days is:
Some inventory is indeed taken at 355+ days
Even more inventory is picked over at 330/331 days when it becomes bookable with AA
It's really important to book as soon as possible with AA miles (at 331 days out). And if you're booking with Alaska miles it's even more complicated.
A Trick for Booking One-Way JAL Awards at 330 Days with Alaska Miles
One really lousy thing Alaksa does is block access to one-way JAL awards until 325 days out. AA has access at 331 days so those 6 days can really make a difference. But you can push Alaska one-ways to 330 days by booking a roundtrip then cancelling the outbound.
Here's a one-way search from JFK-Tokyo at 330 days out. Notice there is no JAL space shown: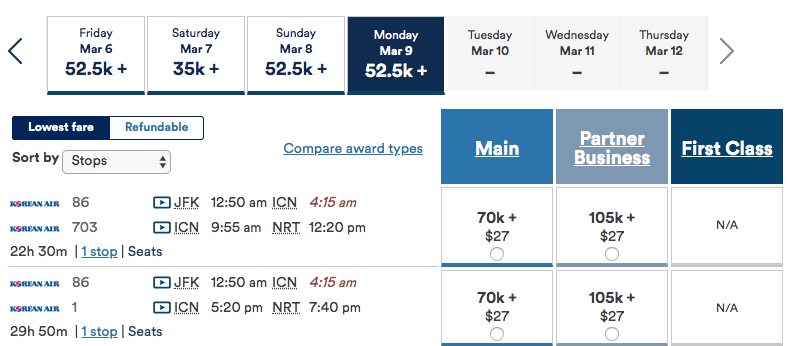 However, if you search a roundtrip originating from Tokyo for some time within 325 days and return at 330 days you can see space from JFK-Tokyo at 330 days out: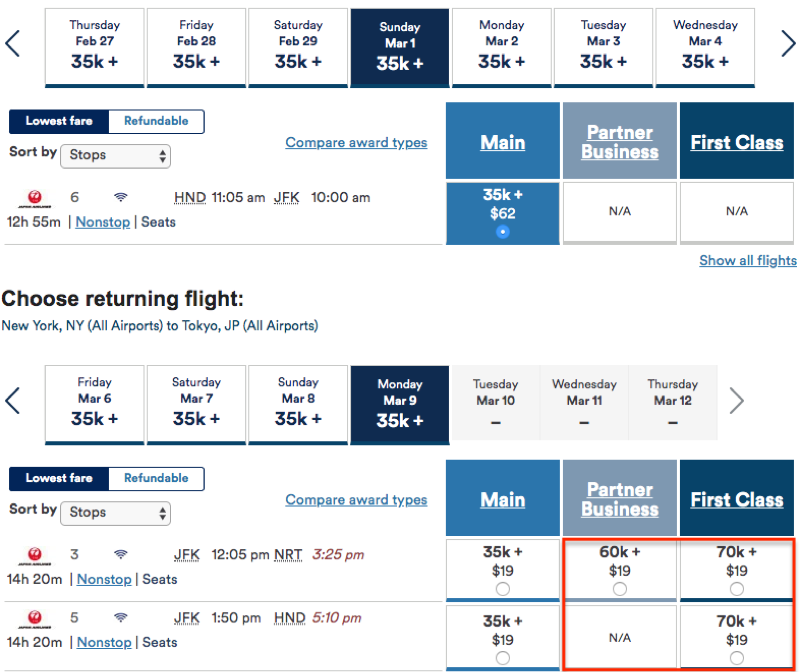 If you call Alaska they'll see the same thing. It won't help if you point out that you can book it as a roundtrip, so why can't you book it as a one-way.
As a workaround you can:
Book it as a roundtrip
Lop off the outbound within 24 hours of booking
Wait for Alaska to redeposit the miles for the outbound
In my experience this worked nicely in terms of getting access to JAL flights at 330 days out with Alaska miles. It does require "overhead" miles in your Alaska account to book the roundtrip. Book the outbound you intend to cancel in Economy to minimize that overhead.
And be prepared for Alaska to take a while to process the refund. Each time I did this, the cancellation process "went to queue" to a special group due to a "web error". To expediate the process, call and tell the Alaska agent that you need the miles refunded to book another award. They can sometimes bump your request up the priority stack.
Bottom Line
It's nice that JAL reliably makes partner award space available when the schedule opens. Not all airlines do so.
But securing that space is tricky, and it's gotten more competitive with JAL Mileage Bank access at 360 days and British Airways access at 355 days. With AA miles you're the third group to the buffet and with Alaska miles you're fourth.
We discuss a potential way around this on Episode 22 of the podcast:
Episode 22: JAL Award "Long Holds"
If you can't lock in the award space right at schedule opening, there's still hope. As Joe reports, JAL tends to release space in First for awards close-in if seats are available. This is great when using AA miles because AA doesn't change fees for upgrading cabin on the same route (though Alaska does charge a change fee).
See: Quick Hits: Close In First Class Award Space On Japan Airlines
Keep these things in mind the next time an AA/Alaska award sale come around. Their charts to Asia look great on paper but award availability, and usability (as outlined above especially with Alaska miles), can be challenging.
All of this said: Using AA and/or Alaska miles for premium cabin flights to Asia is still one of the best things going in points & miles. It's a great redemption on paper, and if you can find the award space it's a great way to get there.