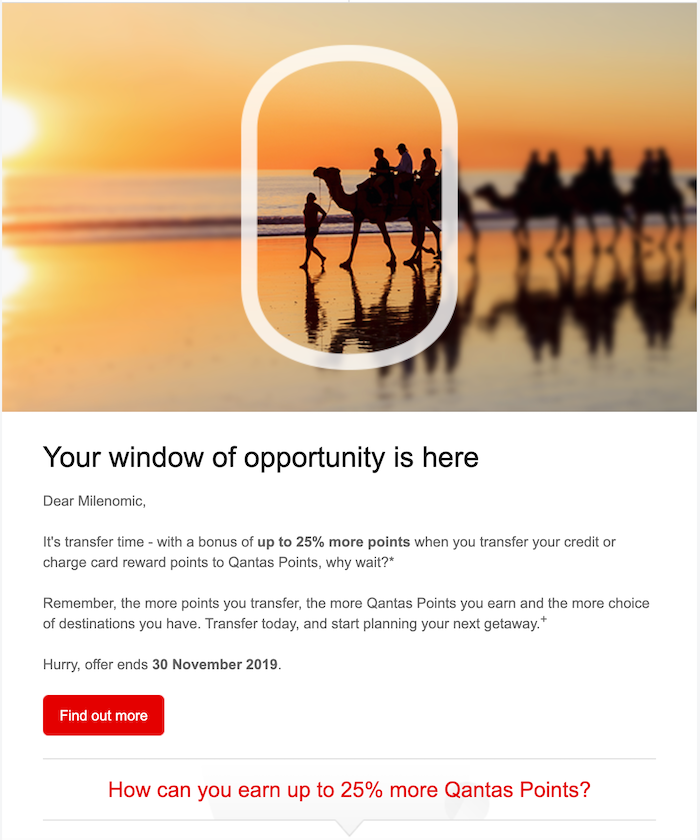 Update (Nov 1, 2019): I'm seeing a 20% transfer bonus from Amex Membership Rewards.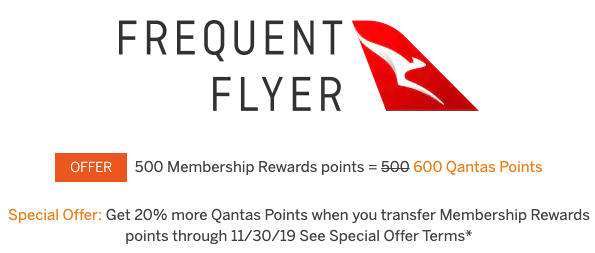 Back in June they were running a similar promo with a 20% from Amex + a 20% bonus from Qantas for an effective 44% bonus:

Dans Deals wrote that this 44% bonus may have stopped in late June. However, comments indicate that readers were still getting both bonuses.
1,000 Membership Rewards transfer over as 1,200 Qantas Points. If those are multiplied by 25% that would add 300 Qantas Points for an effective bonus of 50%. That's pretty great.
Edited to clarify: The targeted transfer bonus I'm seeing is 15% when transferring up to 499,000 points. 25% when transferring 500,000+.

—
Qantas transfer bonuses have once again come around for transferring bank points. Check your email for a subject line along the lines of "transfer now to earn up to 25% more Qantas Points."
Qantas is a 1:1 transfer partner of Amex Membership Rewards and Citi ThankYou Points. With this bonus you transfer the points in then Qantas posts additional bonus miles.
I've used their points in the past for Aer Lingus Business Class. Another situation where they can be useful is on return trips from Europe on British Airways, from airports other than London Heathrow. Their online award booking portal allows forcing the first leg in Economy and the second leg in Business or First. This can radically reduce taxes + fees on award tickets. Paired with this transfer bonus it can make for a compelling redemption.
If you weren't targeted, consider opening a Qantas account and transferring a minimal amount of points over to Qantas.
This iteration of the offer ends Nov 30, 2019.
We discussed the Qantas and transfer bonuses like this in Episode 29 of the No Annual Fee version of our podcast. Check it out for more info on this topic.