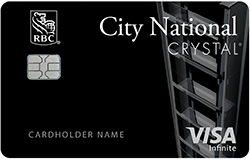 A lot of us have gotten the City National Bank Crystal Visa Infinite card lately, with good reason: It's a fantastic product.
Though it has a hefty $400 annual fee (not waived the first year) it has a generous signup bonus, is packed with benefits, and handsomely rewards spend:
50,000 point signup bonus
No fee to add an authorized user
$250 airline incidental statement credit (per authorized user, per calendar year)
12 Gogo Inflight passes each year
3x on gas, groceries, travel, and dining
If you haven't gotten the card yet, apply in branch or see details in the post about a way to get approved without visiting a branch.
Why: Combining City National Bank Rewards
Until recently, I haven't thought too much about how I'd redeem the rewards associated with this card.
From what I've heard you can get roughly 1.25-1.35 cents per point of uplift towards airfare, and that's what I planned to use it on.
But when I learned that CNB uses Connexions Loyalty I was motivated to figure out how to combine points between me and my wife's accounts for one big redemption.
See: How to book Disney vacations with City National Bank rewards (up to 1.35 cents per point!)
Even if you're not interested in Disney it can still be nice to have all your points in one account to avoid multiple record locators when flying with your family. And being able to combine all your points for one big redemption is nice. Like a cruise or a high end week-long resort stay for example.
Combining Confusion
City National Bank's website has a whole page devoted to this topic.
See: Combining (Householding) Points
After reading that page several times I was more confused than before I started. And after looking at my rewards account online I was a bit concerned that CNB had some strange situation where spend from authorized user accounts don't apply to the primary user's rewards balance.
I thought that because when I logged into my account I saw two entries. One for the account I'm the primary on, and one for the account I'm an authorized user on.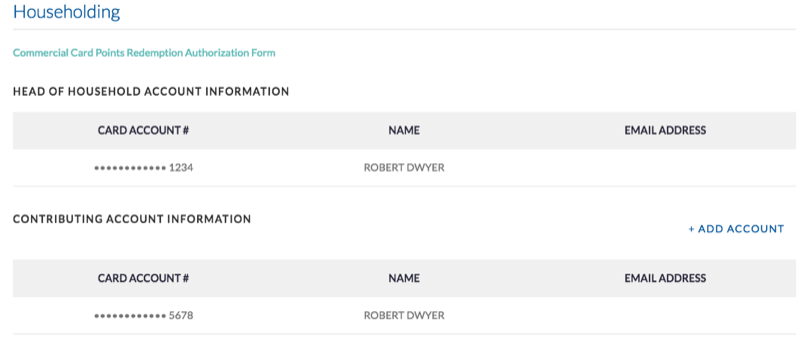 The CNB website does say that multiple accounts with the same Customomer I.D. Number will be automatically combined into one household. But that doesn't really make sense in the case where I'm an authorized user on the card, since the primary user on any given account owns the rewards.
I think the automatic householding is designed for a situation where a single person has multiple distinct cards that earn CNB Rewards. That way all your points are co-mingled, which could be useful, but isn't really what I'm looking for in terms of combining rewards with my wife.
How: Combining City National Bank Rewards
Step 1: Go to cnbrewards.com
If you're new to CNB you may have not yet realized that the rewards site is separate from the credit card site.
You'll need to create a rewards account if you haven't already, and log in.
Step 2: Go to Account -> Householding
On the top-right part of the page there should be a drop-down menu beneath Account with an entry called Householding. Go there.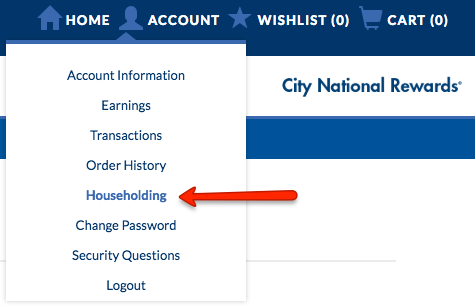 Step 3: On the Householding page, click + Add Account
This is what my Householding page looked like before adding my wife's account to the household. It showed two accounts for me.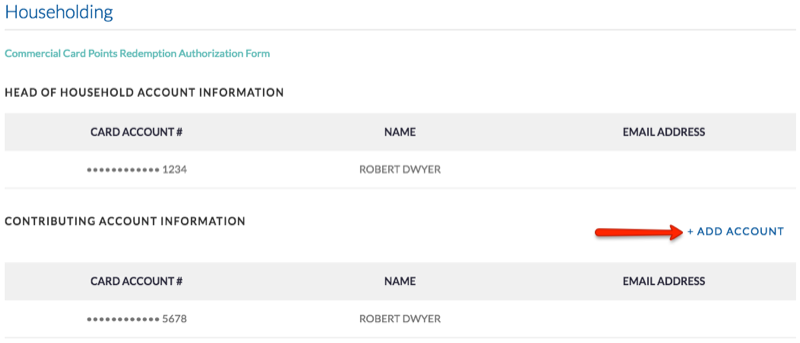 Step 4: Fill out the Add Contributing Account Form
This is where things get confusing (as if they weren't already).
I can't speak from successful experience on what should be entered into these fields because my "application" as they call it was insta-declined.
But it seems they're looking for your email address as the Head of Household. And your spouse's Card Number, name, and the email address associated with their account.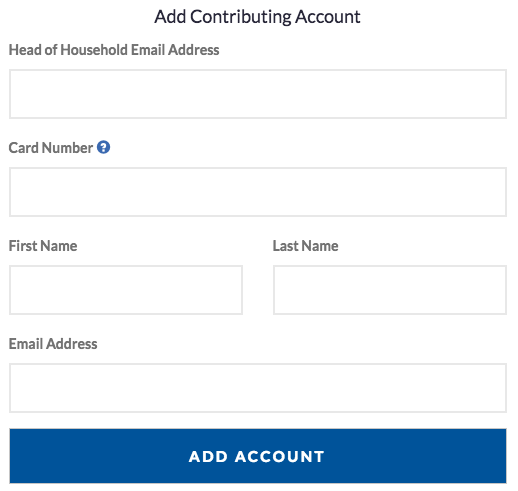 You might get lucky and have your request to combine accounts go through. But if you're like me and your request is declined, read on…
Step 5: Call the number on the back of your card (800) 998-6205
The first customer support rep I spoke understood what I wanted to do but as soon as he heard the word "rewards" transferred me to the rewards department, which is separate from the bank.
The rewards department customer service rep said that they don't have any insight into this kind of stuff. Bank privacy rules and all that. But he knew exactly what I wanted to do and told me to hold firm and tell the banking customer service rep that it was on them to combine the accounts.
When I got transferred back to the bank the rep again tried to transfer me to rewards but I explained that it was on the bank to combine the rewards accounts. She put me on hold, and read the confusing page on Householding on their site. Then she said she'd do some research and, if possible, get this handled in the next couple days with their back office team.
A couple days later I received a call, on a Sunday no less, from the bank saying they'd successfully combined the accounts.
Now I see my wife's account as a contributing account to our household rewards: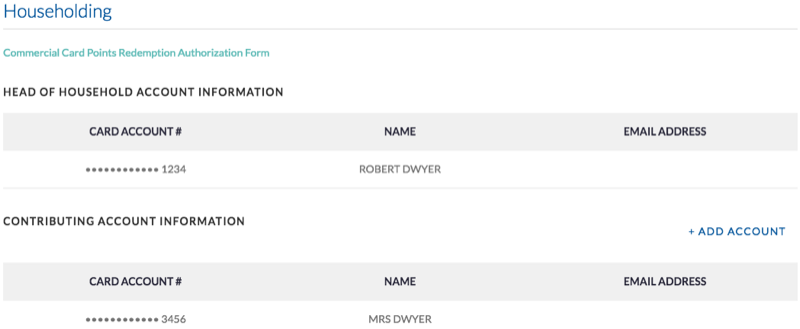 And I see that the Household Avialable Points are the sum of my account and hers. Her account only has a few points in it because it's new and she hasn't met the minimum spend requirement for the welcome bonus yet.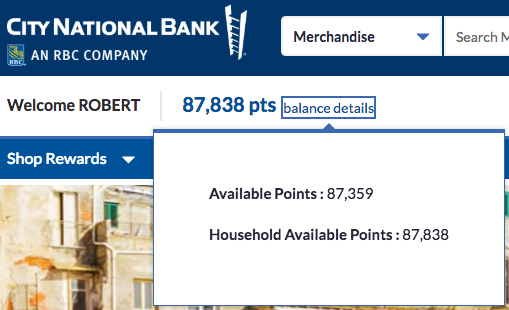 Bottom Line
If you're interested in combining points between spousal accounts, I hope this information is useful.
I don't know what kind of restrictions they place on the ability to Household points. I'd think it's cardmembers at the same address, but who knows?
I also don't know how they decide which points to draw down when redeeming. Like all things with this card I guess we'll find out.
The process may be a little complicated but I appreciate the way they let points be combined between spouses. You can't do that with American Express.
I'm also looking forward to being able combine points towards one big redemption with good uplift for something other than airfare. And to be able to work with my favorite travel agent at Connexions Loyalty, who's been incredibly helpful and effective with Chase and Citi bookings in the past.
I'm liking this City National Bank Crystal card more all the time.
Check out this post for more info on applying if you haven't already.