It looks like Amex has withdrawn the ability to refer friends for pre-approved "green star" referrals that lack the usual lifetime language. Just last week we noticed these offers on the Amex referral page, but now they appear to be gone. These Amex preapproved referrals were useful because they enabled friends to get a welcome offer for cards they "have or have had" in spite of Amex's usual restrictions that limit welcome offers to once in a lifetime per card.
Amex Pre-approved Referrals: Here yesterday, gone today
Today (10/23/2019) I'm not seeing the ability to refer friends with pre-approved offers: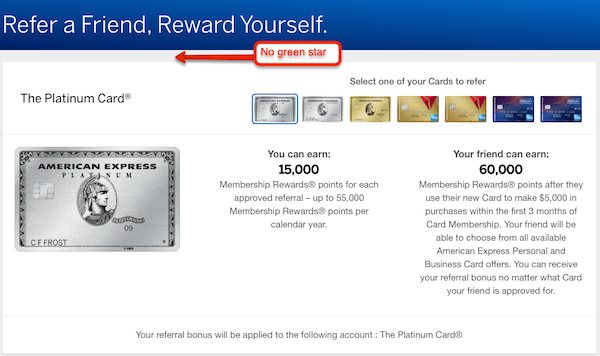 Yesterday (10/22/2019) we were seeing green star pre-approved offers on the Amex referral page: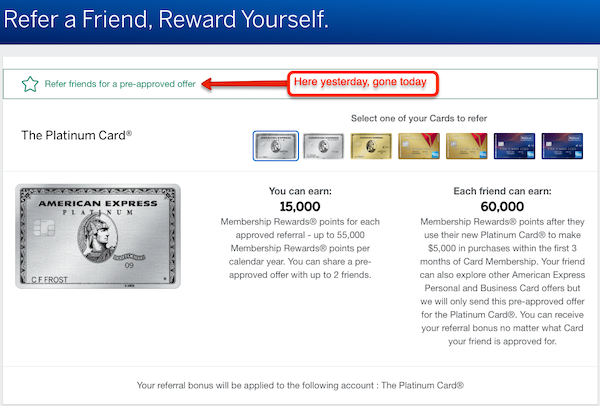 I checked the welcome offer terms that comes with newly generated referrals today and they indeed contain the now-standard restrictions on Amex welcome offers:
Welcome offer not available to applicants who have or have had this Card. We may also consider the number of American Express Cards you have opened and closed as well as other factors in making a decision on your welcome offer eligibility.
Is this just a glitch?
Could be. These offers appeared as unceremoniously as they disappeared. They could come back at any time, or they could come back in the somewhat distant future.
It's hard to say because anyone in a position to have an official conversation with Amex about this (ie, an affiliate) is unlikely (or not allowed?) to discuss applying for Amex cards through alternate channels.
Sam theorized in Episode 49 of the podcast that this might have been a push by Amex to boost signups for underperforming cards. I get the sense that Amex either got the response they wanted (signups) -or- they noticed that the majority of the signups they got were for people who "have or have had" the cards in the past and were primarily interested in getting the welcome offer again.
Are there any workarounds for generating new pre-approved referrals?
I thought maybe I'd found a way by generating the referral link via email from the Amex Offers area, but that resulted in an offer with lifetime language unfortunately.
Amex's standard refer-a-friend program is outstanding (you can read about it here) but there are additional wrinkles to the program.
For example, you can sometimes stack referrals with so-called "incognito" offers which are sometimes better than public offers.
Referral offers can change depending on how you "come at them." For example we saw recently how Amex Delta Business cards have higher welcome offers if you generate the referral through a special link.
Are existing pre-approved referrals still working?
Yes, they are.
If you previously sent a referral (check your inbox for "<First Name> shared a pre-approved offer") it can still be used to bring up the application, and lifetime language is still nicely not present in the offer terms.
So if you sent a friend or your spouse an offer they should still be able to use it. The expiration date on those offers are way out into 2021 in some cases. But if I had one, I'd prioritize using it sooner rather than later. You never know when the applications links might stop working.
Can an existing pre-approved referral be "redirected"?
That's an interesting question.
Now that the referrals seem to be dead I think we're going to see a lot of people trying to redirect referrals that were generated before the ability to generate them went away.
Redirecting Amex Pre-approved Referrals: Possible, but complicated
What I've seen is that in order to "unlock" the application from these referrals, you need to know the email address it was sent to. In the case of a straightforward referral to a spouse or friend that should be no problem. You just enter your email address and apply normally.
But what if the email address you sent the referral to isn't the same as the email address associated with your Amex account?
Or what if the only referral you have is one you sent yourself or your spouse at a different email address? It's…complicated.
What I've seen is that once you unlock the application, the email address is non-editable for purposes of submitting the application. You can change all of the other details associated with the application, but the email address remains the same.
The email address associated with the application doesn't necessarily need to match the email address associated with your Amex login. In fact, you can have multiple Amex logins. We discussed how that might even be useful for managing card benefits when you have multiple versions of the same card in this post.
But what I saw that when applying for a card through one of these referrals is that the confirmation of the card approval (or denial) goes to the email address the referral was sent to. In fact, the email address associated with the management of that person's main Amex online login changed concurrent with this as well. I believe this happened when accepting an instant card number and immediately associating it with an existing Amex login.
My point in mentioning this complexity is that I can forsee someone online suggesting using a referral and unlocking it with the email address the referral was sent to. Then confirmation of approval/denial is going to go to that email address. That's not something you want with a stranger on the internet. It could probably be managed successfully, but it would be better to do this with a referral initially directed for a spouse or very close friend.
Bottom Line
It looks like Amex green star referrals that skirt lifetime language are dead for the moment.
Hopefully you generated some of these for later use. If not, I think we'll see an interesting market develop as people try to redirect these. Be careful when tinkering with this as described above.
This was a terrific opportunity and I hope Amex brings it back again the future. Amex's existing referral program is still the best in the industry and I'd get on that before it too goes away or is diminished in value.
What do you think? Any workarounds? How are you playing it?