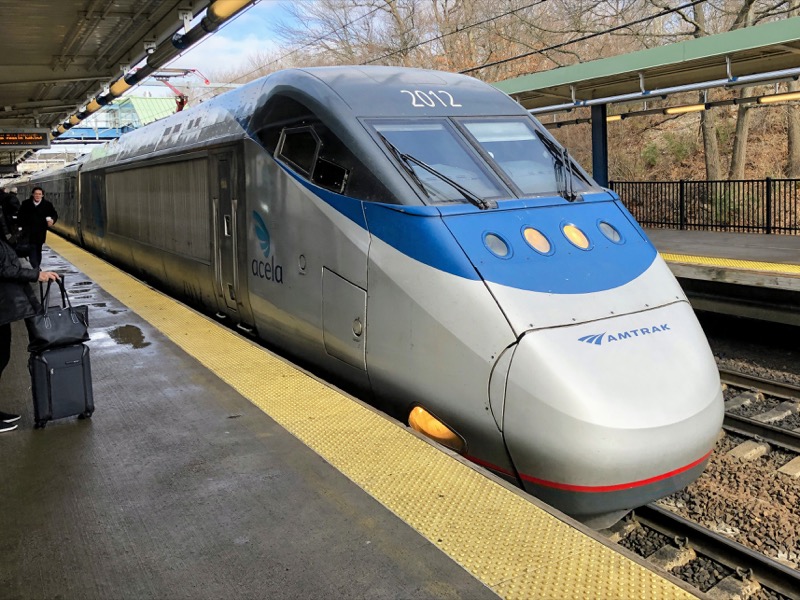 I recently wrote about transferring bank points to Amtrak for 1.5 cents per point+ of value.
See: Redeem Bank Points For Amtrak [Up To 1.64 Cents Per Point]
In that post I mentioned the option of buying Amtrak upgrade coupons. I went through the process recently, upgrading Acela Business Class to First Class.
In short: It worked well, and I'd say it was worth it.
Acela First Class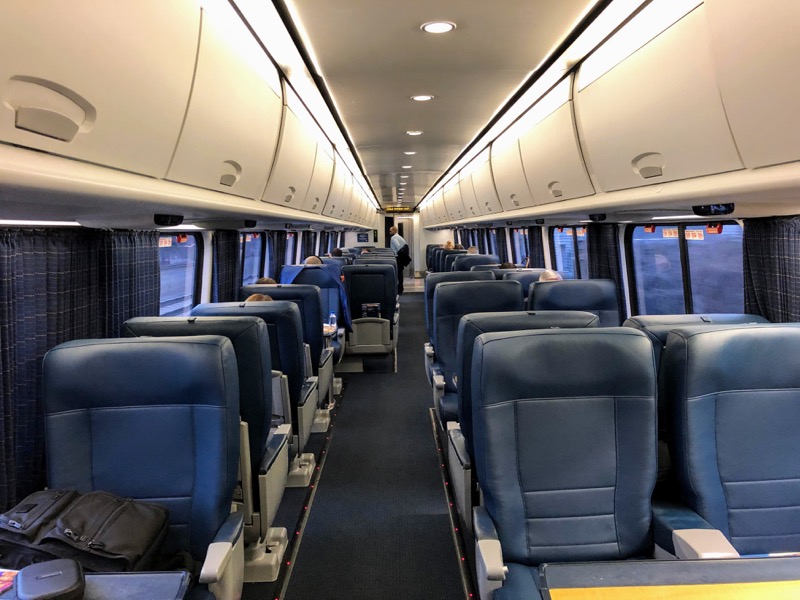 I always like to start with the "why" before the "how".
Amtrak's Acela trains have two classes: Business and First. First Class gets you the following over Business:
ClubAcela Lounge access if the station has one
Larger, more spacious seating (1/2 configuration vs 2/2)
Assigned seats
At-seat meal service
Complimentary alcohol
Thoughts on the Acela First Experience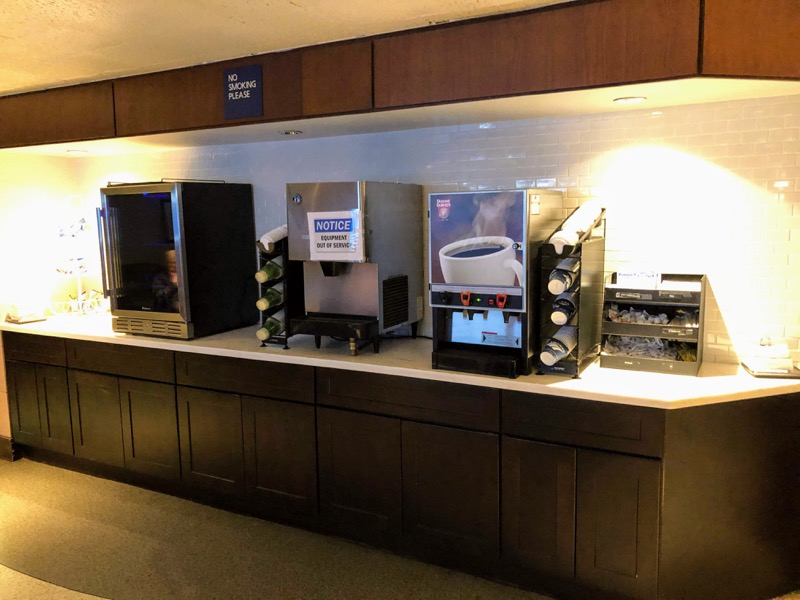 The ClubAcela lounge at New York Penn Station was a dark, overcrowded dump. But it was nice to get a heads up on which track the train was departing from.
If you've departed Penn Station on an Amtrak train you may recall how competitive it is to find a seat. With Acela First you don't have to fight for a seat since seats are assigned.
These assigned, more spacious seats are the most valuable benefits of Acela First Class to me. But the meal service and complimentary drinks were appreciated as well.
The quality of the beer and spirits they pour is better than I expected. Have a look at their First Class menu to get a feel for what they serve.
I asked the attendant whether he'd recommend the Lobster Tortellini or the Asian Salad. He recommended the beef, so I went with that. Not bad – the sous vide method they reportedly use seems to work well.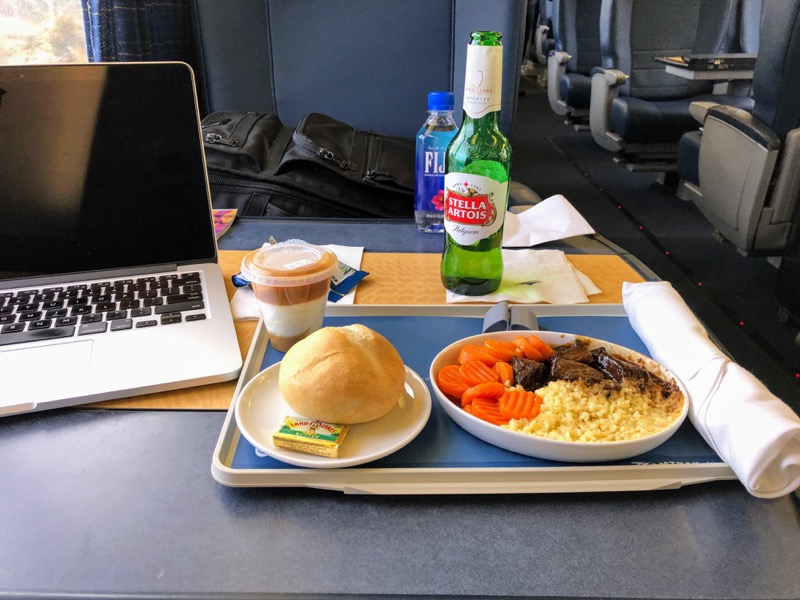 Purchasing and Using Amtrak Upgrade Coupons
For 10,000 Amtrak Guest Rewards points you can purchase a bundle of 4 one-way First Class Upgrade coupons.
To purchase them, I transferred Aeroplan miles to Amtrak at a rate of 0.566.
If you don't have Aeroplan miles, you can transfer them 1:1 from Amex Membership Rewards. Other bank points can be transferred in as well as described in this post.
If you don't have any Aeroplan miles and no Amtrak points at all you'd need 17,700 Membership Rewards for 10,030 Amtrak points for the bundle of 4 upgrade coupons.
So it effectively costs 4,425 Membership Rewards for a one-way upgrade.
Note: Points.com transfers are not instant. I initiated a transfer on a Saturday and it was processed on a Monday.
Also note that there is a per-transfer minimum of 15,000 Aeroplan miles, and a per-transfer maximum of 50,000 Aeroplan miles. There is also a 100,000 aggregate transfer maximum per year.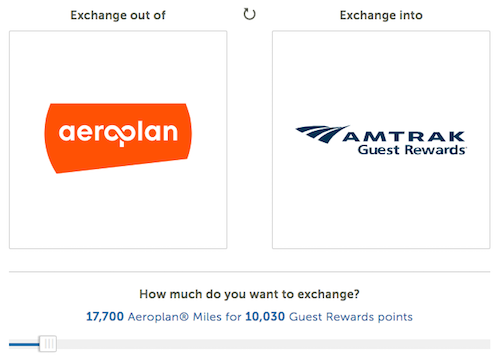 Things to Know
Be sure to read the details of the upgrade coupons to see if they're useful for your situation.
Most notably:
They can only be applied starting at 12 hours prior to departure
They can be used if there are seats available in the upgraded cabin (but aren't otherwise capacity restricted as far as I can tell)
They can be applied in the Amtrak app, online, by calling, or at the station (if space is still available)
If you cancel your trip the upgrade coupon will not be re-issued
They're good for Coach to Business upgrades, or Business to First depending on the train you're on
Upgrade may be combined with corporate discount, but is not combinable with any other discount, coupon, or Amtrak Guest Rewards® redemption travel.
The previous line means they can't be used to upgrade an award ticket (you'd want to purchase the higher cabin as a reward if you wanted to use points in that case)
The coupons expire 12 months after being issued
They're not valid for sleeper car upgrades
They're not valid on the following services: Adirondack®, California Zephyr®, Capitol LimitedSM, City of New Orleans®, Empire Builder®, Keystone Service®, Silver Meteor®, Silver Star®, Southwest Chief®, Sunset Limited®, Texas Eagle® and train/Thruway series 7000-8999
Optimal Uses
You'll want to find a situation where the price difference between Business and First is high to get good value out of your coupon.
For the times I was travelling, First Class was $100 more than Business Class each way. If it takes 4,425 Amex Membership Rewards for a $100 upgrade that's 2.2 cents per point of value.
Of course, you'll want to do the math to see whether it's "worth it" to you.
Another situation where it could be useful is where you buy a cheap "Saver" fare far out (with cash) then apply a First Class upgrade coupon. You can't use Amtrak points to buy a Saver fare, and you can't use a companion certificate for Saver fares. But you can apply an upgrade coupon to a Saver fare according to datapoints in this thread. That could yield a good cent per point of value from a First Class upgrade coupon.
Bottom Line
I'd say the ideal situation for Amtrak upgrade coupons is:
Someone travelling on reimbursed business travel
Where company policy doesn't allow First Class
Where you have a lot of bank points or airline miles
You don't have enough Amtrak points to cover your upgrades
You're travelling long enough distances that the per-point value of the upgrade coupon is good
You fundamentally appreciate the benefits of the upgraded class of service
For just one person travelling alone for business I think it's a pretty good option. I enjoyed the experience on Acela First, and would gladly redeem bank points for Amtrak upgrade coupons again.