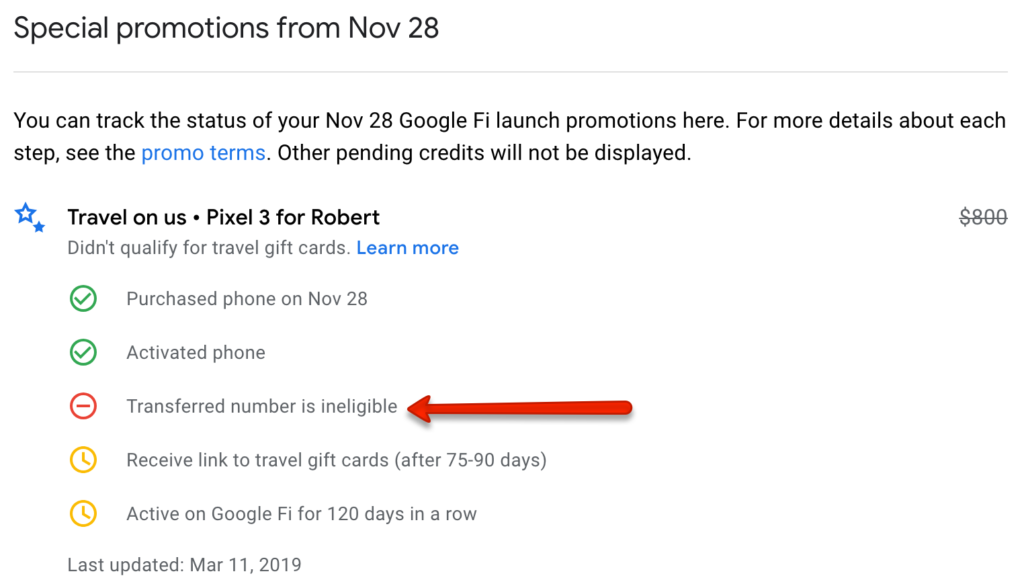 Last November, Google ran a crazy promo for their Fi wireless service. If you bought a phone from them and met some other requirements they'd give you travel gift cards worth the price of the hardware.
I thought at the time that the deal was prone to malfunction. It seemed thrown together as quickly as it was withdrawn. A key point of confusion was that you had to port in a number that was active 8/28/2018, 3 months prior to the promotion. Whether a Google Voice number was eligible was uncertain, but I went for the promotion and bought a $799 Pixel 3.
Signup
I saw some posts mentioning that people chatted with Google and confirmed that Google Voice numbers were eligible if they were in service before 8/28. I thought I had a Google Voice number from back in the day so I did a search through my email for "welcome google voice" and found my old number.
I entered that on the signup page and was pleased to confirm the number was eligible for the promotion.
Activation: So Far So Good
A few days later the device arrived and I activated it. I tried using it for a while, but without transferring everything over I can't say I gave it an honest chance at being my full-time phone.
I mostly used it to call the AA award travel center in New Zealand for $0.01 a minute (here's why I called them).
Denied Google Fi Travel Gift Cards: "Transferred number is ineligible"
After about 90 days I started to wonder where my travel gift cards were.
Whereas previously my status showed that I had to wait 75-90 days it now said:
"Didn't qualify for travel gift cards." and "Transferred number is ineligible"
I didn't see an option to call or chat with them so I chose to Contact them via email.
What Happened?
In my first email to them I asked why my number was ineligible. I thought I had the Google Voice number for a decade so I asked for clarification. They said:
After reviewing your account, it looks like you were deemed ineligible due to the age of the number you transferred to Google Fi. This promotion requires that the number ported in during sign-up needs to pre-date 8/28/18 12:00 AM PT.

If you would like, we'd be happy to take a deeper look into this for you. Could you please provide the following information:

What Google Account did you transfer the Google Voice number from?

Are you the owner of this account?

If so, please send us a screenshot showing ownership of the number. This screenshot will need to show your Name, Google Account, and Phone Number.

Please provide this information within 5 business days. If you have any questions, you can always reach us by replying directly to this email.
In looking more closely into what happened I came to a disheartening realization. Although I indeed had a Google Voice number a decade ago, I lost it 9 years ago due to non-use.
Honesty is the Best Policy
I explained to them as best I could what happened from my perspective. That the number I ported in was an old Google Voice number I thought I still had control of.
I said I was disappointed that they didn't tell me I was ineligible for the promotion at the time of purchase, nor at the time of activation. Because if I'd known then I was ineligible I would have returned the phone. Now that 90 days passed I was outside the return window.
I asked if they could give me the travel gift cards as a one-time exception.
A few days later they responded saying:
Thank you for providing proof of number ownership as requested. We have reviewed your case and are happy to let you know you will be receiving the travel voucher as a one time exception!

It will take around two weeks to complete the request, and the voucher will be sent to your email with additional information.

Thank you for your patience as we completed our review – we are happy to have you with us at Fi!
Bottom Line: Success
I haven't received the gift cards yet  but I trust they'll follow through with their promise. Update: The cards arrived today via email. I'm pleased they gave me this exception. They could have told me to pound sand.
We discussed this issue and other deals in Episode 20 of our podcast.
If you were denied the travel gift cards as part of this Google Fi promotion I think it's worth contacting them to see if they can make a one-time exception.