The Bank of America Better Balance Rewards card is no longer available for signups, and no longer available for product changes. But I bet a lot of people still have the card for its unique rewards structure. I recently discovered my Better Balance Rewards card not working in that I wasn't getting the quarterly bonus.
In this post I'll describe why I wasn't getting the quarterly bonus on my Better Balance Rewards and why I decided to product change to a Cash Rewards card. I'll try to help guide you through whether the Cash Rewards card, perhaps even multiple Cash Rewards cards, might be a better option for you as well.
Better Balance Rewards Background
If you:
Have a transaction of $5 or more each month -AND-
Make a payment greater than the minimum due each month
You get a $25 quarterly bonus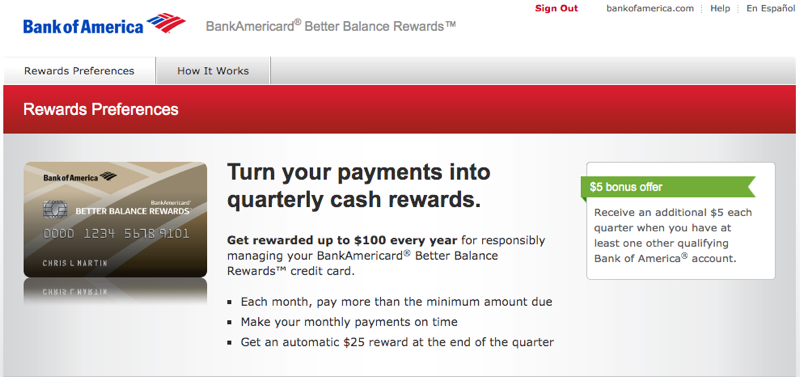 If you have additional accounts with Bank of America or Merrill Edge you get $5 more per quarter for a total of $30 per quarter. This adds up to $120 a year, so if you put a recurring charge on the card, say Netflix, the card would come close to paying for those charges over the course of the year.
Great deal, right? Well, it's complicated…
How I Messed Up
I was going back and reviewing my statements over the past year and noticed that sometimes I wasn't getting the $30 quarterly bonus. I was only getting the bonus every other quarter.
What's going on here?
I called and had the BofA rep review it. She said that in order for the quarterly bonus to trigger, two things need to happen each month:
You need to have a transaction
A payment larger than the minimum due needs to occur
I said, "I can't see how I'm messing this up. I've got a recurring Netflix charge each month and I have the card on AutoPay."
She took a closer look and saw that in quarters where I got the $30 quarterly bonus the next month would have a negative balance. So no payment would occur. So I failed the 2nd criteria. I didn't make a payment larger than minimum due. In fact, I didn't make a payment at all because I had a negative balance from the quarterly bonus.
I could have avoided the issue if I directed the quarterly bonus to my BofA checking account. I would have changed that going forward, but I think there's an even better BofA card that's still available for product changes…
Cash Rewards: A Better Option

I've been eyeing the Bank of America Cash Rewards card for some time. It's a no annual fee card that earns 3% cash back in your choice of the following categories:
Gas
Online Shopping
Dining
Travel
Drug Stores
Home Improvement/Furnishings
I really like the Online Shopping category, though Gas and Drug Stores are good categories as well.
Making things even better, if you have Bank of America Preferred Rewards Platinum Honors with $100,000 in total assets with BofA or Merrill you get 75% uplift on your rewards on this card. That makes the card earn 5.25% back at your category of choice.
An important limitation: The bonused spend is capped at $2,500 per quarter.
Better Balance Rewards vs. Cash Rewards
Let's run the numbers on the two options here. In case you're in a similar position trying to decide whether the $120/yr of the Better Balance Rewards is worth keeping -or- it's better to switch to a Cash Rewards for additional bonused spend capacity.
If you have Preferred Rewards Platinum Honors and max out the Cash Rewards that's $10,000 per year of 5.25% spend. Thats $525 cash back. Even if you have some costs associated with spending $10,000 in the bonus categories, say 2%, thats still $325/yr. Much better than the Better Balance Rewards.
If you don't have any uplift from Preferred Rewards it becomes a closer call. 3% back on $10,000 is of course $300, which is better than the $120 you'd get with the Better Balance Rewards. So depending on how efficient you are at maximizing the bonus categories it could be better or worse than the Better Balance Rewards.
Some Playbooks
The Better Balance Rewards isn't available any more so if you don't have one your main decision is whether to work Cash Rewards cards into your card portfolio.
The Cash Rewards card has a $200 signup bonus, but it has the following churning restrictions:
This Cash Rewards card will not be available to you if you currently have a Cash Rewards card unless you have had that Cash Rewards card for at least 24 months.
So it sounds like it is possible to get the welcome bonus for the card every 24 months. You might run into other BofA churning restrictions like their 2/3/4 policy, but if your goal is to get multiple Cash Rewards cards for increased bonused spend capacity it does seem possible.
You can also product change to the Cash Rewards from other Bank of America cards you might have already. I bet a lot of people out there have a Merrill+ card that's not getting used. That card and others are available for product change to the Cash Rewards card.
So I think the best path forward, especially if you can get Preferred Rewards uplift, is to:
Get a Cash Rewards card for its $200 signup bonus
Product change unused BofA cards to the Cash Rewards card for increased quarterly capacity
Bottom Line
The Cash Rewards card is a better option than the Better Balance Rewards card if you can make effective use of the quarterly bonus categories, especially if you have 75% uplift from Preferred Rewards.
Here's a direct link to the Cash Rewards card.
We talked a lot more about this in Episode 38 of our podcast. Check it out if you're interested in further discussion about this card and other deals in this space.