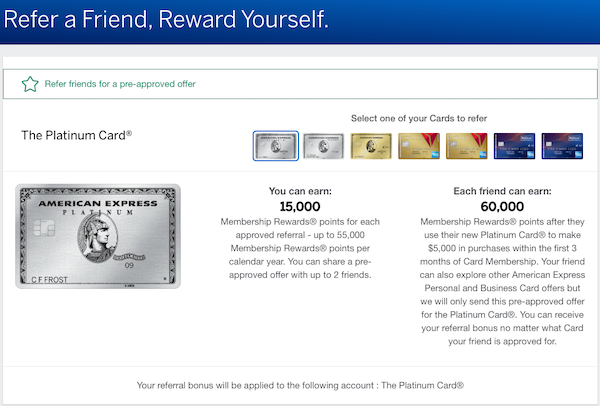 I recently applied for an Amex Personal Platinum through a "pre-approved" green star referral. Amex tends to have generous approval standards, so I was surprised when they instantly declined me. It seems I bumped into some Amex Platinum churning restrictions I was previously unaware of.
I called Amex and they said it was because I was approved for another Personal Platinum card recently (6 days earlier) and they can only approve one Amex Personal Platinum card – across all flavors – within a 90 day period. The rep told me that if I waited 90 days and resubmitted the application that I would be approved.
A letter they sent confirmed this:
We regret we are unable to approve your application. The reason for our decision is we have approved an application for the same type of Card within the last few months.
The card I was recently approved for was a Morgan Stanley Personal Platinum. The card I was denied for was a vanilla Amex Personal Platinum.
The reason for denial tells me that Amex is treating all flavors of personal Platinum cards as one, and that you can't get more than one in a 90 day period.
Remaining Flavors of Amex Personal Platinum
Before going any further, here are the cards I'm referring to when I say "flavors" of Amex Personal Platinum
Amex Personal Platinum (available for pre-approved green star referral with no lifetime language)
Amex Charles Schwab Platinum (requires Schwab account, but does not require funds invested)
Amex Morgan Stanley Platinum (requires Morgan Stanley account with funds invested)
Amex Goldman Sachs Platinum (hard to get, weak signup bonus, barely worth mentioning)
Amex Churning Restrictions on Charge Cards
I thought perhaps the issue was that I upgraded a Business Gold card to a Business Platinum card 16 days earlier. If they counted that as opening a new charge card I would have opened two charge cards within 90 days.
See: 25 Things Everybody Should Know About American Express from Doctor of Credit
But I don't think the number of charge cards opened was a limiting factor. I say that because I was able to successfully open a Personal Gold card a few days later.
This tells me that Amex would allow me another personal charge card (the Personal Gold) but they wouldn't allow me a second Personal Platinum card until 90 days passed. For approval purposes, they're treating the Morgan Stanley Platinum and the vanilla Personal Platinum card as the same card.
Amex Platinum Churning Restrictions: Why This Matters
I think this is worth mentioning because I bet a lot of people are considering getting multiple Amex Personal Platinum cards as we come in the end of the calendar year.
One nice thing about these pre-approved green star no lifetime language referrals is that, once approved, you can get a virtual card number and instantly refer others. This would seem to set up a scenario for theoretically infinite back and forth referrals and with no lifetime language. But this 90 day limitation would seem to thwart that.
Side note: In order to get an Amex Morgan Stanley Platinum card you [really do] have to have an investment account with Morgan Stanley. I put $5,000 in a Morgan Stanley Access Investing account before opening the Amex Morgan Stanley Platinum card.
Bottom Line
My conclusion is that Amex seems to have the following restrictions in place on Personal Platinum Cards:
You can only be approved for one Amex Personal Platinum Card (across all flavors) every 90 days
Pre-approved green star no lifetime language referrals do not skirt this limitation
This limitation is more of a nuisance/"something to be aware of" than a deal breaker. I think there's still a ton of value to be had in exploring the Amex portfolio.
We discussed approaches along these lines in our $5,000 bag of tips podcast episode.
Perhaps it's possible to get past this with the right reconsideration specialist? What's been your experience?