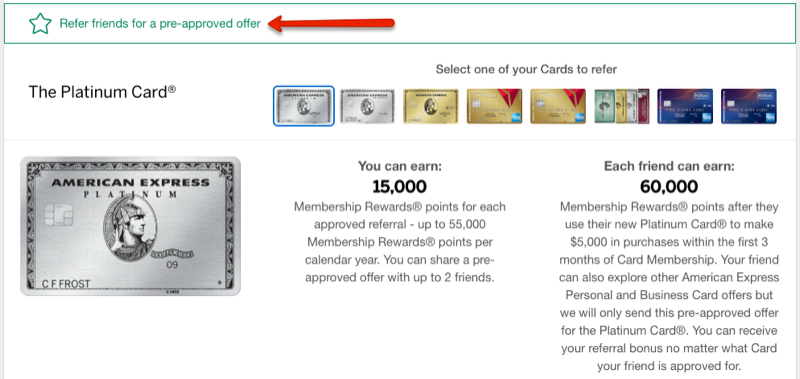 In a return of an offer that ran earlier this year, Amex is giving existing cardmembers the ability to refer friends for cards with signup bonuses that lack Amex's usual lifetime language exclusions. This is useful for earning the signup bonus on Amex cards because they generally disqualify you if you "have or have had" a given product.
The offers we've seen include:
Amex Personal Platinum 60,000 (15,000 Membership Rewards for referring) after spending $5,000 in 3 months
Amex Hilton Aspire 150,000 (15,000 Hilton for referring) after spending $4,000 in 3 months
Amex Bonvoy Brilliant 75,000 (15,000 Marriott for referring) after spending $3,000 in 3 months
It's unclear how long the ability to refer will stick around, but the offers themselves have expiration dates out until early 2021.
Check Whether You're Eligible to Refer
Log in to your Amex account and scroll down to "Refer a Friend" or go here:
http://americanexpress.com/refer
Click through each of your existing Amex cards to see whether you can "Refer friends for a pre-approved offer."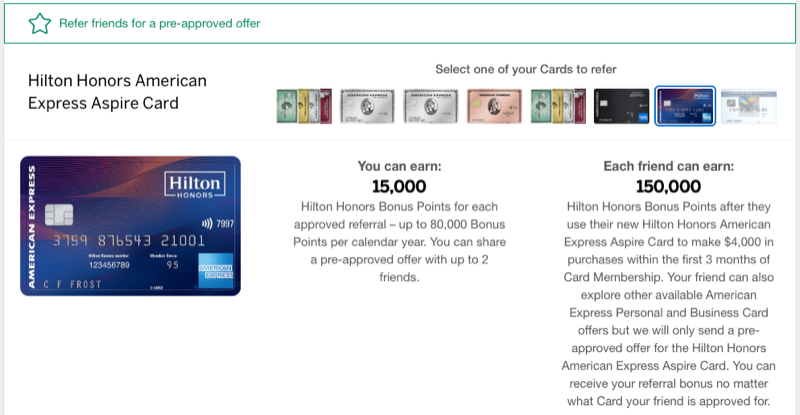 How to Refer
These offers work differently than normal Amex referrals.
Rather than being able to grab a link you have to refer by email. And you're said to be limited to 2 referrals per eligible card. So you'll want to choose your referrals wisely, and make sure they get used.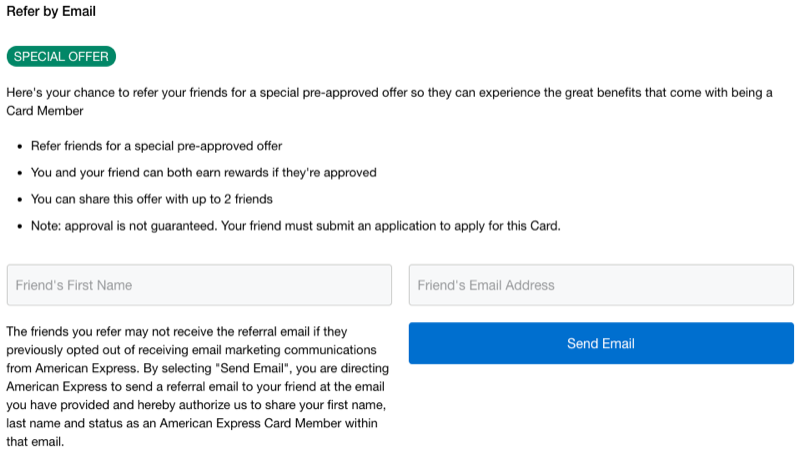 How to Play It
It only makes sense to use these offers if the person you're referring has had the card before and they're looking to get the welcome bonus again. I say that because you want to refer from your Amex card with the highest referral bonus. With these referral bonuses you can only refer from and to the same card, and that potentially diminishes the value of the referral credit.
For example, if you have an Amex Business Gold you can earn 20,000 points for a referral. You can refer from the Business Gold to any of these cards. And 20,000 Membership Rewards are worth more than 15,000 of any of the currencies offered through these "pre-approved" offers.
For more on Amex's generous referral program, see:
Why And How: Generating And Using An Amex Referral
I think spousal referral is the cleanest way to go with any Amex referral. That way you earn both the referral bonus and the signup bonus. And definitely avoid self-referral.
I think the Personal Platinum offer is strong because: a) It's a great time of year to get the card with so many of its benefits being on a calendar year basis and b) Charge cards don't count against Amex's 5 card limit
The Hilton Aspire offer is also terrific, but keep in mind it does take up an Amex credit card slot so that may be a limiting reagent.
Bottom Line
A welcome offer that lacks lifetime language is great in itself. But the ability to earn a referral bonus on top of that is outstanding. This is a terrific deal.
If you use someone else's referral link, make sure to check the offer terms that mention excluding the welcome bonus if you've "have or had" the card. Sometimes people get confused on these and you want to make sure you're using an offer that lacks lifetime language.
We'll be sure to talk about this more on the next episode of our podcast.
What do you think? How are you playing it? What bonuses are you seeing?