If you go through the normal Amex referral channel, the signup bonuses for Delta Business cards are currently inferior to what you get if you apply directly through a public link. Instead of 70,000/80,000/80,000 for Gold/Platinum/Business you'll only get 30,000/35,000/40,000 which defeats the purpose of referring.
To generate heightened referrals for Amex Delta Business cards go here:
https://www.americanexpress.com/en-us/referral?id=205939
HT to Lindsey K on Milenomics Slack for pointing this out.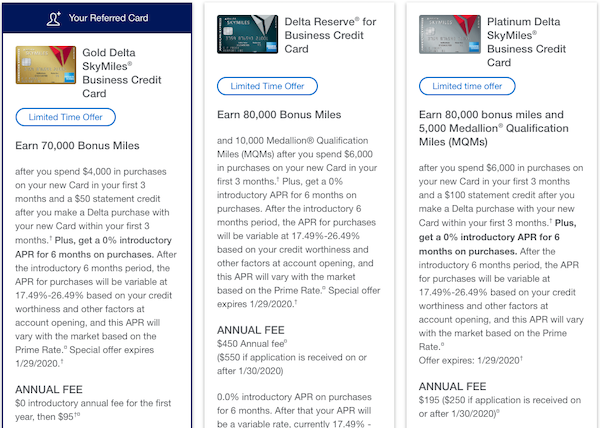 Amex Delta Business Referrals: Different than Universal Referral
These referrals work differently than Amex's "universal" referrals in that:
You can only generate a referral link if you have at least one Delta co-branded card (any one should do)
You can only refer *from* Amex Delta cards (as far as I can tell) – ie, there is no way to refer from an Amex Business Gold to a Delta Business card for say 20,000 Membership Rewards
If you have any Amex Delta card you should be able to refer for the whole Delta card portfolio.
If at some point Amex makes the Delta Business Cards available through universal referral I'll update this post.
Amex Delta Cards: How to Play It
Amex recently heightened the signup bonuses on their co-branded Delta cards. In early 2020, annual fees will go up and the earning structure will be tweaked. We talked about these changes in Episode 47 of the podcast. In Episode 48 we discussed $5,000 worth of tips, including how to optimally leverage the Delta Platinum cards towards Delta Gold Medallion status.
If you've never had one or more of the Amex Delta cards, getting through spousal or friend referral would be the best way to get them. The link above provides a way to get the Business versions of the cards at heightened levels in additional to a referral bonus.
If you've had one or more of the Amex Delta cards and are interested in receiving the signup bonus again try this link:
If you're targeted, you should be able to apply for any of the cards in the Delta portfolio – all without lifetime language. You can also apply for multiple Amex Delta cards if you space the applications out more than 5 days apart. If it says "PLEASE VERIFY THE INFORMATION YOU ENTERED IS CORRECT AND TRY AGAIN." it means you're not targeted.
Unfortunately, the Delta cards seem to be excluded from "Green Star" referrals that lack lifetime language.
Bottom Line
I don't know why Amex Delta Business referrals are lagging through the normal channel, but it's good to see a workaround.
I like how Amex is encouraging us to engage with their cards, and in some cases even if we "have or had them" in the past. This is quite a bit more lenient than Chase who generally won't let you get their cards if you're over 5/24 – even if you'd be willing to forego the signup bonus.
I really think Amex really has been crushing Chase in 2019.