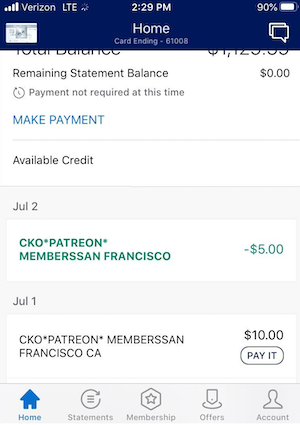 Direct Link to Amex Promo
Amex is back with a new iteration of their popular Shop Small promo for 2020:
Register by 7/26/2020
Spend $10+ by 9/20/2020
Get $5 back
Repeat up to 10x
When trying to find businesses that qualify for Amex's Shop Small promo, I typically navigate Amex's map of qualifying businesses near me.
But a few of our Patreon subscribers mentioned on Slack that their subscriptions triggered the Amex Shop Small credit this month.
We were hoping that Patreon transactions might trigger the streaming credit as part of Amex's "Master Value Injection" (Ep 75) on their Platinum cards. Alas, that didn't pan out.
But it's nice to see Patreon triggering this Shop Small promo. Especially since Patreon really is a small business -and- we ourselves are small content creators.
Don't forget, you can add this promo to Amex cards issued by other banks like Wells Fargo and FNBO through this link to expand the capacity of this offer.
So, if you've been thinking of giving a subscription to the Milenomics Podcast Network a try this could be a good time. A subscription includes:
Milenomics² Podcast with Sam Simon and Robert Dwyer
Milenomics Second Podcast hosted by Garth Grawburg
The Manifesto with Gideon The Free-quent Flyer
Access to a thriving Slack community, the ability to attend meetups, and more