We just finished an amazing stay at Ventana Big Sur.
Ventana is a stunning property with sweeping views of the Pacific Ocean in Big Sur, California. Rustic yet refined, it is part of of Hyatt's Alila collection.
The property originally opened in 1975 as the Ventana Inn and was reimagined in 2017 as the first Alila in North America. It became part of the Hyatt portfolio when Hyatt acquired Two Roads Hospitality in 2018.
Given the high quality of the experience and the boutique nature of the resort with inclusive dining options it's a bit mind boggling to me that the place can be booked with hotel loyalty points with tremendous leverage.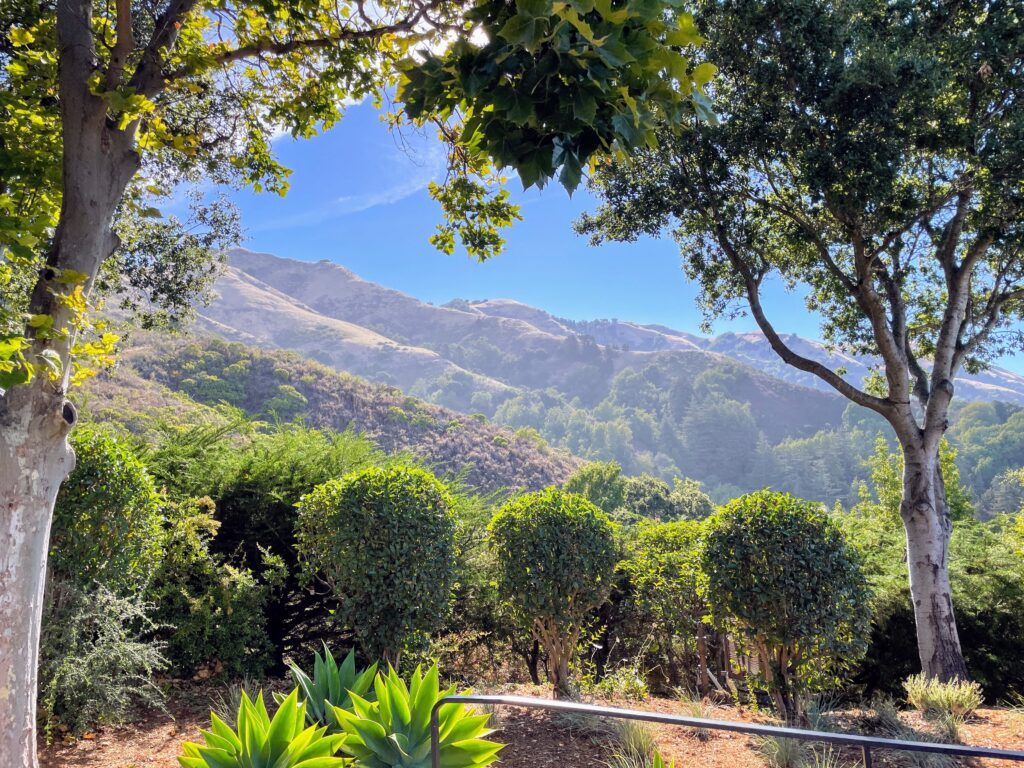 Key Details
Things to know about Ventana Big Sur:
No kids: 18+ only
Current rates (including award stays) include meals and some activities
59 rooms
160 acres
Hyatt Category 7: 30,000 points/nt
Cash room rates typically begin around $2,000/nt and go higher from there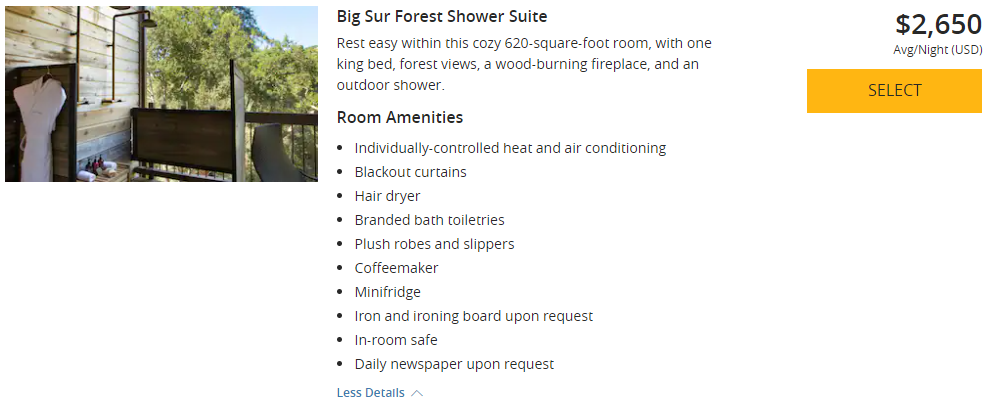 Booking
Rooms are categorized for awards as follows:
Standard Room (30,000/nt): 1 King Bed with Fireplace
Standard Suite (48,000/nt): Big Sur Suite
Premium Suite (60,000/nt): Big Sur Forest Shower Suite -or- Big Sur Spa Suite
Tip: If you don't see award availability try searching for 3+ nights.
I really think two nights here is an absolute minimum to enjoy the property and 3-4 would be best for most, depending on whether you want to explore the area outside the resort. We stayed at the nearby Hyatt Carmel Highlands a couple years ago so we were content spending our time at Ventana entirely on-site.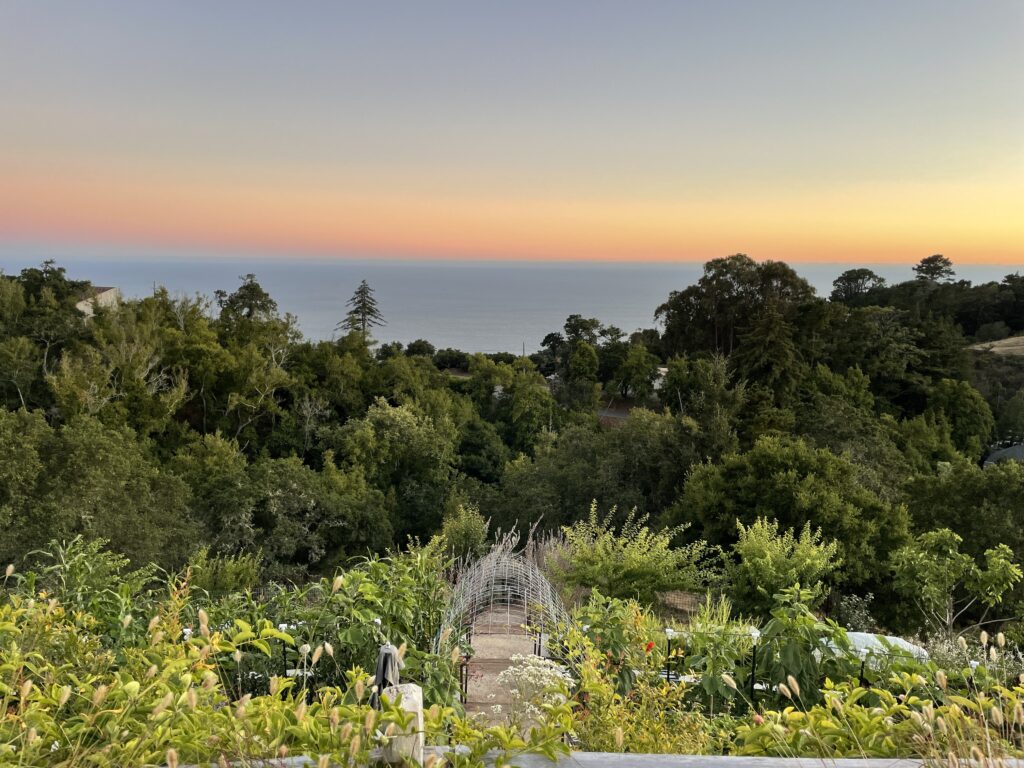 Getting There
We flew in to SFO and rented a car. It took us about 3 hours to get down to Big Sur with a bit of traffic on a Sunday afternoon. The drive really gets pretty starting around Carmel as you wind along the Pacific over the Bixby Canyon Bridge.
San Jose is a bit closer, and there are some flights into Monterey as well.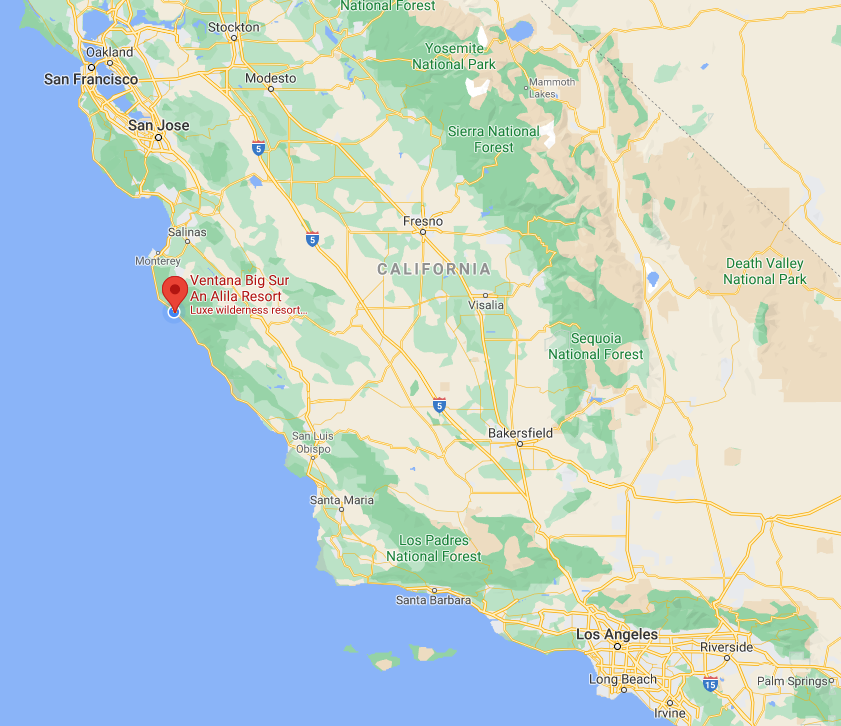 Arrival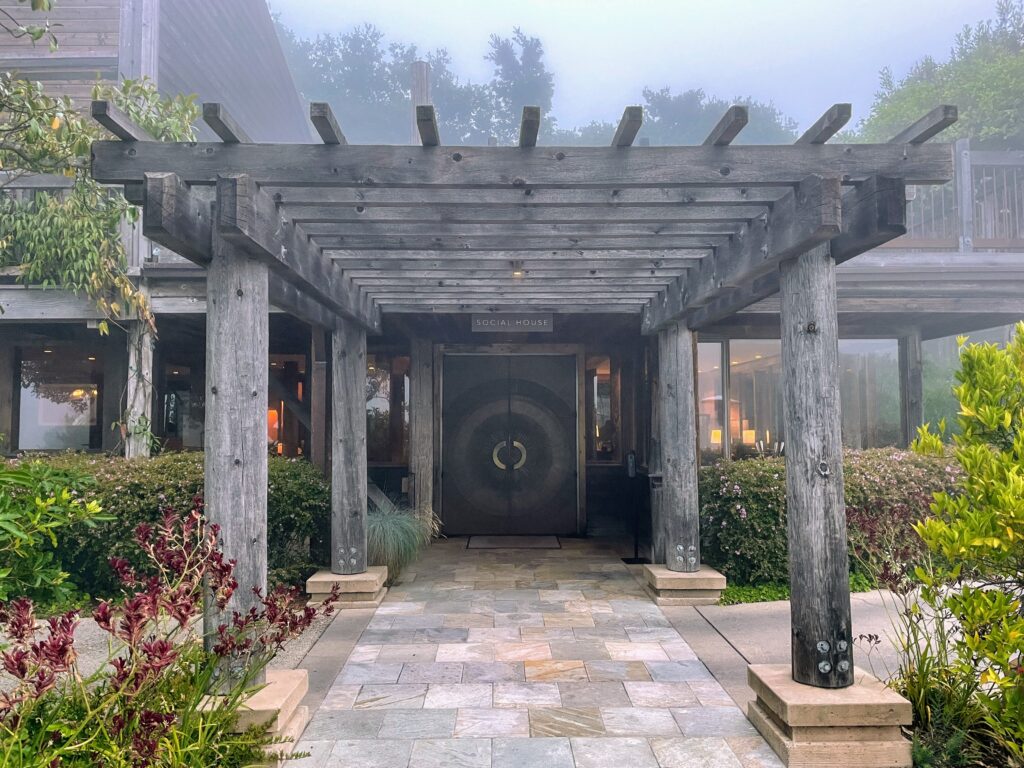 Reception was very nice with a guard at the gate checking our name off a list of guests they were expecting, valet parking (included on award stays for Globalists, convenient self parking is also available), and a courteous welcome thanking us for our Hyatt loyalty.
I booked a 1 King Bed with Fireplace (a Standard Room) for 3 nights at 30,000 points/nt with one of those nights booked with a Category 1-7 certificate earned through stays towards Globalist.
You can't apply a Globalist Suite Upgrade Award to a night booked with a certificate and since it was just the two of us (remember, no kids here) I decided to take my chances for an upgrade upon arrival.
Although the hotel showed sold out for the nights of our stay we were upgraded to a Big Sur Forest Shower Suite (considered a Premium Suite) without haggling.
After making our way to the room, our bags arrived and shortly after, so did a charcuterie and cheese board along with a half bottle of sparkling California wine.
We were off to a great start.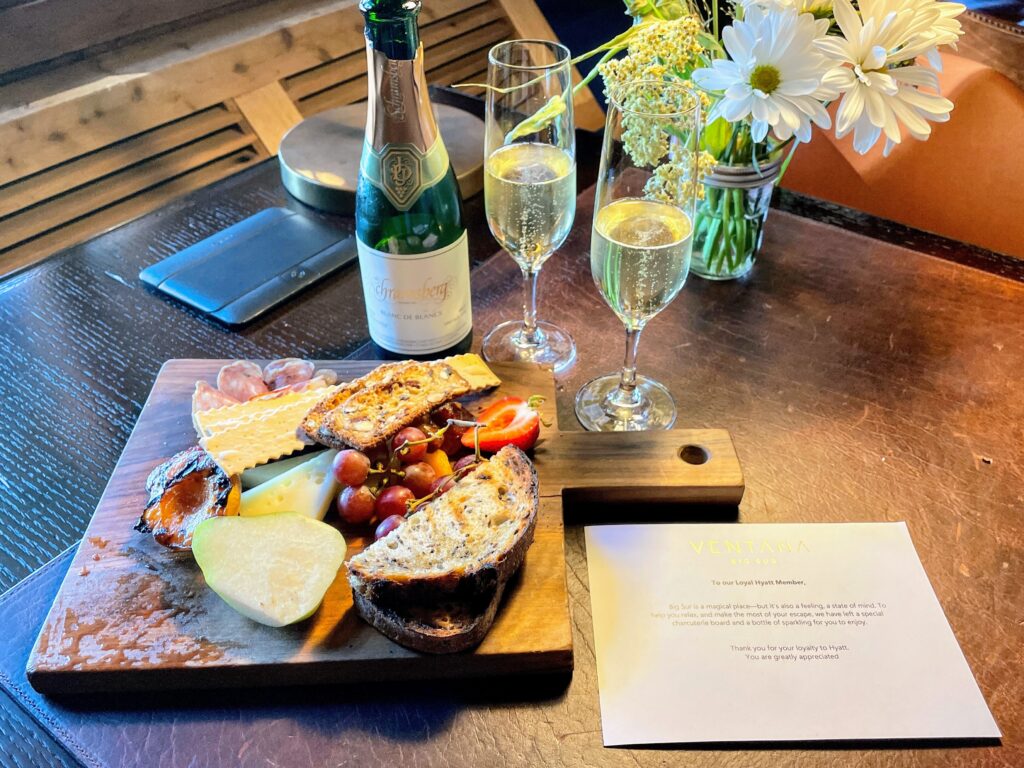 Rooms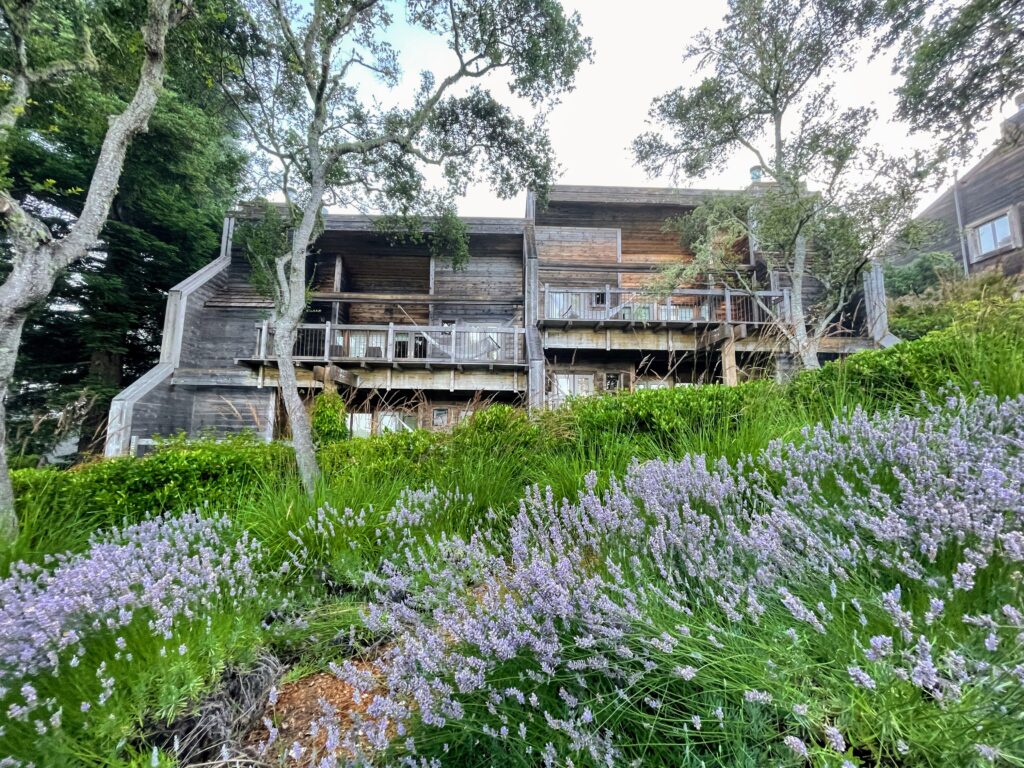 When I hear the property self-desribe rooms as "sophisticated, rustic luxury" I get a little concerned. There is a fine line between rustic and just plain tired/unkept, but Ventana's rooms and the property overall thread that needle brilliantly.
In photos, and at first glance in person, the rooms appear a little dark with rough hewn materials not typically associated with luxury. But I quickly came to appreciate how the vernacular architecture fits the locale and the upscale vibe the property achieves.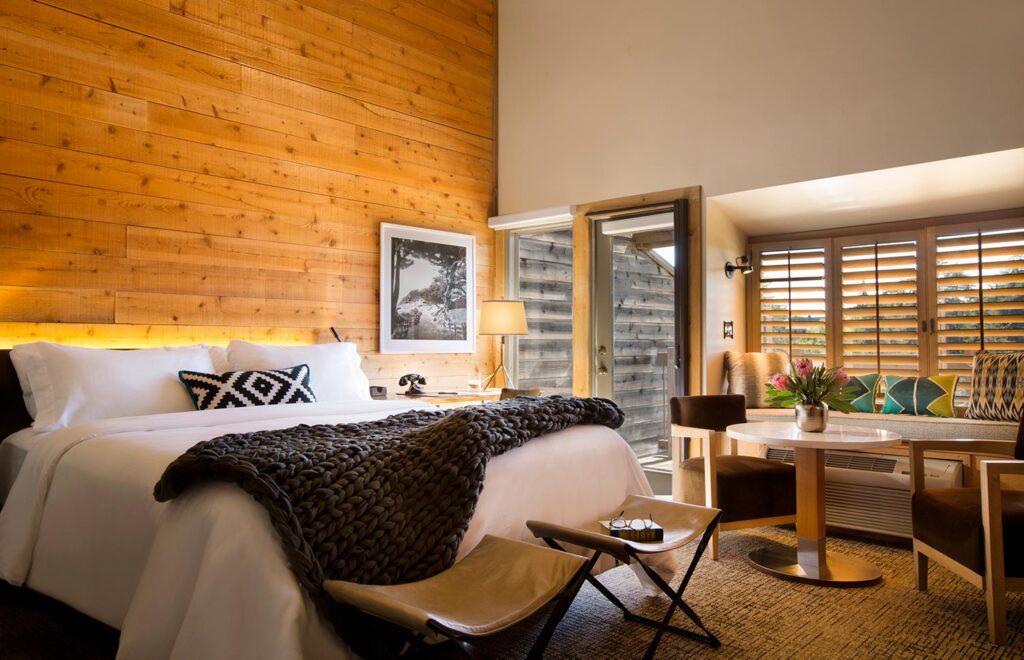 Probably the biggest question to points enthusiasts is whether to book a Suite or Premium Suite given that kids aren't allowed and a couple doesn't necessarily need the space?
The Standard Rooms are 415-480 square feet whereas most Suites bump up to 620 square feet of living space and add additional outdoor space.
I had a chance to check out a Standard Room and I thought it was quite nice. It was perhaps slightly more modern in its appointments with views of the Pacific, whereas the Big Sur Forest Suite we stayed in looked out on a redwood forest.
Overall, I think the majority of the experience of Ventana is more about the property than any specific room. If I had to do it again I'd book the most affordable room available with points then hope for the best at check-in.
I can't argue with the use of a Globalist Suite Upgrade Award if space is available and you have them to burn, but at the same time I think there are properties that offer more differentiation through the use of a guaranteed upgrade certificate. Especially when it unlocks space for a family in a larger room when you need it.
Big Sur Forest Shower Suite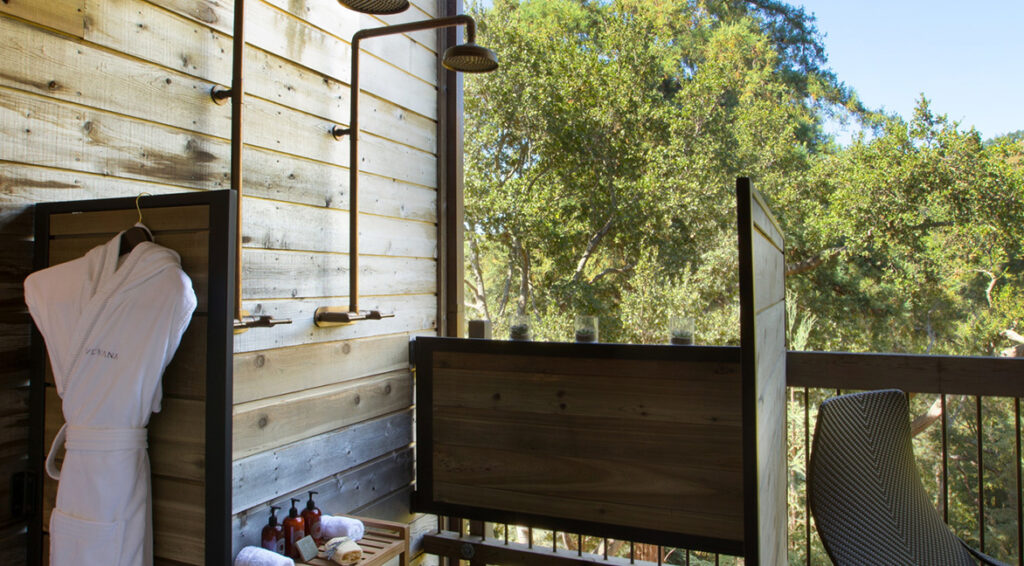 The room is immediately impressive in person, but a bit challenging to do justice with photos since it's not all bright and sunny given the location and vibe.
With time I appreciated the technical features the room revealed like device charging options on the headboard, Bose Soundlink III for music, and a large flat panel TV to which you could reportedly connect devices (we didn't try.)
The outdoor shower is a fun novelty but having the outdoor seating area and hammock were especially appreciated. The weather was absolutely perfect during our stay in early August with highs in the mid to upper 70Fs and temps dropping just below 60F. So it was terrific to sit outside in the morning and afternoon.
The place is so peaceful and quiet especially at night. The beds were very comfortable and I slept very well.
619 square feet
King bed
Seating area
Wood-burning fireplace
Wet bar
Outdoor shower with forest view
Soaking tub
Double vanity sinks
Separate shower
Deck
Hammock
Minibar
Nespresso machine
Here are some photos of the room: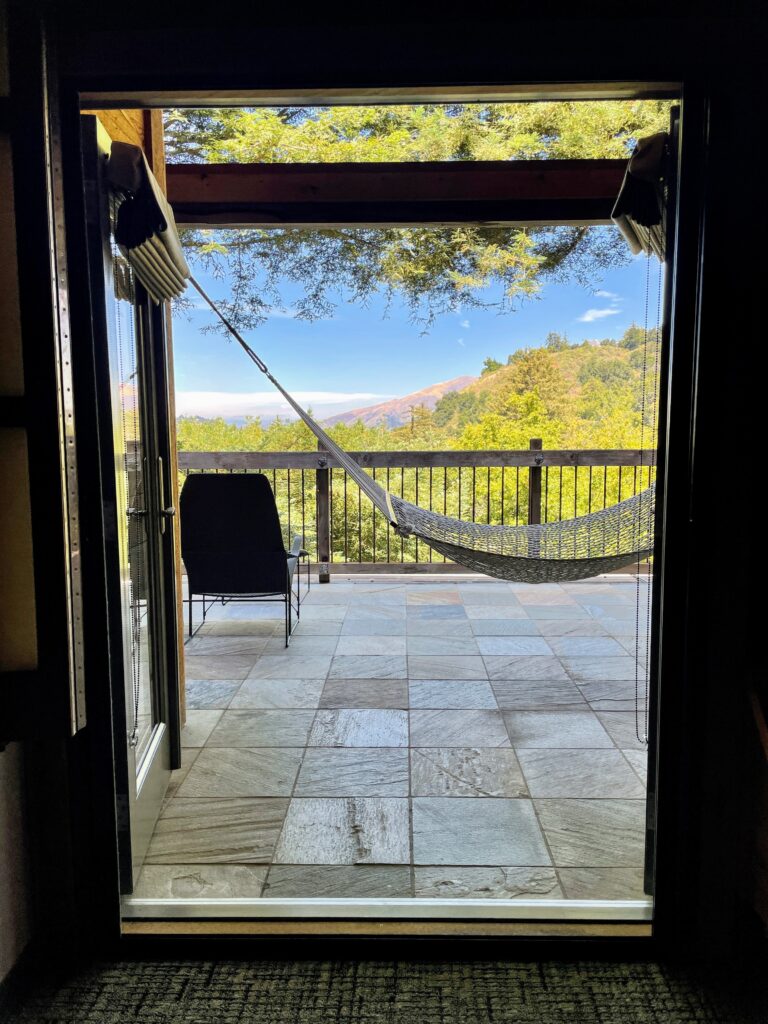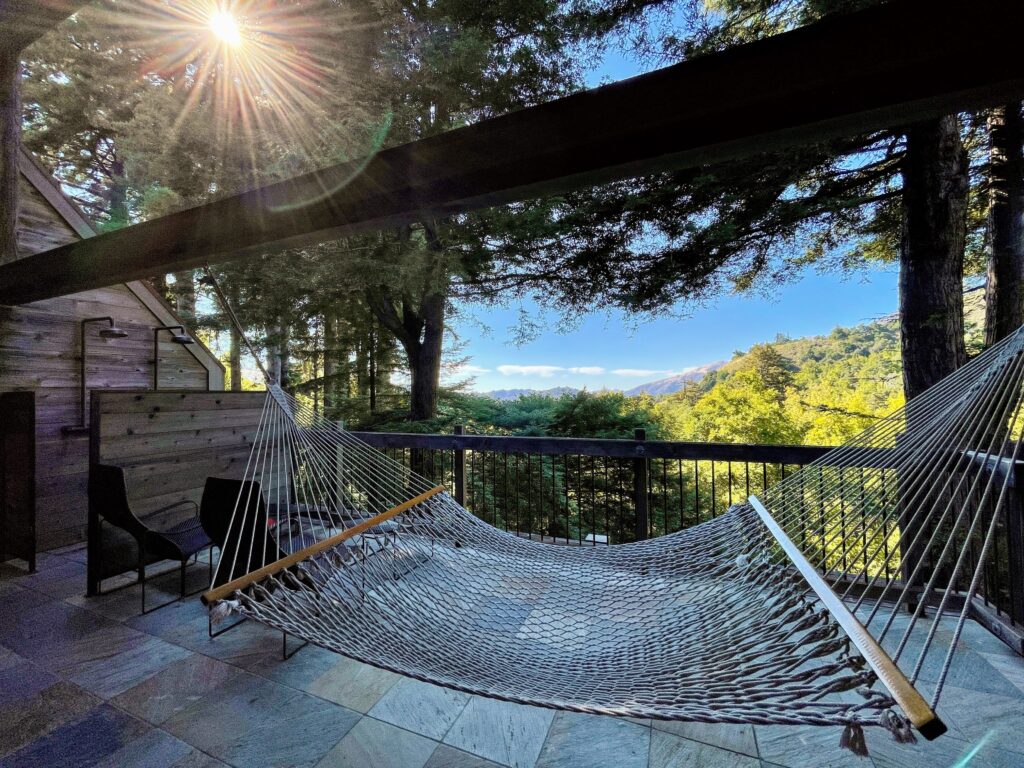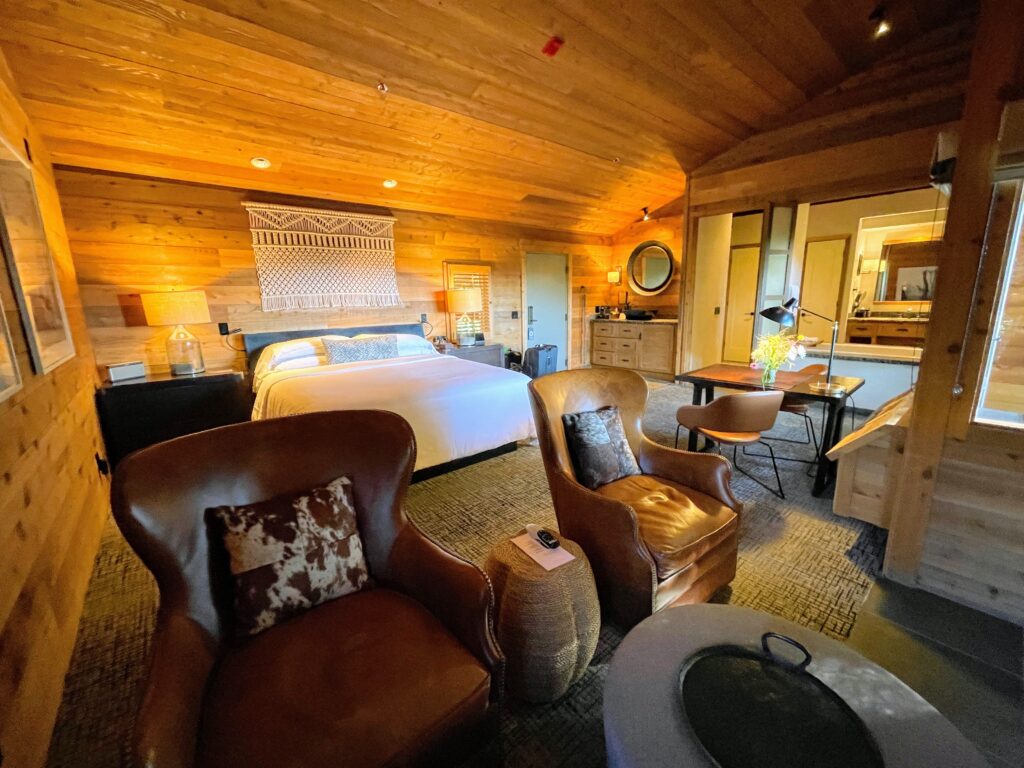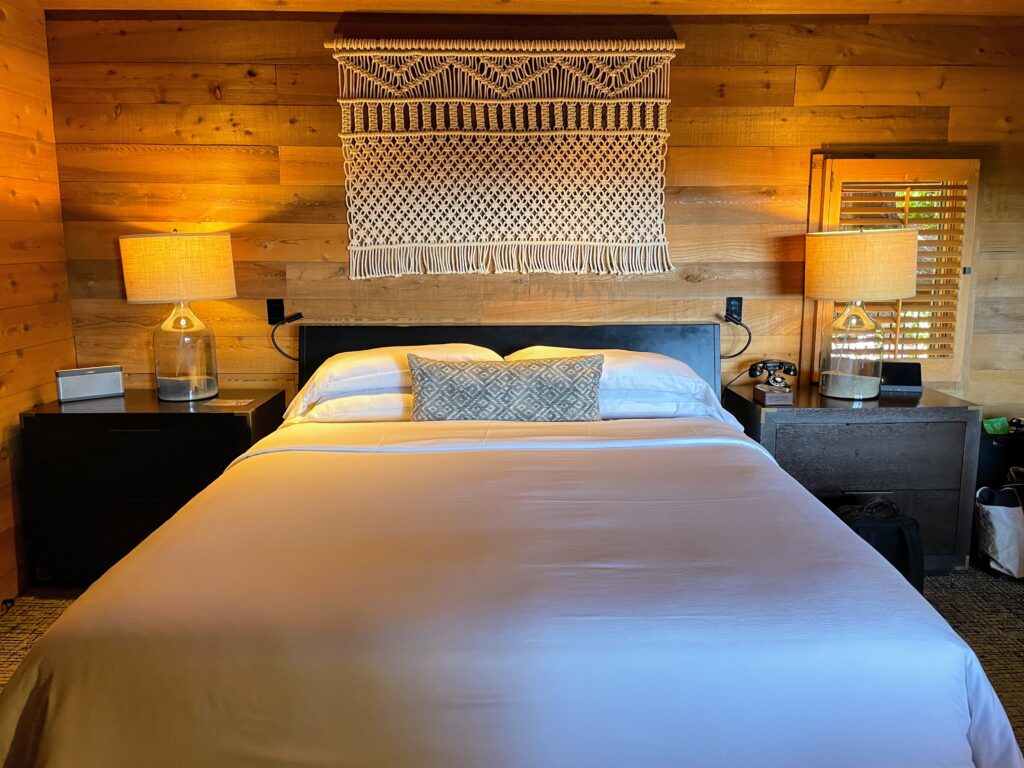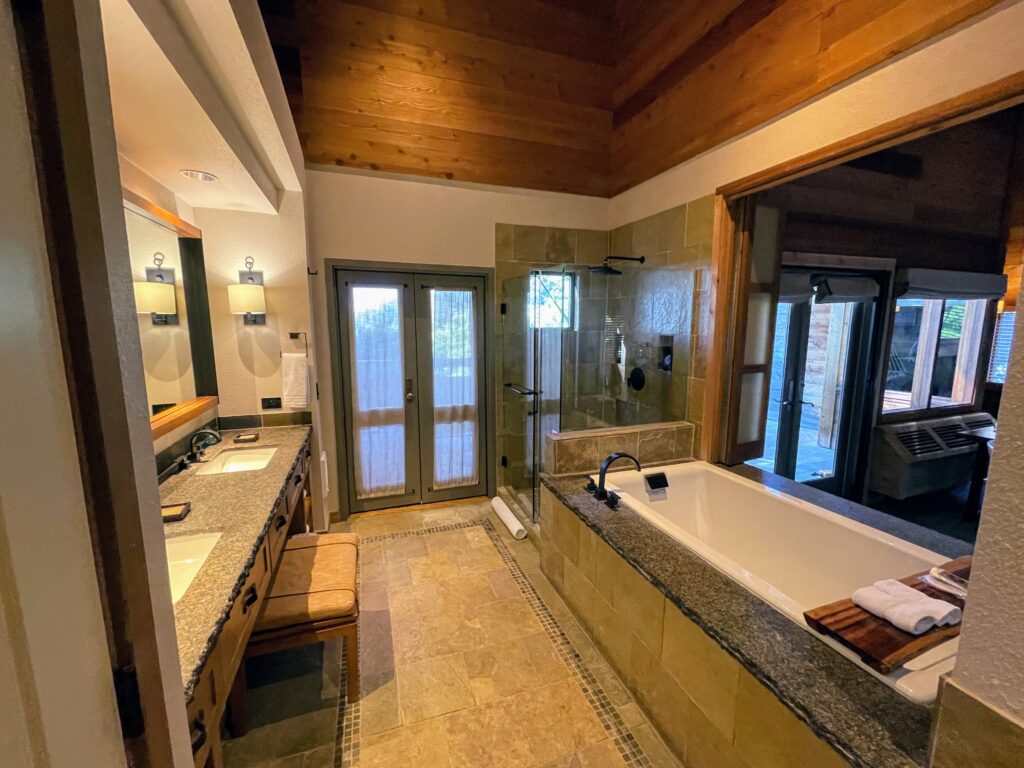 Activities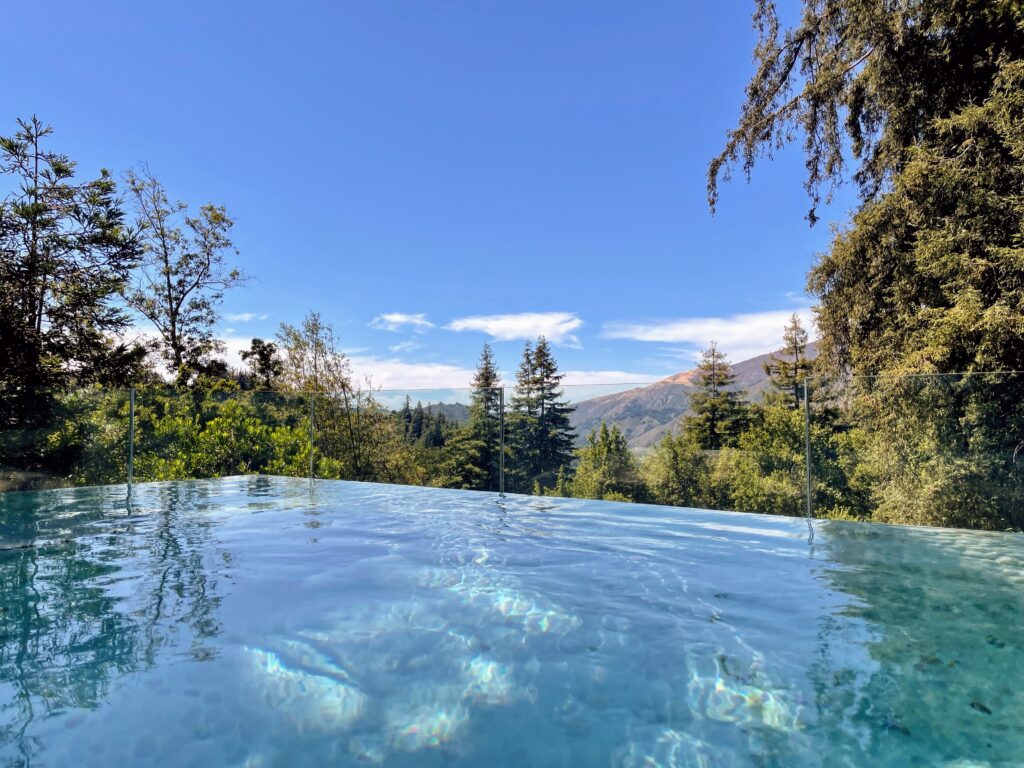 While the hotel is a great jumping off point for hiking and otherwise exploring the Big Sur area, we opted to stay on property for our three night stay. Judging from the other guests we saw each day, others were doing the same.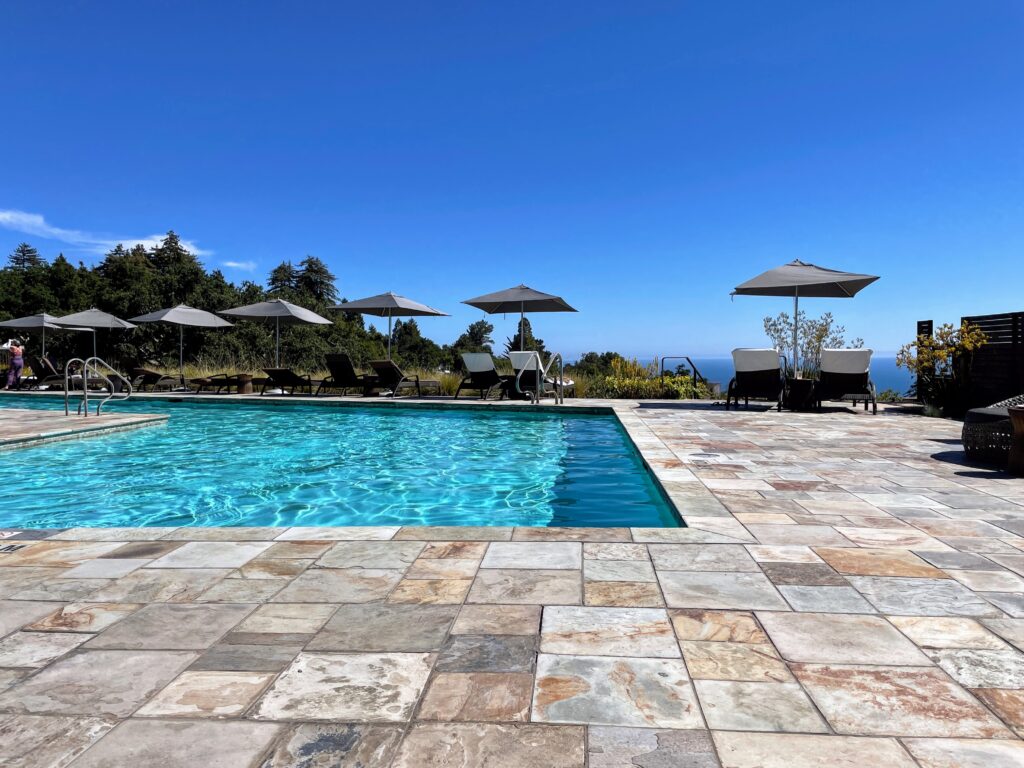 If it was our first time to the area, we would have had more enthusiasm for exploring. Ventana felt like a completely different experience than our prior visit when we stayed at Hyatt Carmel Highlands.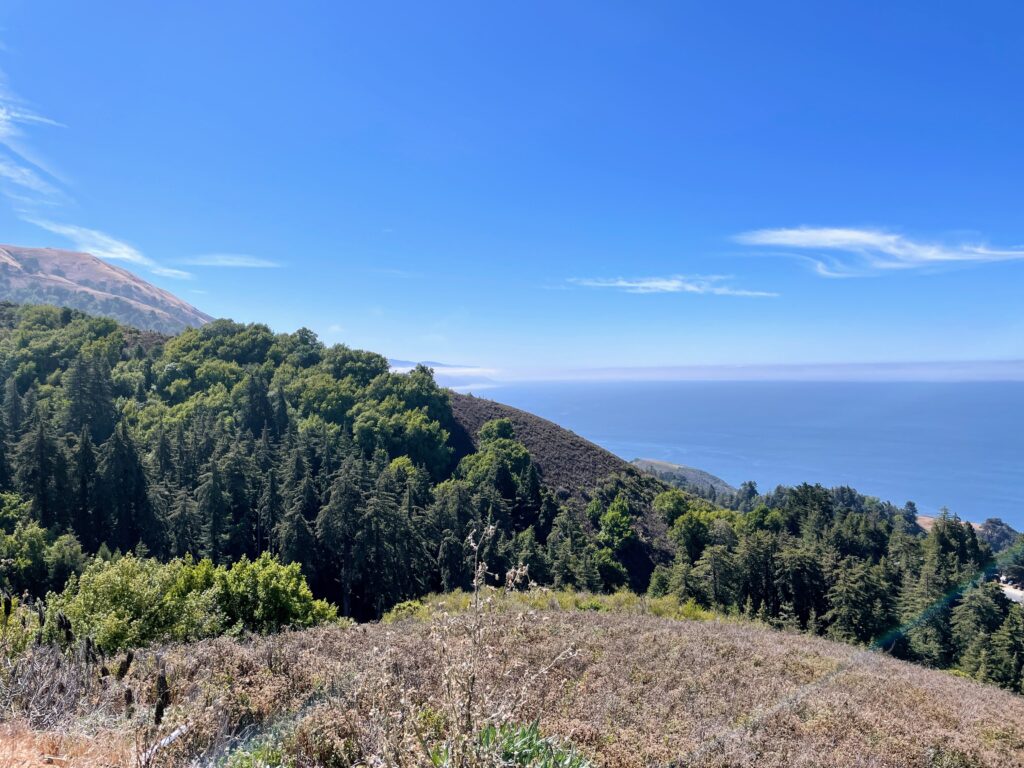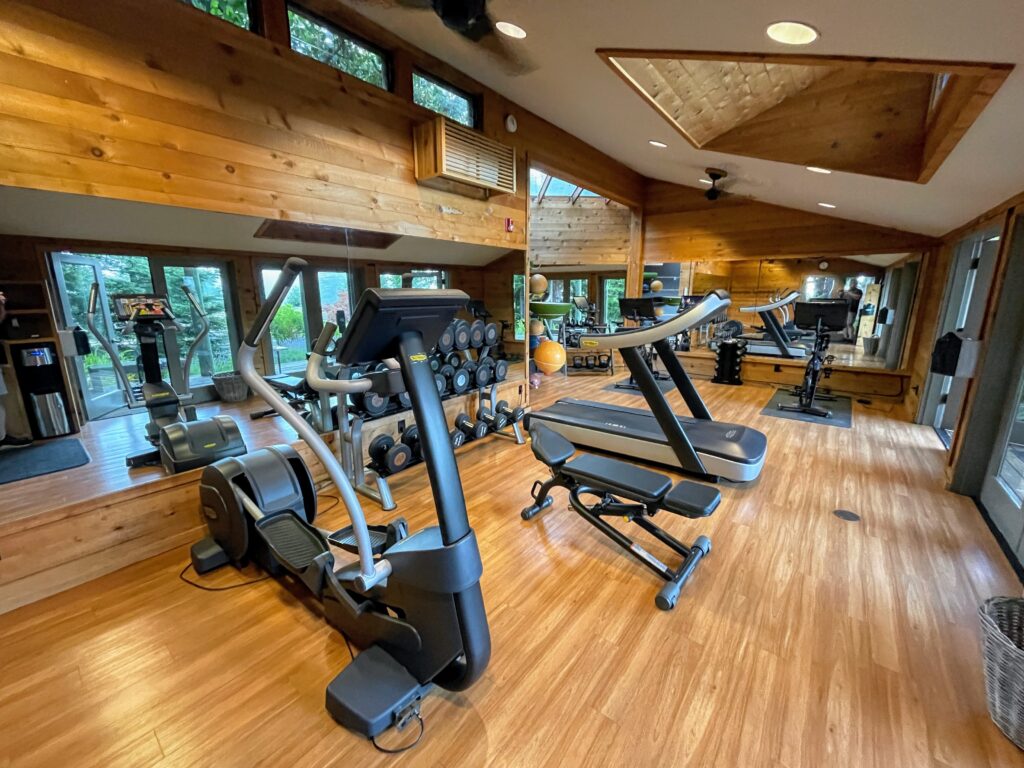 Collectively, our group enjoyed the following activities on-site:
Morning Yoga
Fitness center (small, with one treadmill and a couple of Peletons and other equipment)
Guided group property tour (1 hr, each morning at 10a)
Self-guided hike to the top of the mountain near the property (4 miles round trip)
Swimming and lounging by the pool
Alila Spa (reported to be excellent)
Clothing optional pool (sorry, no photos – ha ha)
Japanese Hot Baths
Watching the sunset
Evening s'mores social
A full list of activities can be found here.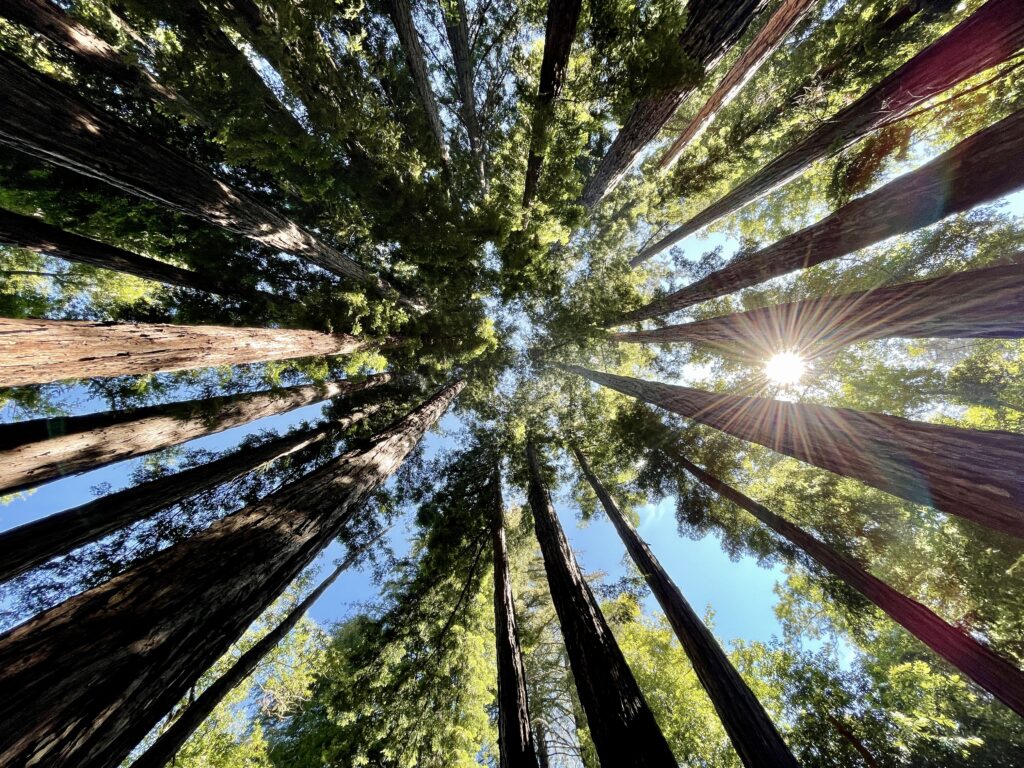 Dining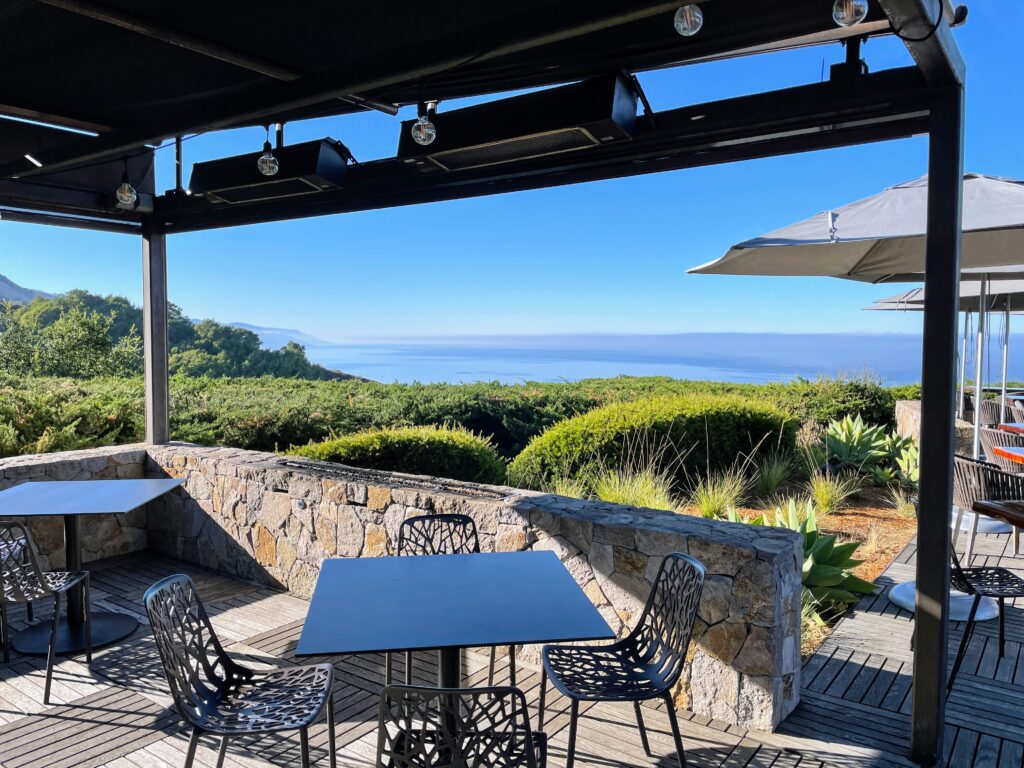 There's something disarming about a vacation where the meals are included in the price. More to the point, when you separate the distance between when you pay for something and when you enjoy it, the pain of paying for that thing decreases.
See: Why Paying Up Front Makes Travel Even More Blissful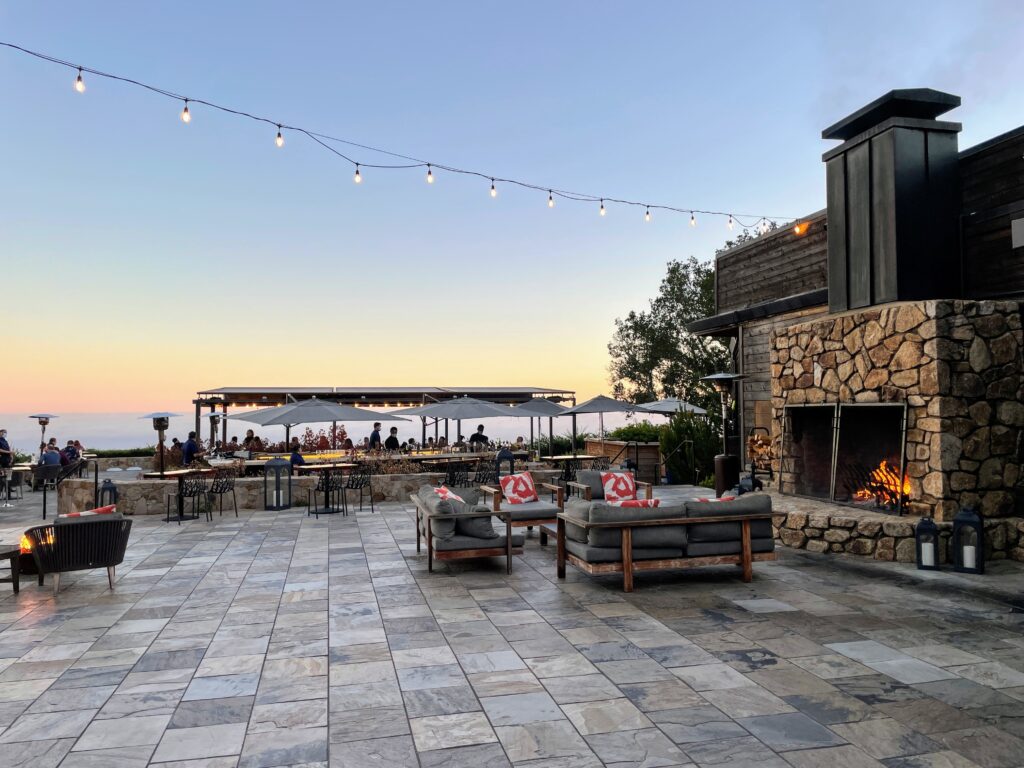 With traditional all-inclusives this is a bit of a trick we're playing on ourselves. We pay more to get less than we would a la carte (ie, lower quality) for the freeing experience of not being mentally burdened with incremental expenses.
At Ventana Big Sur even when you pay with points, rates are inclusive of meals and snacks. You only pay for alcohol and mocktails.
This includes breakfast, lunch, and dinner as well as poolside meals, in-suite dining and minibar snacks and non-alcoholic beverages.
I found the selections to be interesting (see menus here), the quality to be outstanding, and the portions to be more than enough.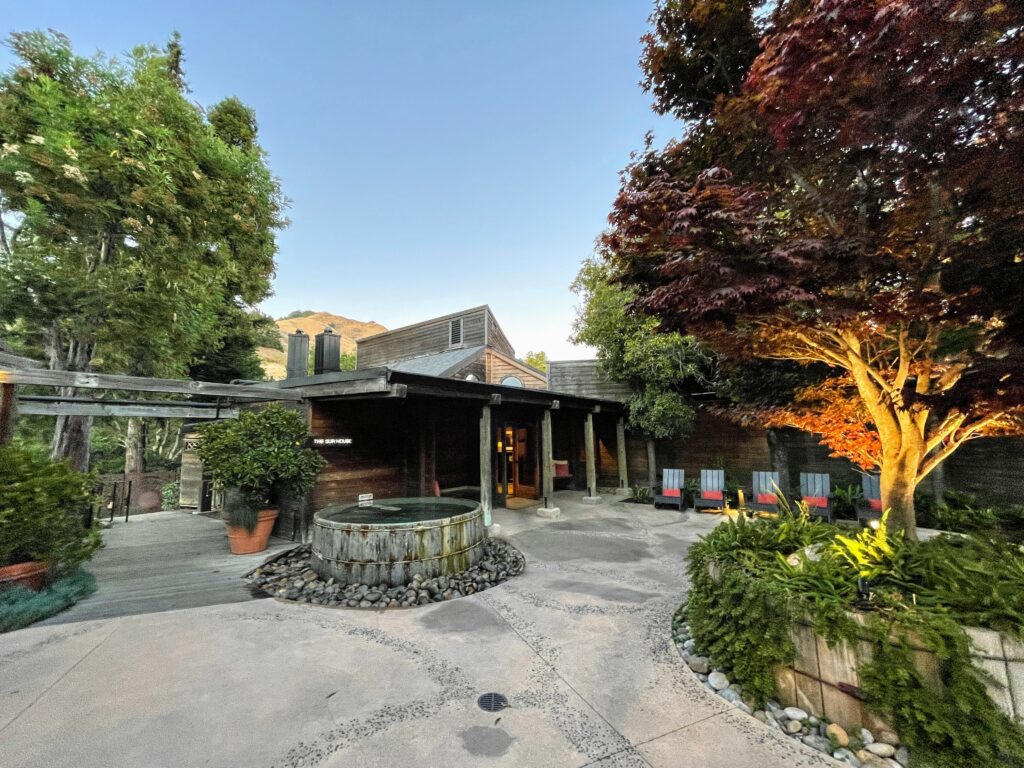 Our servers were delightful, especially at the Sur House where breakfast and dinner are served.
Here are photos of some of the dishes: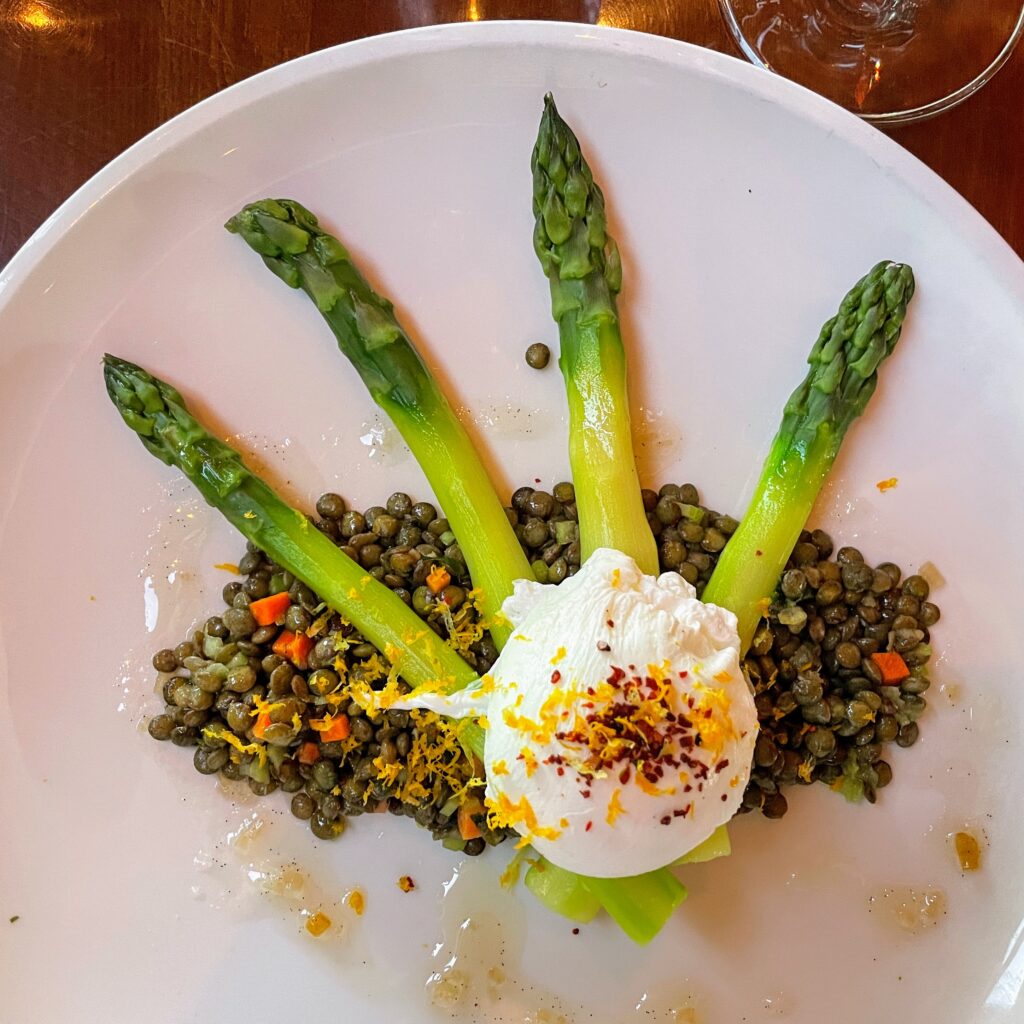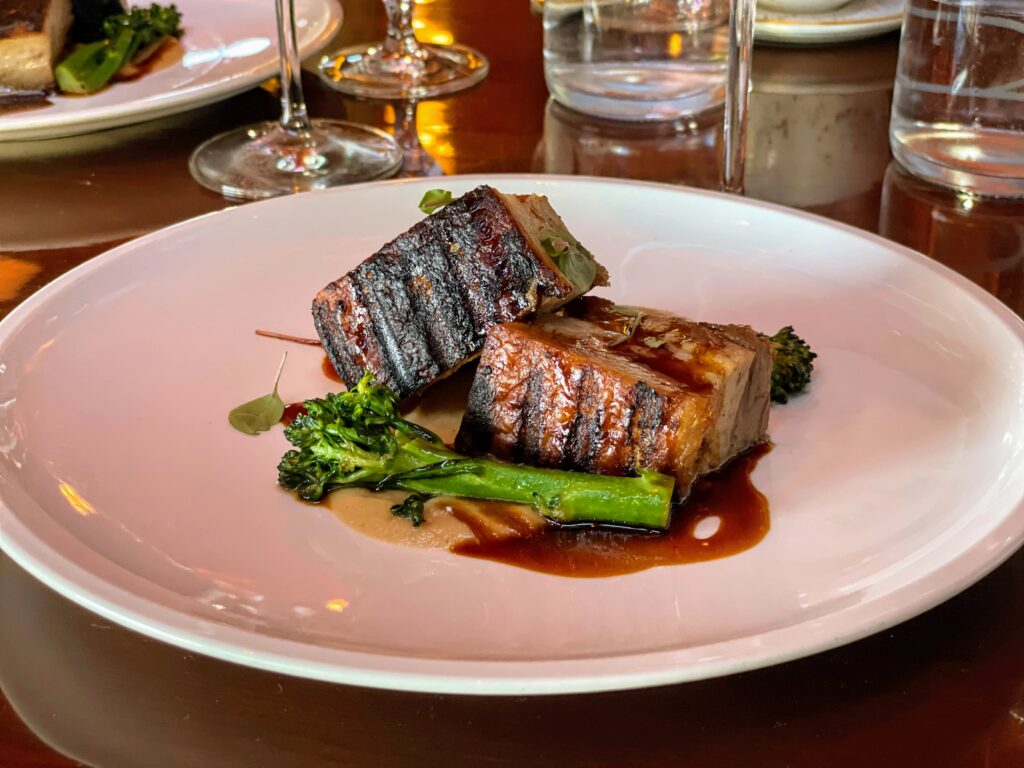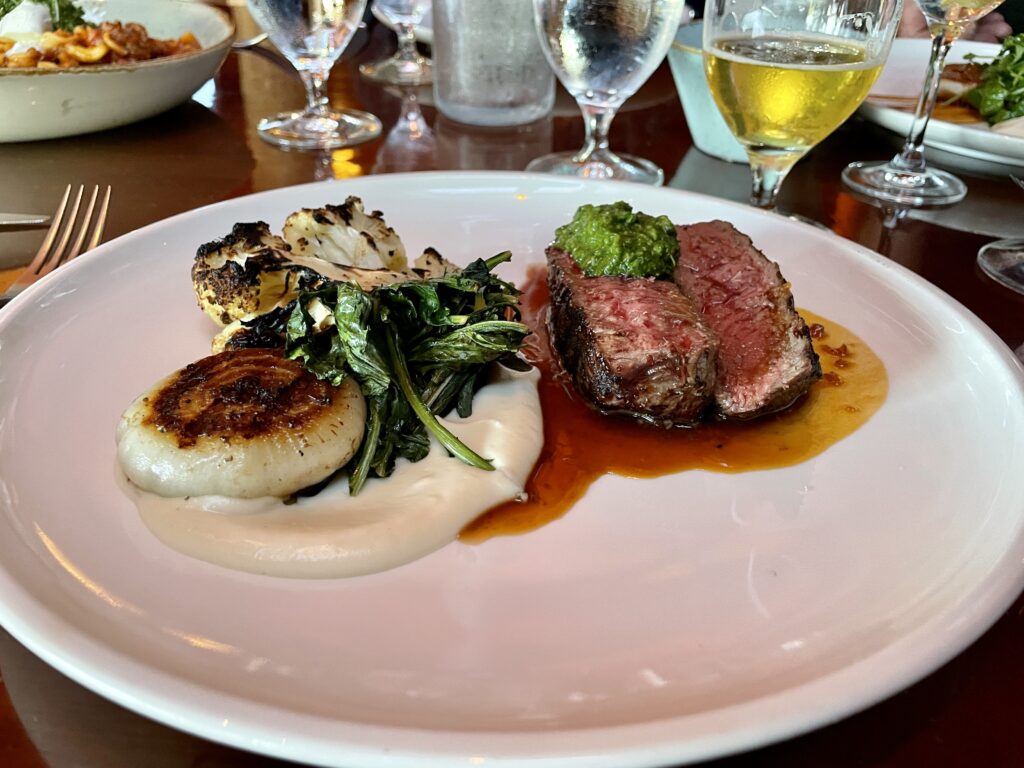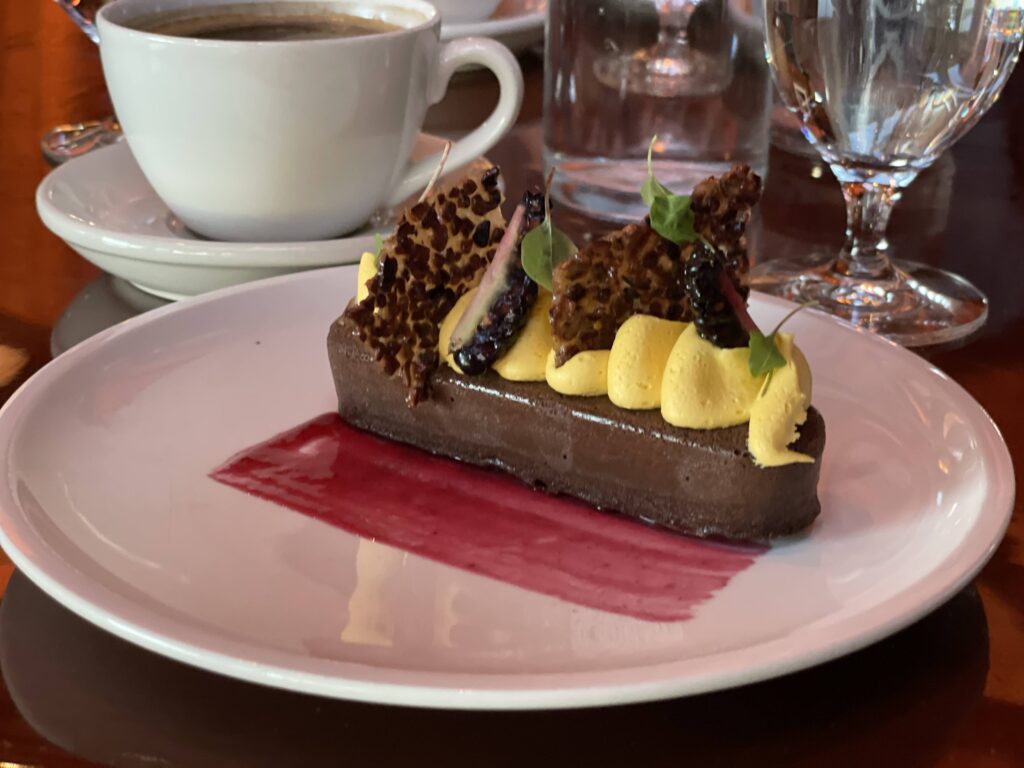 Misc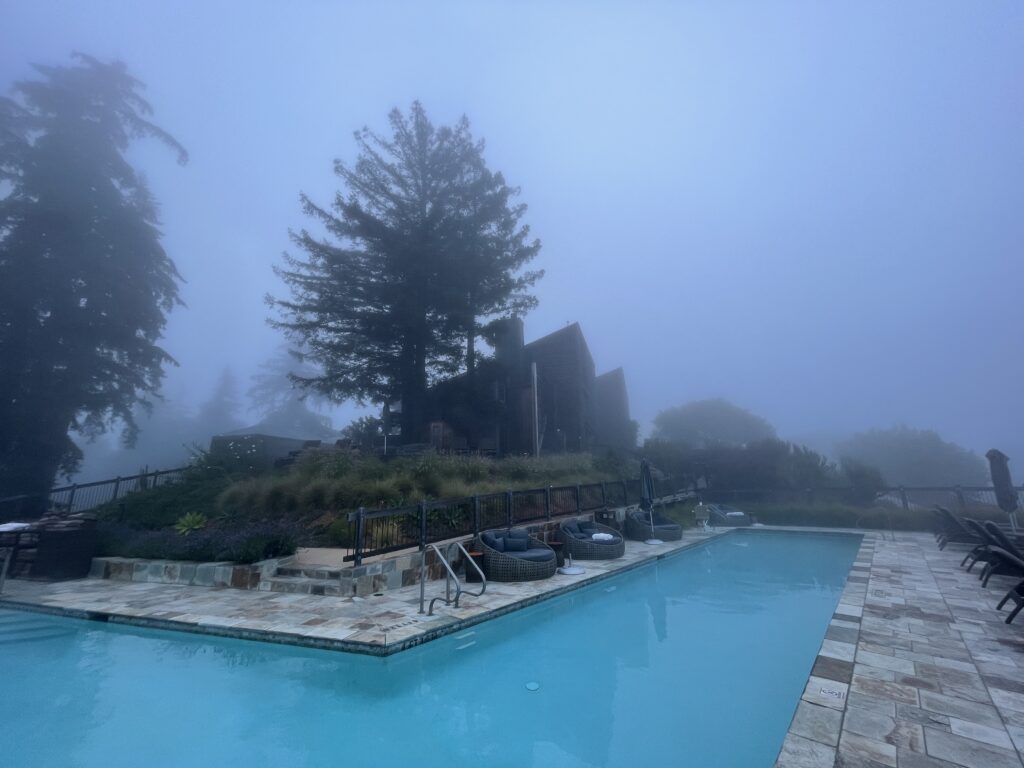 Covid Conditions
Employees wore masks which were optional for guests even indoors. We were hardly indoors with the notable exception of some meals at the Sur House where yellow jackets did their best to disturb outdoor dining. But other than that, the resort is up and running which was much appreciated.
Gratuities
Tips are said to be generously included in the room rate even when paying with points. At each meal you're presented with a bill that includes only alcohol charges or a zero balance. You're welcome to leave an additional tip for exceptional service which was easy to justify because everything went so well.
Globalist Recognition
While they certainly recognized our status and thanked us for our Hyatt loyalty, the inclusive rate makes this a great hotel for anyone with Hyatt points/Chase Ultimate Rewards. The potential for room upgrades and the ability to use a Suite Upgrade Award is the biggest upside for Globalists. But I think all the rooms here are inviting and provide enough space for couples.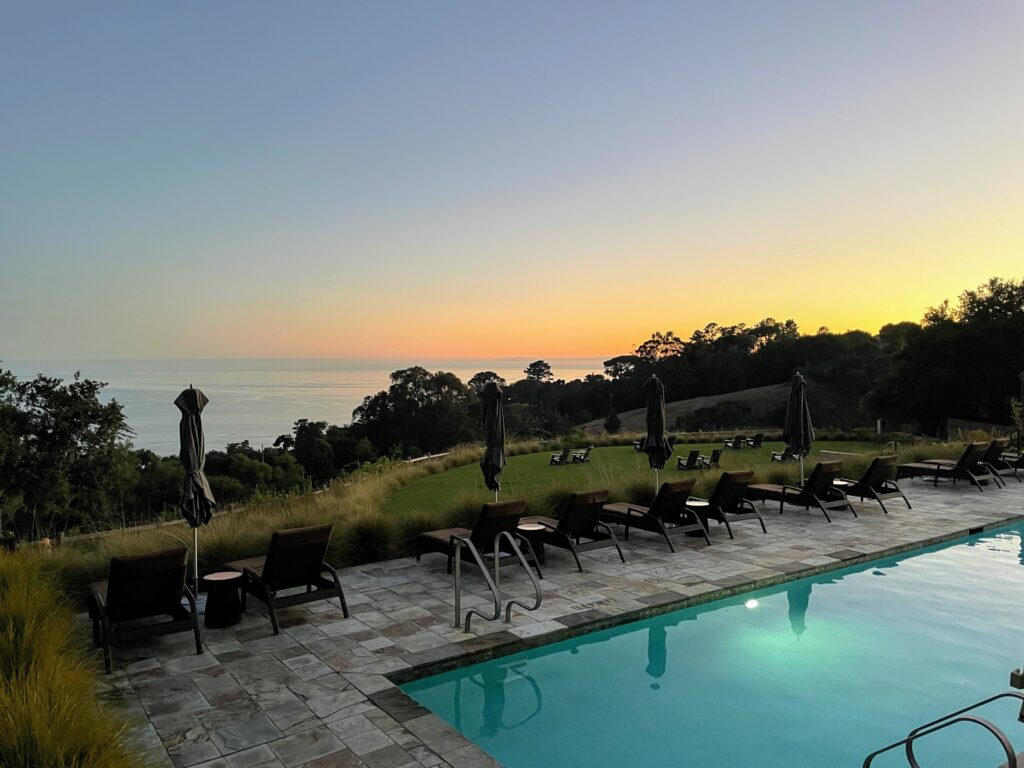 Service
Hotel staff we interacted with was pleasant and helpful across the board. During check-in we were sent a text message that we could later reply to with questions ("what time is yoga tomorrow?") or requests ("do you have some shaving cream you could send over?"). Responses were immediate and deliveries consistently came quickly.
Housekeeping
The room was cleaned each day along with evening turndown service which was much appreciated especially in contrast with many hotels suspending housekeeping "due to Covid."
Connectivity
I'd read online that cellular connectivity was weak in Big Sur and at Ventana in particular. This was not our experience at all: Connectivity was excellent. I had 4+ bars of 5G most of the time and WiFi signal was strong in the room and at the pool.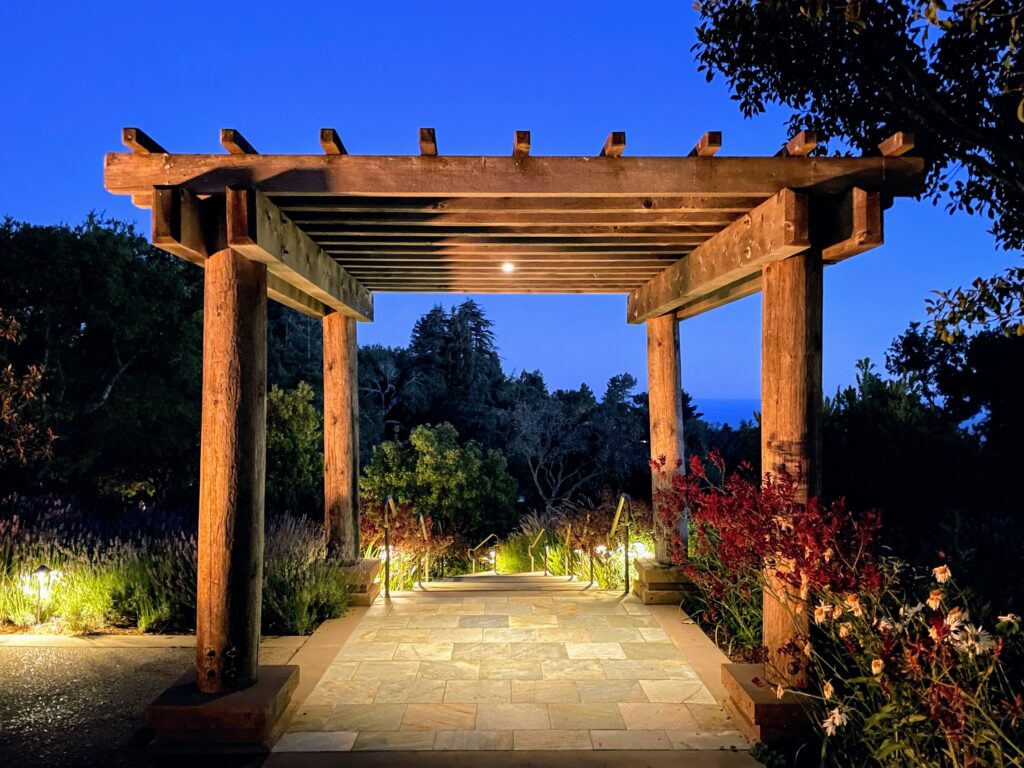 Bottom Line
It says a lot when the next property we're headed to is a Ritz-Carlton (Bacara near Santa Barbara) and nobody in our group wanted to leave Ventana.
They've really nailed the experience of blending a resort hotel within a beautiful natural environment paired with genuine gracious service and luxurious amenities. Add in an inclusive rate, bookable through Hyatt's generous standard award chart, 1:1 Chase Ultimate Reward transfers to Hyatt, and this is a destination worth seeking out.
The value here is so outsized, I don't think it can last.
In a sense the value proposition is already set to diminish slightly if/when Hyatt eventually goes to seasonal pricing (30,000/nt will become 35,000/nt in peak season.)
And there's nothing stopping Hyatt from bumping a property up to a Category 8 (40,000/nt standard, 45,000/nt peak.) They've resisted the temptation to do that with hotels fully under their management yet, but if there ever was a property that's having a hard time being contained within the Hyatt chart it's this one.
For now Ventana Big Sur is a very special aspirational property that makes the Hyatt loyalty program the best in the business. I'd highly recommend working a stay into your plans in the near future.