I'm in the market for flights from BOS-ORD around the 4th of July break.
The route is served by American, United, JetBlue, and Spirit. Plus you can always fly to Midway instead of O'Hare. So it's a very competitive route with a lot of options. Let's see how this one shook out…
Economy/First Price Compression
A check of options on Google Flights shows Nonstop Basic Economy fares from $149. By the time I get to regular Economy fares at good times I'm looking at $174 pp one-way on AA.
If I check fares in First Class I see that they're not that much more expensive than Economy. There are options at $238 pp one-way at so-so flight times. I really like the 10:30a or 12:29p flight times, but they're $308.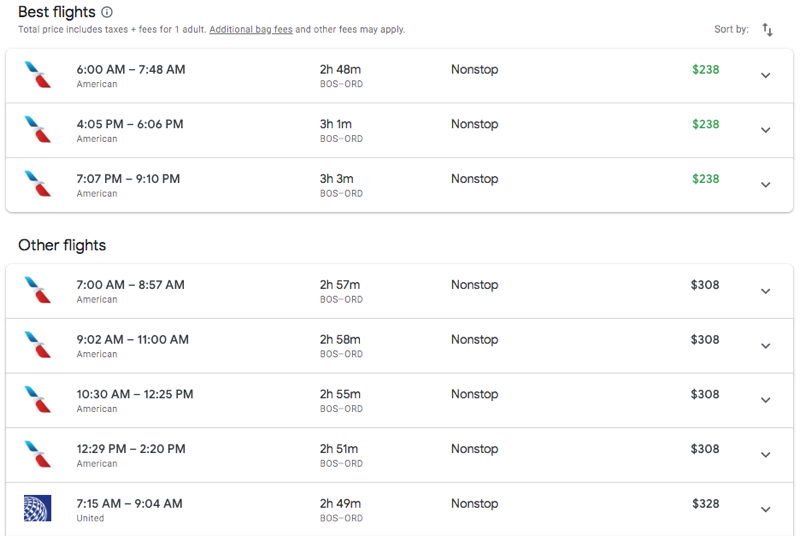 Use Bank Points? No
My go-to move for booking domestic airfare like this is to pay with Amex Membership Rewards with the Business Platinum Card for 1.5 cpp(+) of value.
See: Stacking AmEx Insider Fares, 35% Rebate, 4x And More For Flights
In this case the cash prices of the flights are good, but they're not great. Economy prices seem a little high to the point where I'd be willing to pay a little more for First Class. Flight times are important to me though so $308 pp one-way in First is tempting. Let's see what we can do with airline miles…
Saver Level AA Space
If I search AA.com for Saver Level award space in Economy for a family of four, all I see are flights with connections at inconvenient times.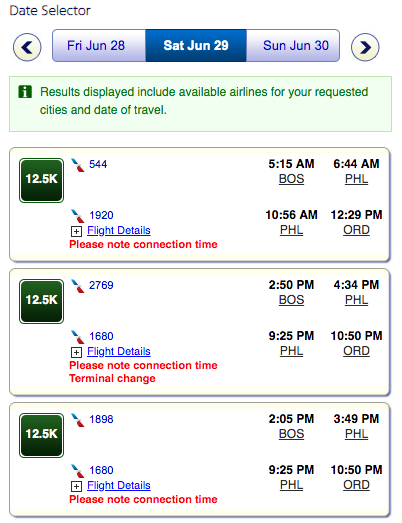 However, things look much better if I search Saver Level space in First. There's space for four on that 10:30a flight I was eyeing that cost $308.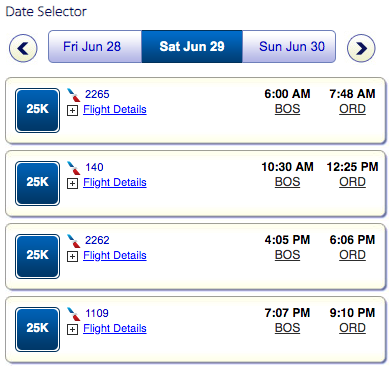 25,000 AA miles for a $308 flight isn't a very good redemption. But when I see saver level space on AA I think of booking the flight with a OneWorld partner with a distance based award chart.
A Better Way: British Airways Avios
A check on British Airways shows the same exact availability as AA shows. No space in Economy for four, but up to 7 seats left (almost the entire First Class Cabin?) are available in First on four flights this day at saver level.
Three nice things about using British Airways Avios for this flight is that:
They charge 15,000 miles pp one-way in First (vs the 25,000 AA wants) because the flight is between 651-1,150 miles
The taxes + fees are only $5.60 pp
If I need to cancel, I can redeposit my miles and lose just the $5.60 in taxes + fees

Chase Ultimate Rewards/BA Avios 30% Transfer Bonus
Making things even sweeter is that Chase is running a 30% transfer bonus to British Airways.
See: Episode 21 of our free podcast
So that would be just 11,538 Avios for what was a $308 flight, a solid 2.7 cent per point redemption of Ultimate Rewards if transferred to BA.
In practice, I checked my wife's BA account and somehow she had 100,000 miles clanging around from what must have been a credit card signup bonus some time ago that we've never found an opportunity to use. I used these to book the flights.
Be aware that British Airways has recently announced what appears will be a mild devaluation.
See: Episode 25 of our paid podcast
Bottom Line
Saver level space on AA continues previous momentum, and appears to be much better than it was a couple of years ago.
See: A Sign Of Hope For Saver Level AA Award Space?
Using British Airways Avios instead of AA miles is great for short to medium haul domestic flights on AA metal. It's even better with the current 30% Chase transfer bonus.
Bank points turned out to not be a winner in this case. Although I could have booked the $308 flights with ~20,500 MRs after the 35% Business Platinum rebate (and earned miles) the 15,000 Avios option is better, especially considering the friendly cancellation terms with Avios.