Today we're revisiting an old format on the blog–Shop Talk. Robert and I have gone from this format to launching not one, but two podcasts and have record over 200 episodes together. But some content is just better read, and so we decided to write this post out instead of recording it as a podcast because it will be pretty link heavy–Enjoy!
Rental Cars
Sam: Throughout the last 2+ years both of us have kept traveling, myself with two little ones and Robert with his family as well. As we've come back to a sense of normalcy we've seen travel trends shift, and demand for travel high, especially to certain destinations.
For me no place more perfectly encapsulates this than the Hawaiian islands. When testing requirements and closed borders were the norm Hawaii represented a beach escape with lower friction, (Even moreso with Safe Travels gone). I was excited to go to Kauai last summer, and that leads me to my first point of discussion here Robert: Car Rentals.
Longtime readers know we're Carmageddon deniers–but what I can't deny is that when I travel (with 2 kids) I almost always need a rental car. And while I've never been left without a car–I have seen prices spike–to over $1,000 a week in many locations. So what have we been doing differently the last 2 years to avoid some of the high costs associated with the heightened demand curve for rental cars?
Robert: Wow, there's so much to unpack here: Favoring simpler itineraries and destinations, knowing when to bail when there's too much friction, and finding ways to avoid inflated pricing. I'm looking forward to the discussion.
Within the rental car topic itself there's so much to discuss.
First, it's that everyone's experience is different. Even if I myself do the same trip twice I'll have different experiences. When I read an article about Carmageddon, nightmare connections in Europe, or 5 hours delays for immigration in Southeast Asia my first instinct is to wonder whether it's truly a widespread ongoing condition? Things operating normally doesn't make the news. That's why I'm a Carmageddon denier: I haven't experienced widespread issues with rental cars so I suspect the issues are rogue occurrences -or- isolated to certain locales. Maybe Hawaii is one of those locales?
It's been wild how many of the knock-on effects of this pandemic are lingering while other things seem back to normal. It's still hard to buy a Honda for MSRP or less, appliance selection is still limited, and if I can't rent a car from Hertz for a relatively reasonable price at a big airport I find it unsettling and annoying.
One thing that's worked well for me in terms of rental car pricing (if cars are available) is to use a corporate code. Not a dodgy code for some business or educational institution I'm not part of – but rather the regular corporate code from my day job, on a leisure rate on the up and up. I get the sense that maybe since business travel hasn't recovered yet and Hertz is offering good pricing for leisure rentals with corporate codes. This hasn't worked for the tough puzzlers you've challenged me with but for my rentals on the continental US it's dropped the price down to an acceptable level.
Second, I know you said you need a rental car for Hawaii. And I get it: It's spread out and you want to reach off the beaten trail beaches and such. But we just got back from Bermuda and you know what? Tourists can't rent cars there. It creates a very different vibe on the island. The airport isn't crowded with unsure tourists trying to return rental cars, the roads are less busy, and people get around mostly with taxis and small private tours.
I know you've found some more affordable ways to rent cars this year. What's working for you?
Sam: That's a great general reminder that my experience is not necessarily what other people are seeing. I will say that living in Southern California my 'default' is almost always to need a car–but you're so right–there are times and places where it isn't necessarily true. I'm reminded of renting a car in Italy and San Francisco–both probably were not necessary (but so fun to drive in both places!).
I've tried flexing my legitimate corporate code–and it certainly helps. One thing I like to do with it is book a 'backstop' of a real rental using that code, and then keep an eye–either with autoslash or manually on that price. I'll be the first to admit there's a LOT of comfort in a big name rental car brand versus some of the more out there ideas. If a car rental is booked as a backup you do need to remember to cancel the car rental and/or book extra time into your pickup so you're not hit with any potential no-show fees.
There's also turo — which saved me a few times now– most notably in Montana over winter break. Aside from the cost saving (half the price of a rental car), I was able to pick the specific vehicle I wanted. For Montana that meant a 4×4 jeep–and I KNEW that when I landed I would have that car. Specialty vehicles are not always guaranteed–I'm flashing back to when I was in Breckenridge two Thanksgivings ago and a snowstorm was coming in. I was booked with National and hopeful I could use the Emerald Aisle to get a 4×4 SUV–it worked out, but that might have been because demand and travel at that time was VERY low.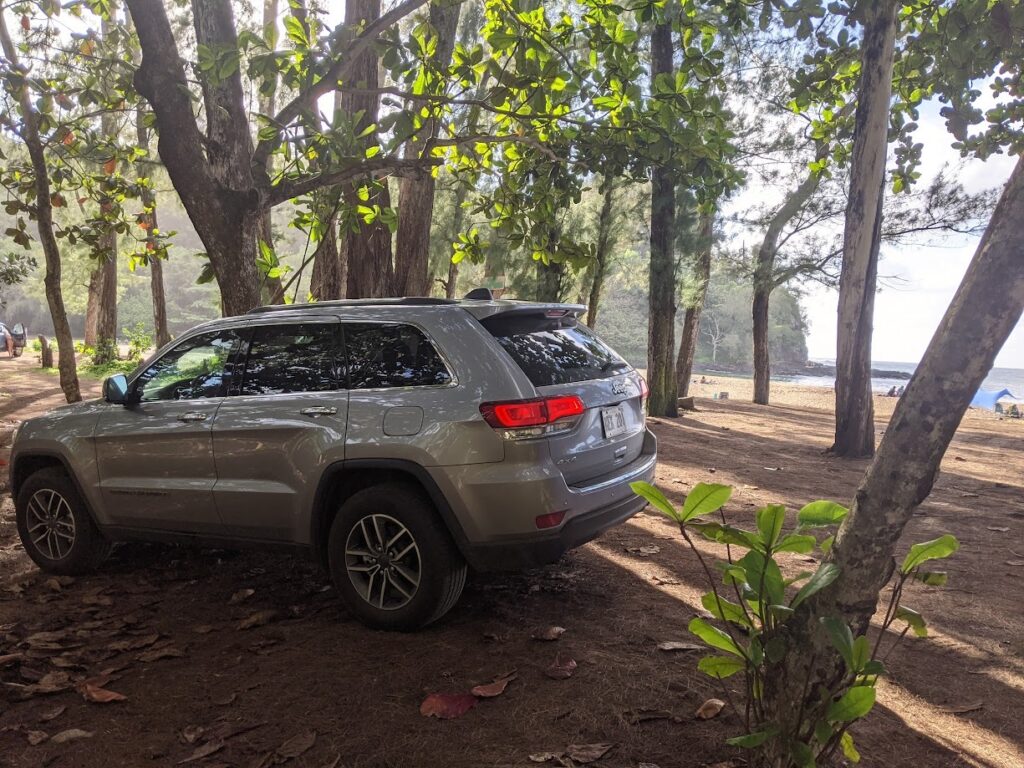 Having Turoed (is that the verb form of Turo?) in Montana I looked to use it again in Hawaii over spring break this year. Rental car prices had come down, and my corporate code helped–but Turo still beat that pricing by about 50%. And the pick up and drop off is so much easier than a rental car–especially with kids. In Bozeman the owner met us curbside, in Hawaii the car was waiting in the parking lot. I'm not sure that's 'legal' but it sure beats shuttle buses with all our luggage.
Turo's not all roses here– there's a potential liability issue for someone who doesn't own their own car and have car insurance. And there's not a lot of consensus with respect to credit card coverage on p2p rentals. I think as rental car prices come back down to earth, I'll sunset Turo use except when I need to guarantee a specific vehicle, like a 4×4 in the snow.
So we're on the ground, driving to our destination — and we need to stay somewhere–But then the question becomes how do we avoid some of the sticker shock that's happening in the lodging space right now? I'm thinking back to my trip last month — Japan was not an option, so I wanted to flank to Kauai–but it was so close in that I couldn't make it work — prices were 2x-3x normal, and I ended up pivoting to Punta Mita, Mexico instead. I don't like the idea of swapping destinations to avoid high prices–because you could never get to go where you want. What's been your experience with finding and navigating lodging and destination choices?
Lodging
Robert: Well done on the selective use of Turo, and that local car rental agency in Puerto Vallerta you mentioned in Episode 167 as well. It has paid to be creative lately, and these are a couple of trip-saving moves to keep in mind for sure.
Lodging prices have been bonkers, no doubt. I'm seeing inflated pricing at chain hotels, boutique hotels, and for vacations rentals as well. It really stings when prices are higher than ever and service standards are still lacking at so many hotels. But what are we to do? Stay home a few years and wait for conditions to improve? No! It felt like summer 2022 is when the majority of the world said, "Enough of this, I'm going out and enjoying a good vacation. It's been too long."
At what point do prices get so obnoxious that we should pivot to another destination or defer a vacation? That's a tough call. We were eyeing a trip to Napa Valley this August and it seems we weren't alone. Hotel prices have always been steep there, but with no award availability at the Alila and the Four Seasons charging over $2,000/nt I had to look elsewhere. Napa can wait.
We've talked on the show before about how loyalty hotel chains have devalued their award charts but they [thankfully] haven't kept up with the pace of cash price inflation. That's part of why we ended up at the St. Regis in Bermuda.
The ebbs and flows in travel demand during the pandemic has been staggering. We went from nobody being comfortable in a public space to everyone being intent on taking a blowout vacation in about a year. Consider further how projects of all types have been more challenging to complete with global supply chain issues. While I was sitting on an island in the middle of the Atlantic ocean I tried to appreciate how hard it must have be to – I don't know – find 50 matching Tucci umbrellas for the beach rather than complaining that service was slow. It was amazing that a hotel could even open in 2021.
But what those ebbs and flows got me thinking about is what things were like if you owned a second home in a place you couldn't visit. Or a timeshare at a resort that was closed for 6 months. Or owned a fractional vacation residence you couldn't utilize. When you're the owner, you look at things differently.
On one hand, it reinforces how frequently it's better to rent something only when you use it. But on the other hand, there are some terrific lodging accommodations that aren't hotels that don't show up on AirBnB or RedWeek. Non-conventional vacation home options with resort hotel services (like this for example) are something that's on my mind, especially after visiting Bermuda. Especially if I can find ways to rent them rather than buy in to a long-term commitment.
I think that goes along with a mantra we've both long agreed on: Figure out what you really want then work your way back from there to find the best way to pay for it.
How about you? What unusual methods/currencies have you found useful in these strange times?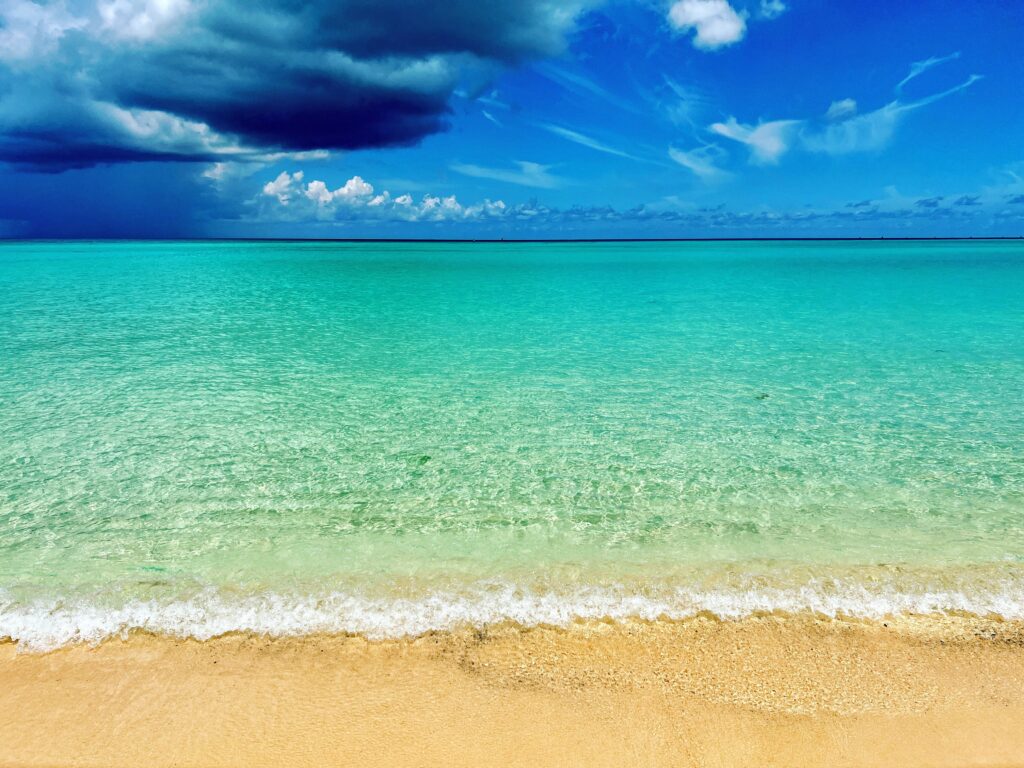 Sam: We could do a whole show on this. I'm with you on the idea of renting vs. buying a second vacation home. Even though I have places I LOVE to go to — I don't love going there all the time. So I think I'm not the right kind of person for a vacation home. Add to that the idea of all the work it takes to maintain a regular home — and I think I'd pass on an actual vacation home.
But there are whole industries that exist to try to give you the 'taste' of a second home but without all the negatives. Those usually mean trading access/money for convenience. The ones I'm thinking about are timeshares — which to be honest I've enjoyed staying in a few times over the last couple of years. I'm always looking for angles to rent them.
I stayed at a Hilton Vacation Club (paying for the timeshare unit as if it was a hotel room), and the space was large, well appointed and had some of the conveniences I needed with two little ones in tow. Indeed, when I reviewed my time on the Big Island of Hawaii I recommended the Hilton Vacation Club in Waikaloa village as one of the best values on the island — day passes to the Hilton Waikaloa Village pool could run a family of 4 $150-$200, and a 1 bedroom unit at the Vacation club property with access to that same pool is only a little above that. Would I ever buy a unit? No way, but that's why this specific tip works.
The hardest part about the search for timeshare rentals is that you find such limited information about the actual places online. Thousands of people stay at specific hotels each year, and a fraction of them write reviews. When you're booking a timeshare you're booking a VERY specific thing–and your experience might only be shared by a handful of people–and the majority of them might be 'owners' who have no incentive to review the property.
For me that means getting my feet on the ground and potentially making my first stay in a place somewhere more known. Then I can stop into the timeshare location, or at the very least drive by it and see if it makes sense. You can tell a lot about a place by researching it–but there's still no replacement for a stop in. I know that's not what everyone wants to do on vacation, and I'm certainly not suggesting going on a timeshare sales pitch–but if you love a place there's no reason not to do some research into ways to get back there more times and be more comfortable when you do get back.
Have you done such 'boots on the ground' type reconnaissance while on vacation ever? or is that something I'm outside the norm on?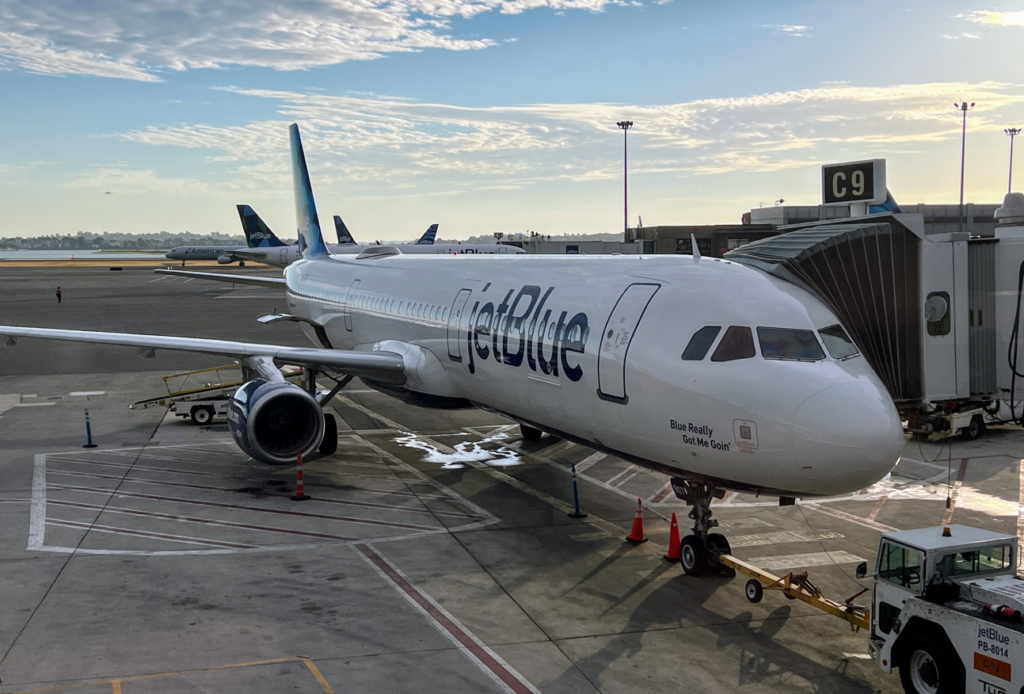 Airfare

Robert: Absolutely! I can tell a lot about a property by stopping in for a drink or enjoying a meal. If a hotel treats me well when I'm a vistor it inspires confidence they'll take good care of me as a guest.
It would take a lot of time and money to stay in every hotel I might consider in a given location so I find it fun and efficient to check out other properties while on vacation. A high end travel agent I follow call these "site inspections" and I jokingly start Instagram posts with that exact wording. It's kind of like getting multiple vacation experiences in one if you stay at a single property the entire time. Especially if you're going to visit the locale repeatedly I think it's time well spent.
Along these lines in air travel if there are no viable direct flights I enjoy traveling on a foreign carrier and stopping over in another country on the way to my final destination. When we went to Italy (trip report podcast) we flew Air France on the way out and Lufthansa on the way back. It was like we visited a couple bonus countries, especially with how the First Class Lounge in Germany helped create a biergarten experience for us.
More broadly as it relates to air travel, I know we've both been capturing fare drops as prices fluctuate closer to the date of travel. And booking backup flights in case the airline pulls the rug out from under us. It seems like plans are more fluid and flexible than before, for better or worse.
We're terrible at predicting the future, but here are a few predictions anyway…
Air travel demand will cool off in the fall
Air travel volatility won't improve until business travel returns to pre-pandemic levels
Around the time that happens, airlines will go back to charging change fees
But until then, I think it's important to get to know the cancellation policies of your hometown airline(s) and get comfortable booking things such that they can be cancelled (not just changed) if needed. And to get good at capturing fare differences. A lot of times that means booking with miles even if it's not that great of a redemption. Flexibility is key right now.
What trends are you seeing in your air travel bookings lately?
Sam: Volatility is it exactly. There used to be a pretty regular pattern — flight prices would start low, trend higher as planes filled up and then award seats would show up as distressed inventory as airlines worked to capture any revenue they could before the doors closed and the flight took off.
Now–the entire thing is a huge mess. Prices start high sometimes and then drop as the flight gets closer, or as people cancel. It is almost like the airlines are throwing their bait out there and seeing how many nibbles they get. What it means for me is to get comfortable with booking early–before the price curve has dropped and then re-booking as prices fall.
That's easier said than done–and each airline has a unique way to do this. The best of them (like Delta) will reprice the flight immediately and refund you right away. Southwest used to be bad–taking fares booked with cash and converting the refunded fare drop into a close-in expiring credit. Thankfully, as we discussed in Episode 61 of our No Annual Fee Podcast, Southwest's given this up. That puts them in the middle of the pack now. Two particularly bad airlines are AA, who will let you cancel with no penalty but makes you often, and randomly, contact them to actually receive your refund. Last–and worth public shaming is United–who will say you're receiving a refund but then make you jump through many hoops to actually get the refund.
The longer out I'm booked the more price drops I might end up capturing. If they work and the refund shows up automatically, great! But if they don't I'm not going to waste my time until I'm done flying the ticket– who knows how many more fare drops might happen–or I might cancel the whole thing. Saving time is important here.
One of the things missing now seems to be that close in inventory available with award miles. Or rather–the landscape has shifted, and shifted fast, with respect to partner award space. All the big airlines now do dynamic pricing, which means they'll have awards at all kinds of pricing. The idea of 'low level' awards really no longer exists. So that means sometimes their miles are tremendous values. I have seen flights to Hawaii from LAX for under 10,000 United miles one way. Of course they were terrible dates and times, but still–there's value booking with the carrier you're flying on and that's where I'd start looking.
I've lately become a fan of using Turkish Miles & Smiles to fly to Hawaii, but the partner space has dried up. I still do search, but haven't seen much lately. Just about the only domestic success I've had with partner miles lately has been with British Airways booking into AA award space. That their search engine is fast and good helps make the process feel like it isn't a waste of time. I'll end the year here with 2 flights booked on AA metal with Avios (for less than AA wanted for the same seat!). So the game's not completely dead in this area, but it really has changed a LOT. If you've not been collecting Delta, UA (or UR), or AA miles–I think you should consider doing it because you can find surprising uses for them with dynamic pricing.
Did I just defend dynamic award pricing?
Robert: This game is constantly changing. Just when I think I've got something figured out, it changes. I can see why some people find it so exhausting that they choose not to play it. But that's good for those of us who do enjoy playing the game. And like we were discussing in Episode 170 that just dropped today with Vacasa and Fractional Rentals: There are an endless numbers of ways to play game depending on what you're looking for. It's the greatest game, right?
Sam: It really is the greatest game — so many sides to play! Earning miles, researching new and renewed programs, studying and booking flights, hotels, car rentals. The puzzle side of the game really is fun. I think that's something that readers should take away from this post today–we can complain about the negatives of the current travel space, or we can pivot and keep moving forward. There's no use trying to wait out the world travel trend; instead we need to be dynamic and work to go where we want when we want.