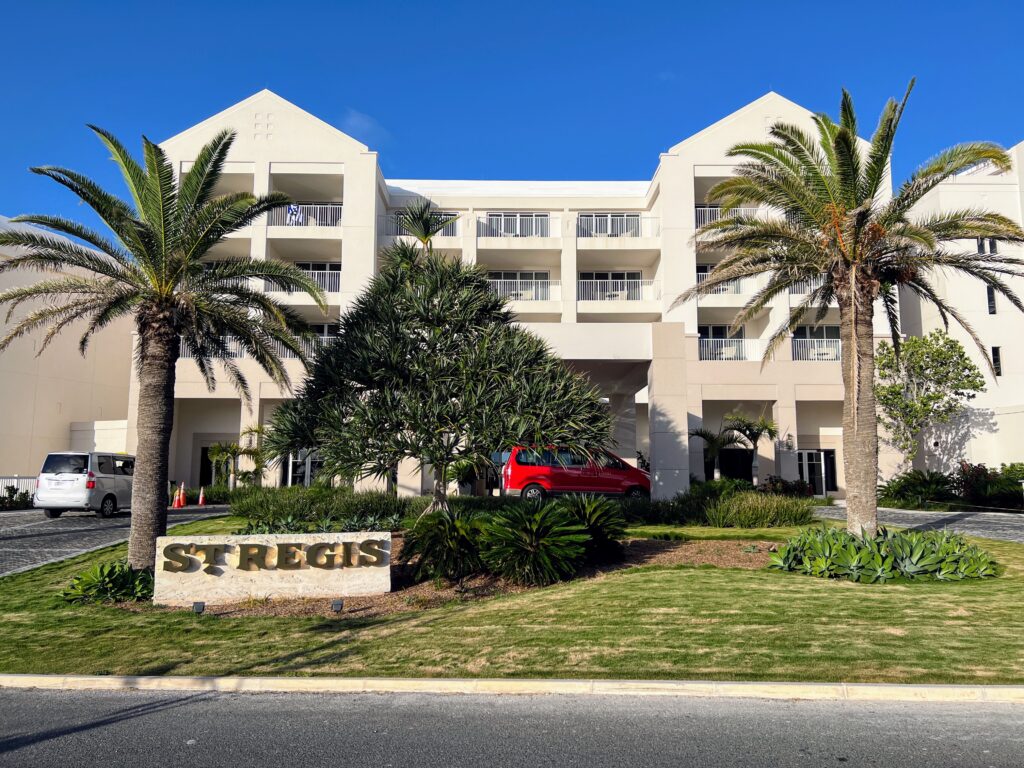 We're just back from a week at the St. Regis Bermuda. Wow – what a country. What a destination.
Let's get right into it…
Quick Summary
The St. Regis Bermuda opened in May, 2021. With 120 rooms, 21 of which are suites, it's on the smaller side for an international hotel in Bermuda (the Fairmont Southampton, currently closed, has 593 rooms).
The St. Regis is right on a very good beach with turquoise water and soft sand and offers two infinity-edge pools, a golf course, and a spa. Although the hotel has a bit of a sterile feeling that doesn't much embrace the feeling of Bermuda, it can provide a luxurious base for points-enthusiasts looking to explore this beautiful island.
Booking
Points redemptions can be a very good value, especially in the summer when cash rates hover around $1,000/nt. With Marriott's variable point chart, I see award rooms going for between 83,500-100,000/nt seasonally.
The room categories eligible for standard awards are Partial and Limited Ocean View with 1 King bed.
Cash bookings are subject to a 7% service charge + ~11% in taxes & fees. These fees are thankfully not charged on award stays. And get this: The resort currently isn't charging a resort fee.
Award stays get fifth night free so we paid 400,000 for five nights fully loaded, or 80,000/nt. I think that's a terrific value.
Tip: If you don't see award availability, try searching incognito or in the Marriott Bonvoy app. For some reason, I frequently see no availability at all in a frequently used browser.
Pre-Arrival
One of the choice benefits you can select with Marriott Platinum status (50 nights) is five Suite Night Upgrade certificates. I'm not very active in the Marriott program so I don't have a lot of experience with how reliably Suite Night Upgrades are honored. But they did work out here – albeit with a little jankiness…
The way they're supposed to work is that you can submit requests for which room categories you'd be willing to use your upgrade certificates for. At this hotel, it was a very nice Caroline Astor Suite, a 1 BR Suite, or a Grand Luxe Oceanfront – which isn't really a suite but is an upgrade from the standard room.
Five days prior to arrival I was notified that our upgrade was confirmed for a Grand Luxe Oceanfront. They charge an additional $1,750 for a five night stay for this room category so I thought it was a good use of a Suite Night Upgrade certificate – especially since I hear from Marriott loyalists that they haven't found them to be useful historically.
There was very little in the way of the hotel reaching out asking to help with reservations and activities. Beyond the suggestions the Marriott Bonvoy app serves up, you're on your own arranging for ground transportation, activities, and dining reservations. Thankfully, Bermuda is a safe and easy island to navigate and with a little planning on the activity side we had a great time.
Getting There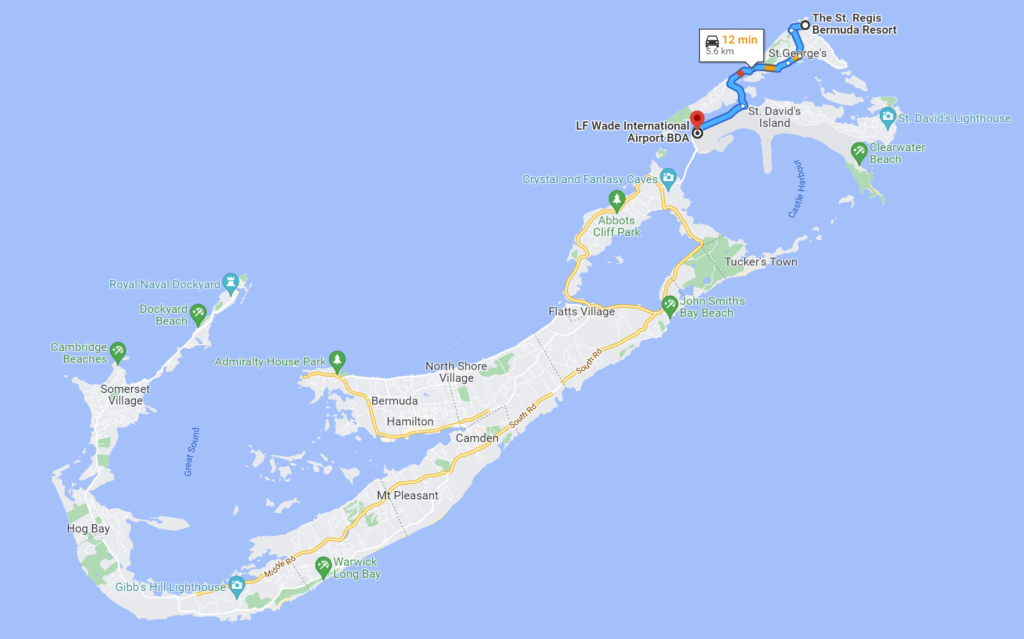 Much of the appeal of Bermuda is the proximity to the east coast of the US. Flight time from Boston is under 2 hours.
The newly-built BDA airport is outstanding. Not only is it one of the best airports for its size in the Caribbean and Latin America – I'd go so far as to say it's one of the best airport I've even been to. It is clean, staff is friendly, and we made our way through customs in just a few minutes.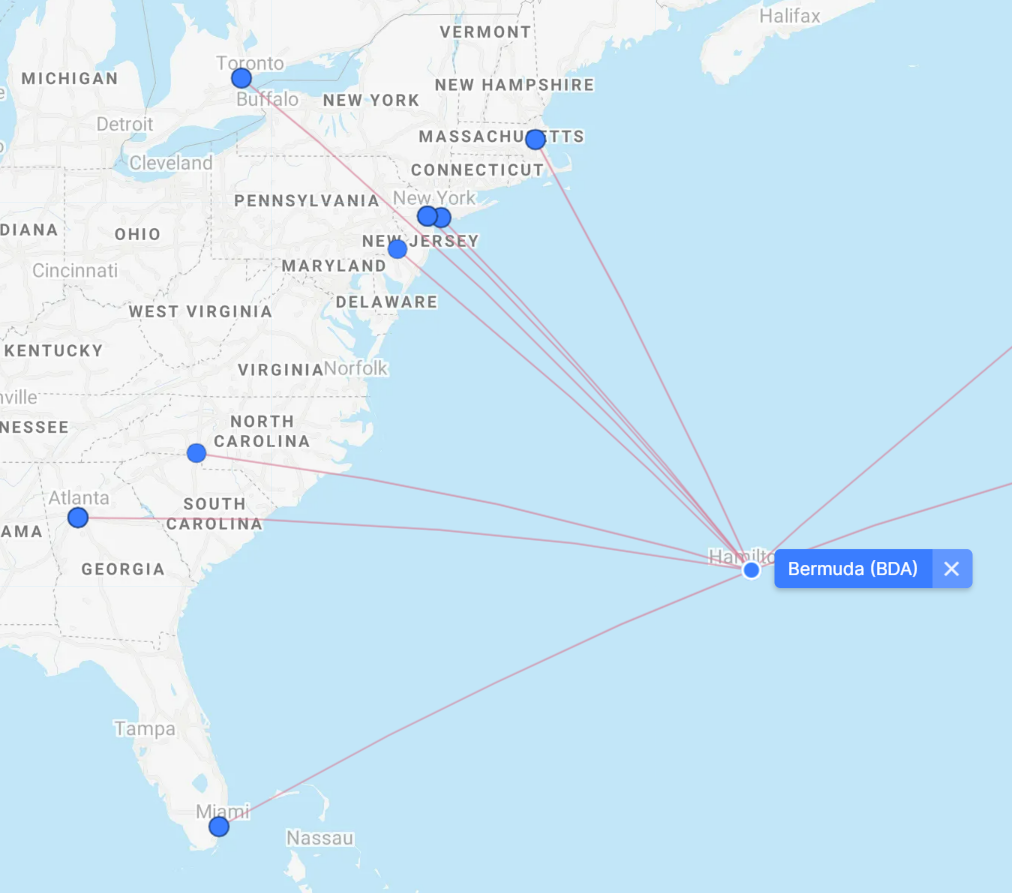 Some reviews dunk on the St. Regis Bermuda for its location. I appreciate the proximity to the airport and the surrounding beaches and attractions. St. George's is a charming historic town (a Unesco World Heritage site actually) that's been quiet since larger cruise ships started docking on the other side of the island since they were too big to get into St. George's smaller harbor.
Bermudian taxis take cash only. They have their own currency, pegged to the US Dollar and accept either currency interchangably. We found taxi drivers to be delightful and honest across the board. Note that tourists can't rent cars in Bermuda, so its either taxis, mopeds or Twizzys. Uber and Lyft don't operate here yet, though there is an app called Hitch.bm. I tried getting a ride with Hitch a couple times but no taxis were nearby. We found that sticking with traditional taxis worked best.
Currently, you need a Bermuda Travel Authorization ($40 pp) and a negative Covid test to enter. These policies change all the time so be sure to check before you go.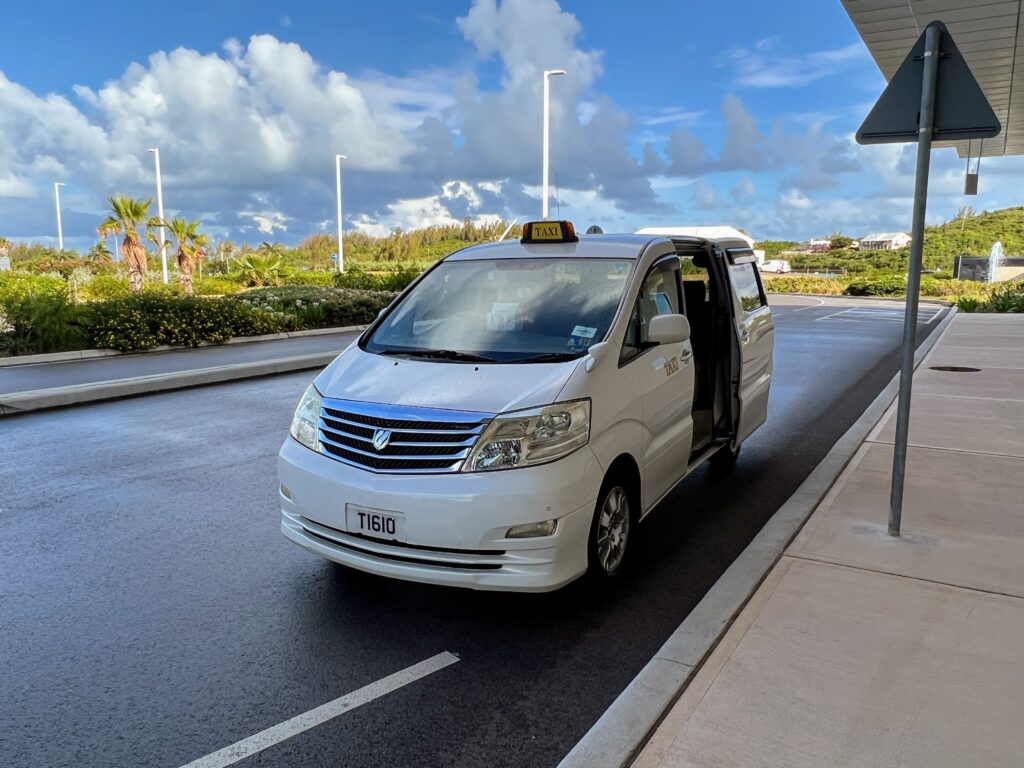 Arrival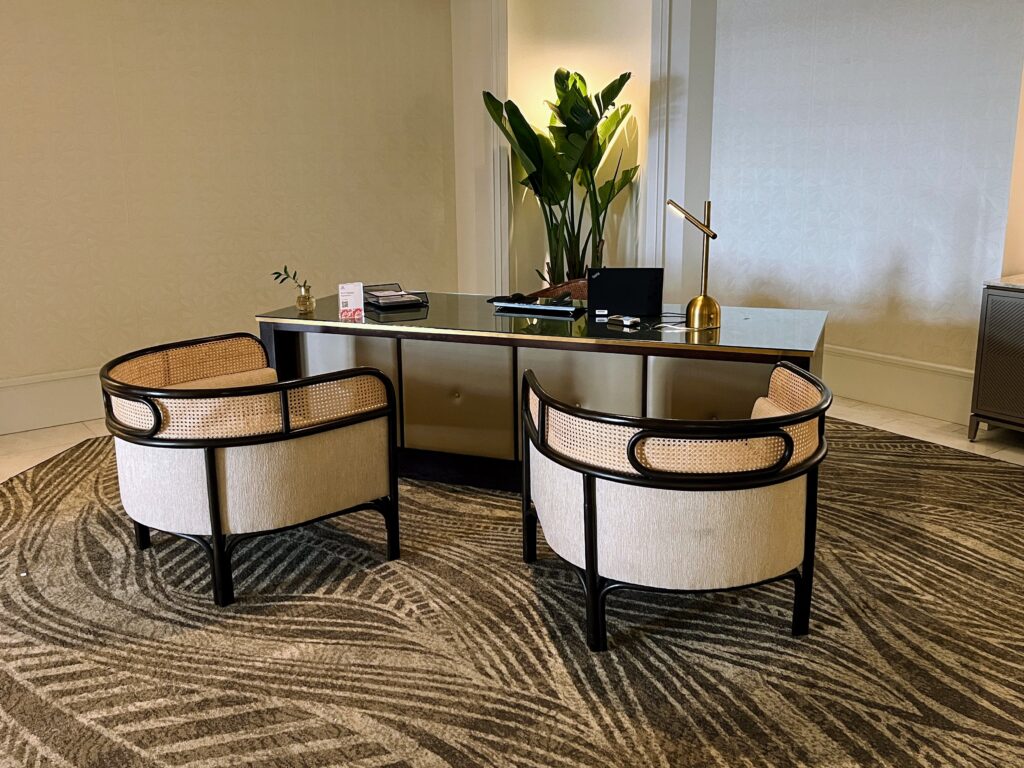 Upon arrival we were greeted by one of the Butlers, given some Prosecco, and proceeded to one of the check-in seating areas.
I was a little "on edge" because I noticed that our room category had uncermoniously flipped back to a "Limited View" room after previously being upgraded. Compounding the stress, a couple at the adjacent seating area was checking out of the hotel early and raising their voices with staff over poor service they received. Combined with some concerning negative reviews I'd read – I was a little spooked.
I asked which room category we were in and was told we were indeed in a Limited View room. I mentioned that I was informed that we'd been upgraded earlier – what happened to that?
The desk agent said she'd have a look, that our room wasn't ready yet either way (we were early), and that she'd get it sorted while we hung out by the pool. About an hour later while we were having lunch at the poolside bar she called and confirmed our Grand Luxe Oceanview room was ready. Crisis averted.
Beyond this, there wasn't much of a review of what was included in our stay. A little orientation on the hotel would be helpful in welcoming guests I think, but given its small size it's not too difficult to figure out.
Tip: Have your pool clothes handy in case your room isn't ready and they whisk your luggage away.
Room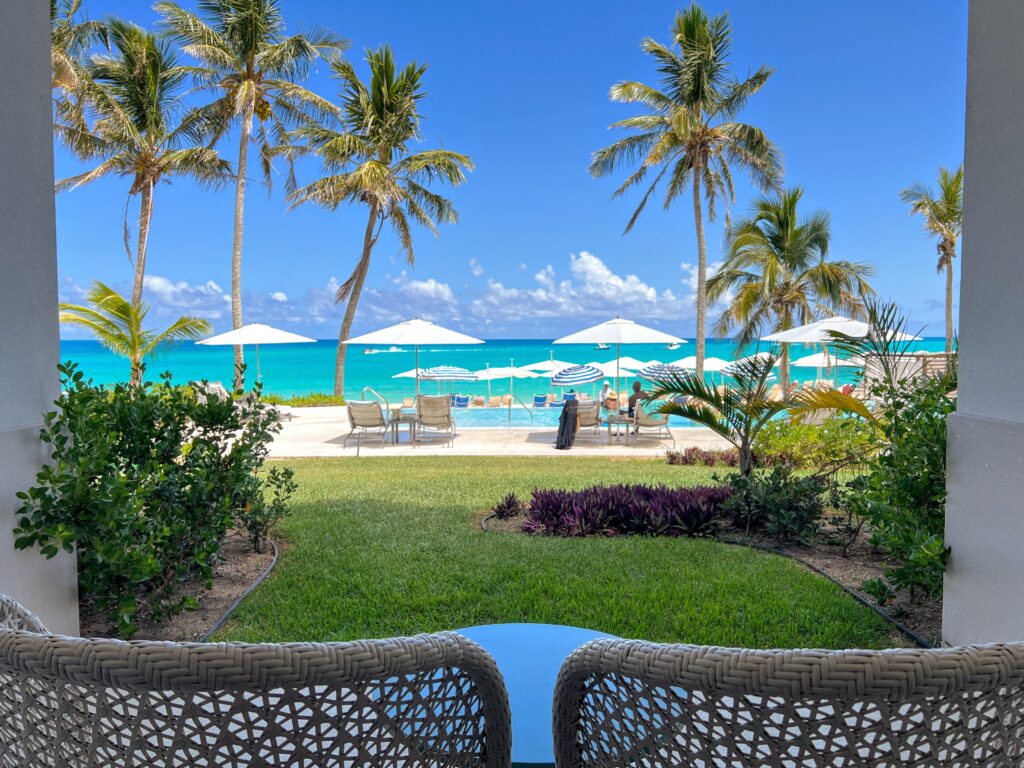 At first, I was little disappointed that our room was on the first floor, especially since the main hotel entrance is on the second floor and it always feels a little "subterranean" taking an elevator down to your room.
But we loved the location of the room for its proximity to the pool, the beach, the spa, and breakfast. It was right next to the family pool, and although we didn't have our kids with us I could see this being a very desirable room assignment for families.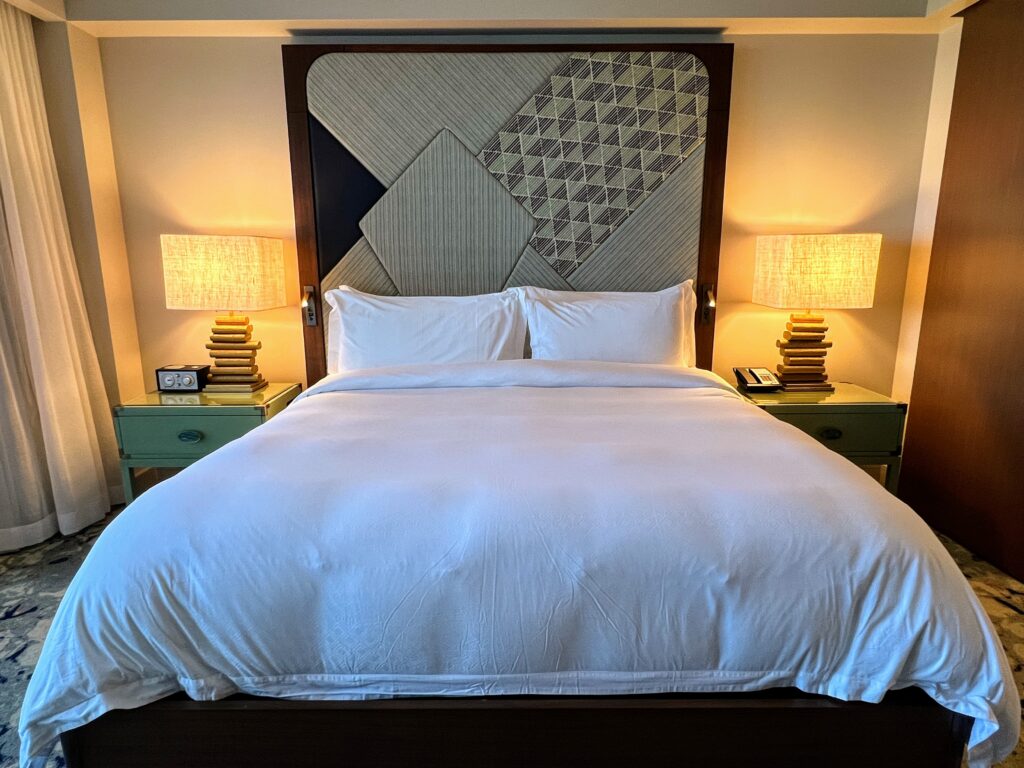 I found the bed to be incredibly comfortable. I normally prefer a firmer mattress but very much enjoyed the luxurious plush setup, consistent with what you'd find at a luxury hotel in New York.
The bedding paired well with the powerful Air Conditioning in the room. Upon arrival it was set to – and fully achieving – a frigid 16C (60F!). I have never in my days on this earth experienced a more impressive display of ambient cooling. In contrast with the humid 85F outdoors it provided a welcomed quick cool-down. We ultimately relented and turned the thermostat up after the first wintery night, but man – what an AC.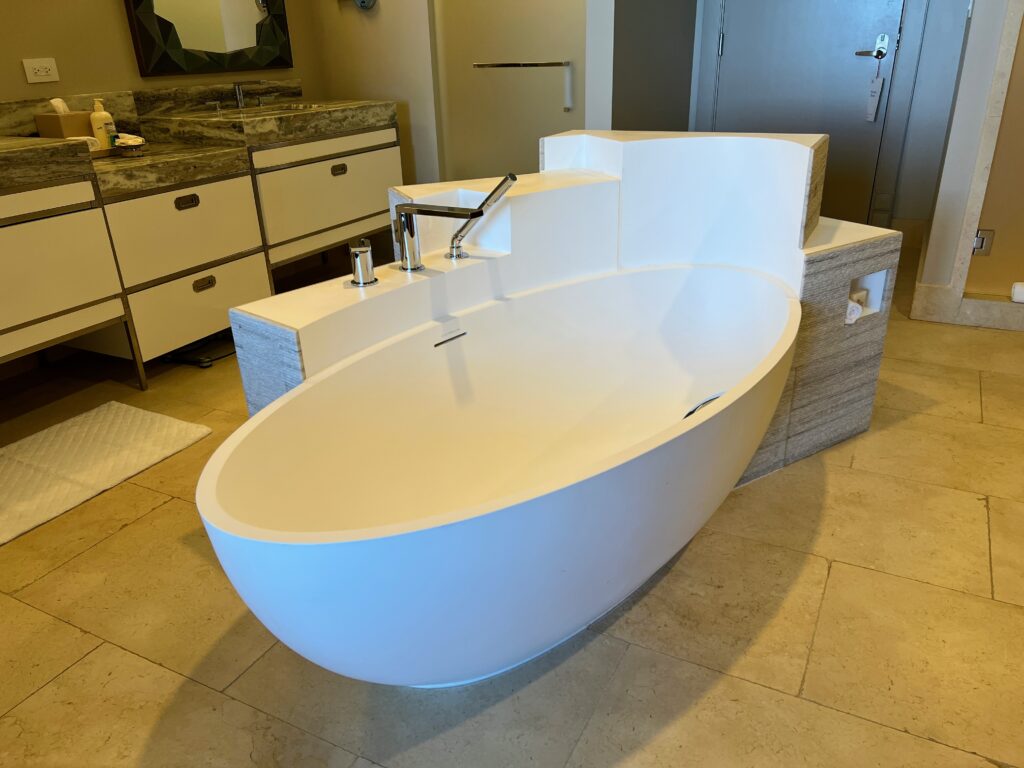 Other than the AC, I'd say the second most notable thing about the room was the bathtub. In addition to a separate shower with rainforest head, the tub sure looked nice. We used it mostly to hang swim apparel on for drying but if you like tubby time this could be a very nice component of the room.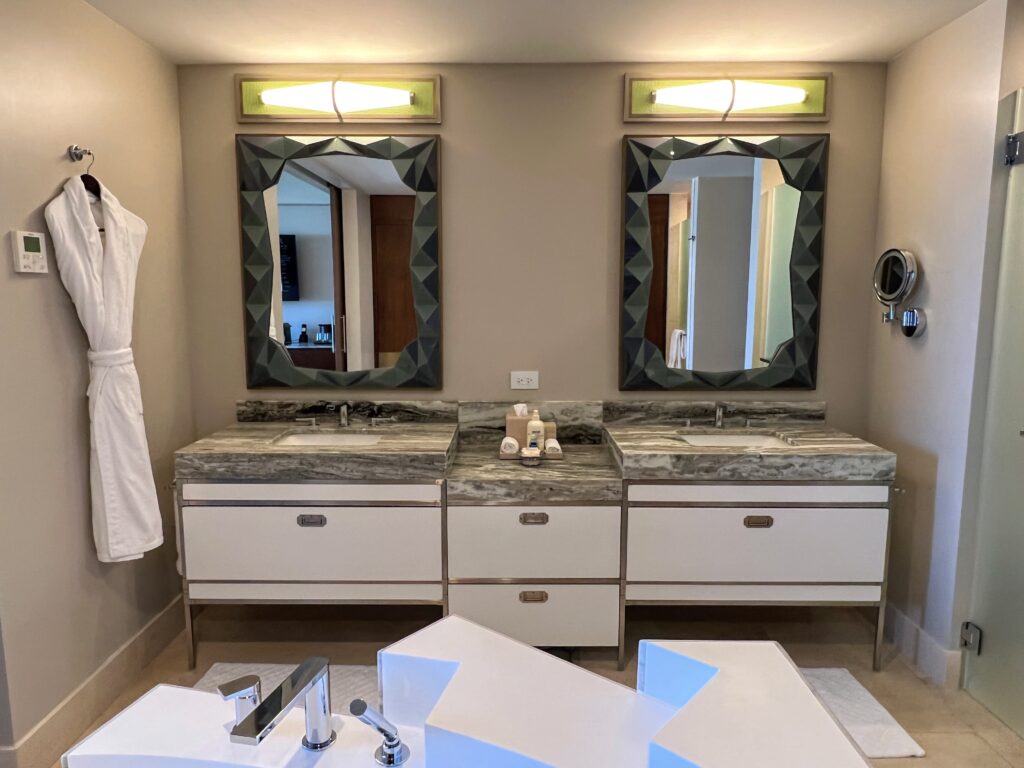 I thought the room was well-designed functionally though, like the rest of the hotel, but not particularly reflective of place.
A Nespresso machine and Tivoli Bluetooth radio along with a nice flat panel TV with easy Netflix integration rounded out the technical aspects of the room. There were plenty of outlets to charge devices, including USB chargers adjacent to the headboard. Bermuda uses standard US-style AC plus so no adapters are needed for those coming from the states.
Service
One of the hallmarks of the St. Regis experience is Butler Service.
We experienced this a few years ago at the St. Regis in New York so I was curious to see how the tradition was implemented at the St. Regis Bermuda.
Here they've adopted a more "on demand" service model, whereas in New York we were assigned a dedicated Butler who introduced himself moments after we arrived and was actively involved with every detail of our stay.
My general approach at a luxury hotel is to sit back and let them surprise and delight. At the St. Regis Bermuda this is a terrible approach, because if you don't know about and ask for service you'll never get it.
Here are some common requests the Butler Services line can help with:
Unpacking/packing belongings
Coffee/tea service upon arrival and each morning
Coordination of nightly turndown service times
Requesting housekeeping refresh room while you're away
Pressing of garments
Arranging for taxis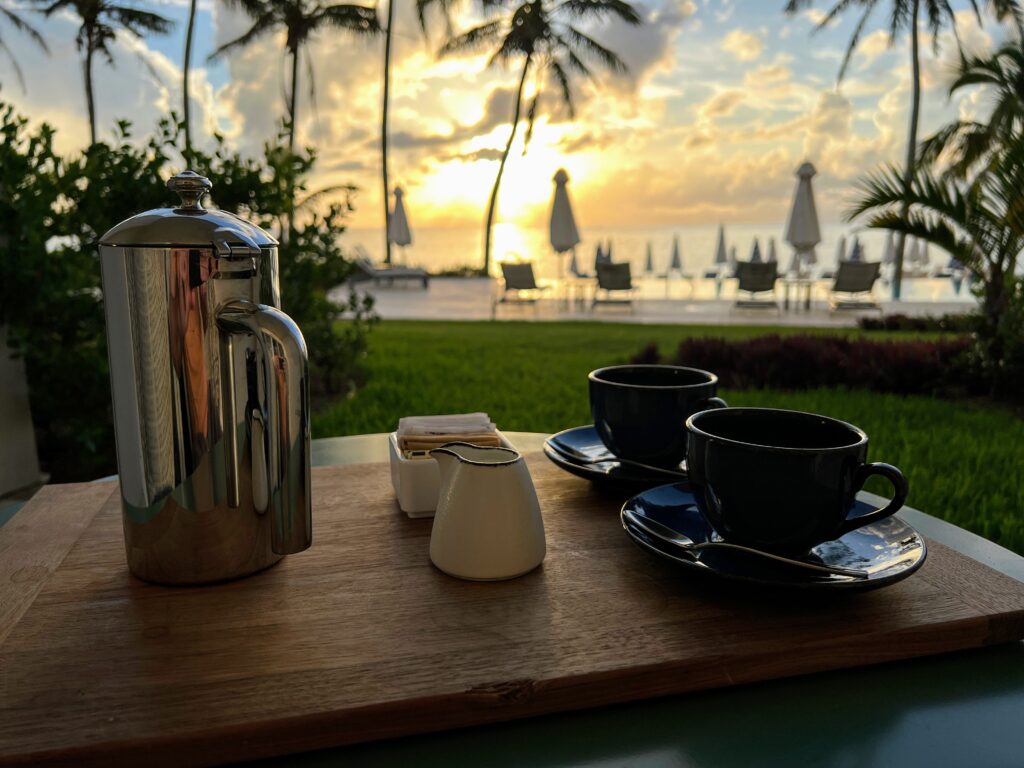 I found it helpful to set a standing time each day for morning coffee and evening turndown. Once these preferences were set, it was smooth sailing. But if I didn't know about Butler Service -or- I didn't ask for it I would have been left feeling like the hotel didn't offer much in the way of service at all.
My point is: Be sure to ask for service because it's actually pretty great here. But you have to know to ask!
Beach & Pool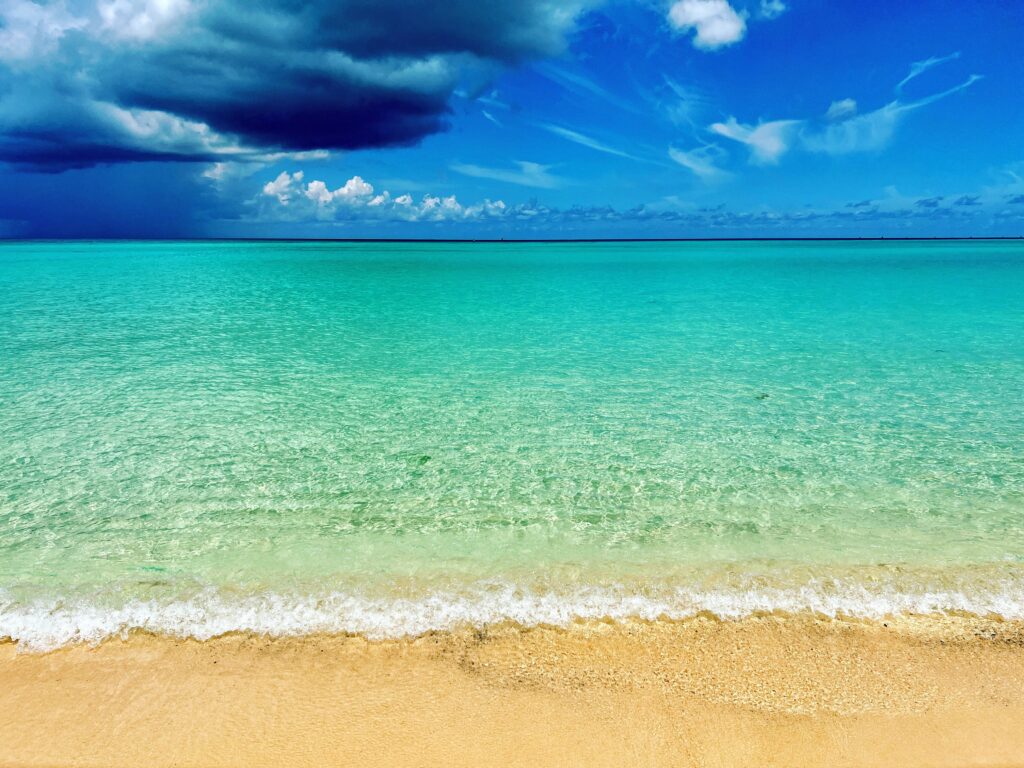 Bermuda is all about its beautiful beaches, and the beach at the St. Regis is very good. Soft sand, warm turquoise water, and chair service with umbrellas provided by the hotel: That's a very desirable combination a lot of us are looking for on vacation.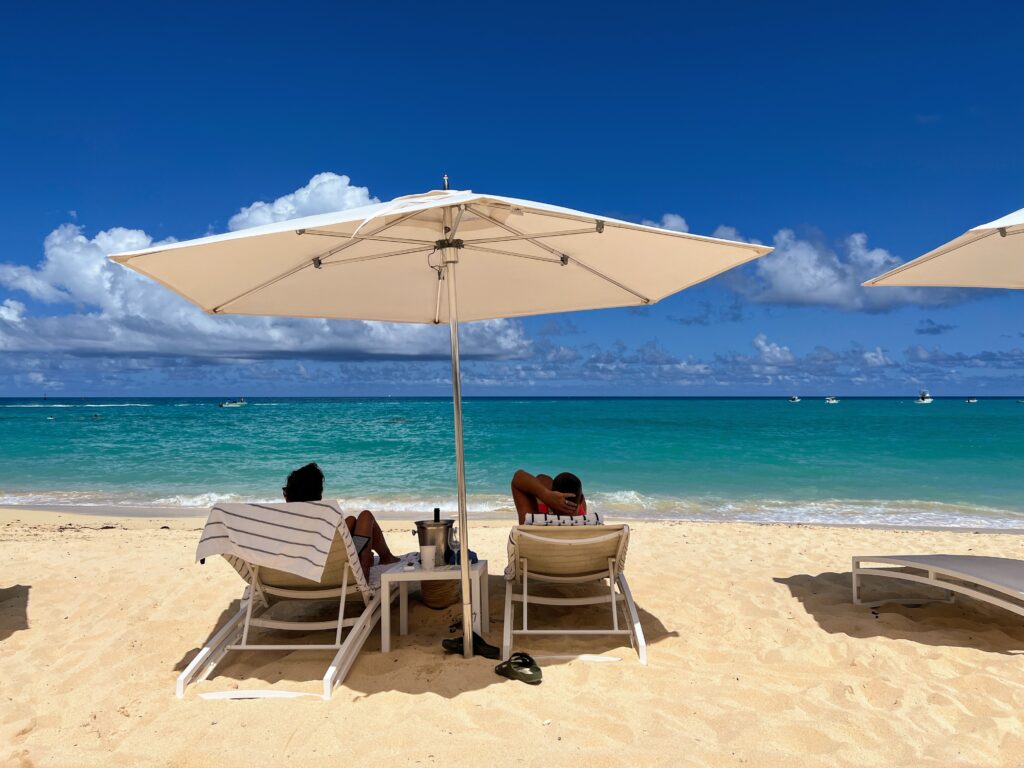 During our stay, it was a little more competitive for chairs on weekends than weekdays. Towels are plentiful – you set yourself up here – and complimentary sunscreen is available.
I came across some reviews that noted slow food & beverage service at the pool and beach. While I can see this happening, (I had one beverage order go undelivered until a second request a half-hour later with another attendant was honored) I thought overall the service was good.
They may be a little understaffed, but find Chris at the pool and Abraham behind the bar and you'll be in good hands.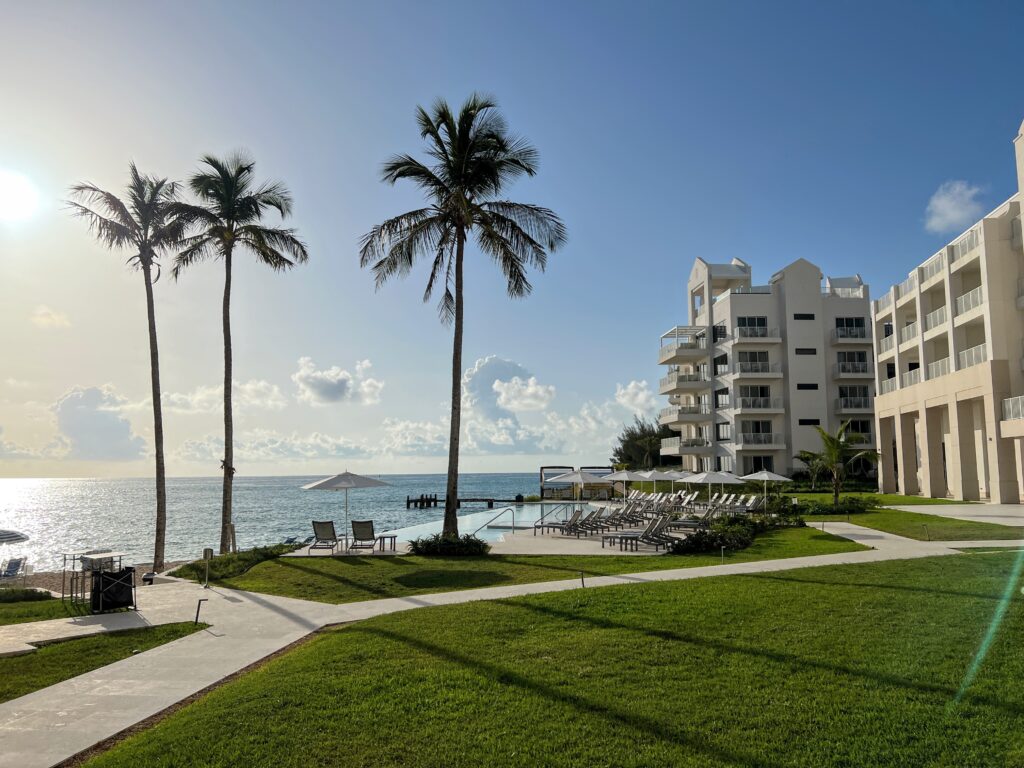 There are two infinity-edge pools: One for adults only and one for families.
Between the two pools and the beach it feels like there is enough space to go around, and I didn't observe early-morning chair reserving shenanigans.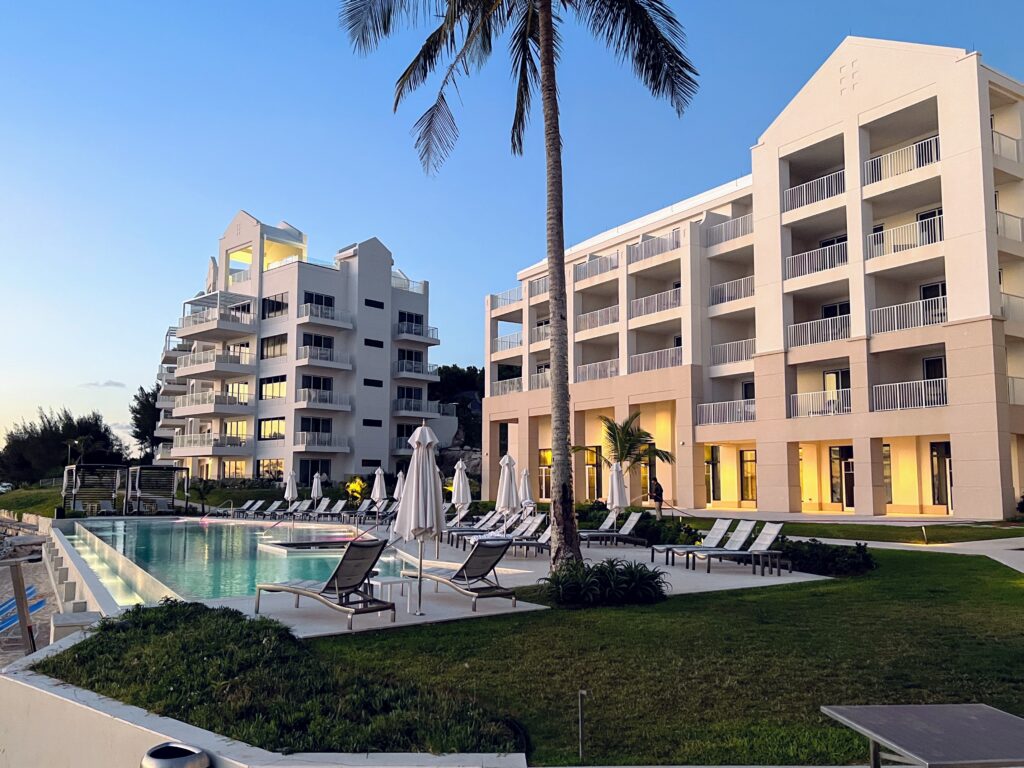 Dining
I was a little concerned that the hotel has only one space for dining that's called "Lina" at breakfast and "BLT Steak NY" for dinner. I was concerned because a) That's not a lot of dining variety and b) Who wants steak in Bermuda?
Turns out almost all of Bermuda's food is imported with the exception of a few fish dishes, and be sure to ask if the fish is local if that's important to you. The island vibe here is very much secondary while celebratory steakhouses and higher end continental options seemed to dominate the dining options we found.
Breakfast at Lina each morning is good, and a very nice benefit for those with Platinum or better status with Marriott. You can choose breakfast for two -or- 1,000 Marriott points so the smart play is breakfast given that it costs $49 per person for the buffet. A la carte is also an option – they take off $98 from your breakfast bill each morning. The 17% service charge is not waived.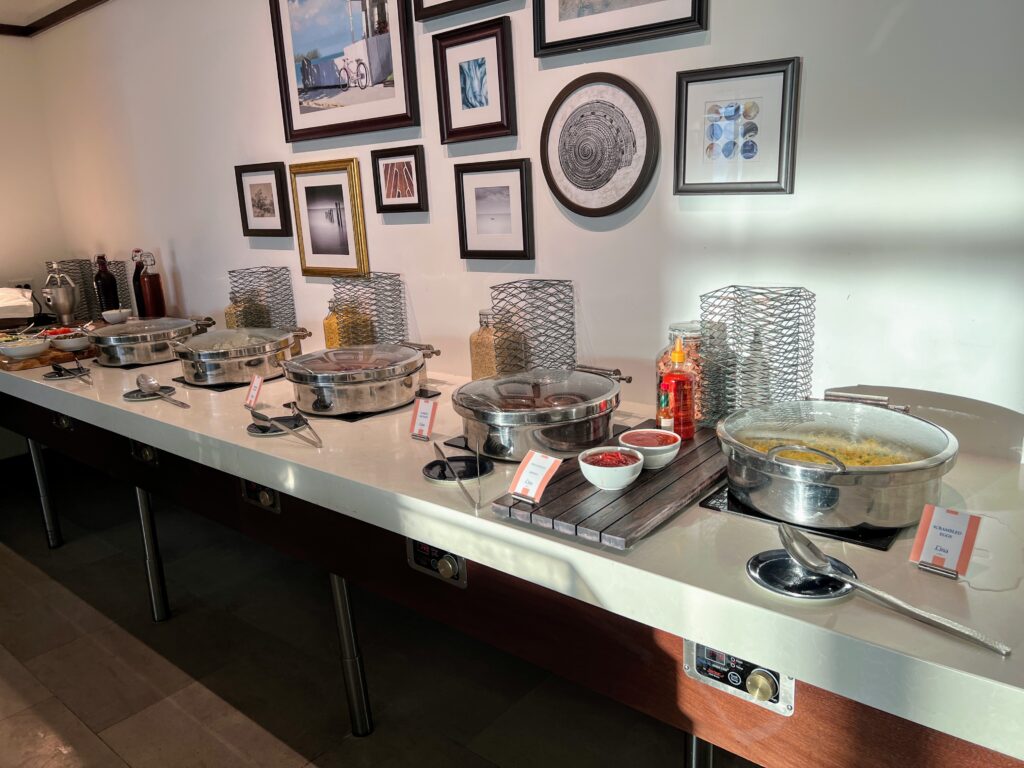 We didn't have dinner at BLT Steak NY (menu). It gets good reviews, but we opted for other options off-site. I'd be hard pressed to say which I enjoyed more: The Pink Beach Club at The Loren or Island Brasserie at the Rosewood. They were both fantastic, and dining there was a great way to check out those hotels.
Dinner at the St. Regis Bar one night hit the spot after a long day touring the island. They've got a broad menu there and additionally a focus on Sushi with a very good chef in town.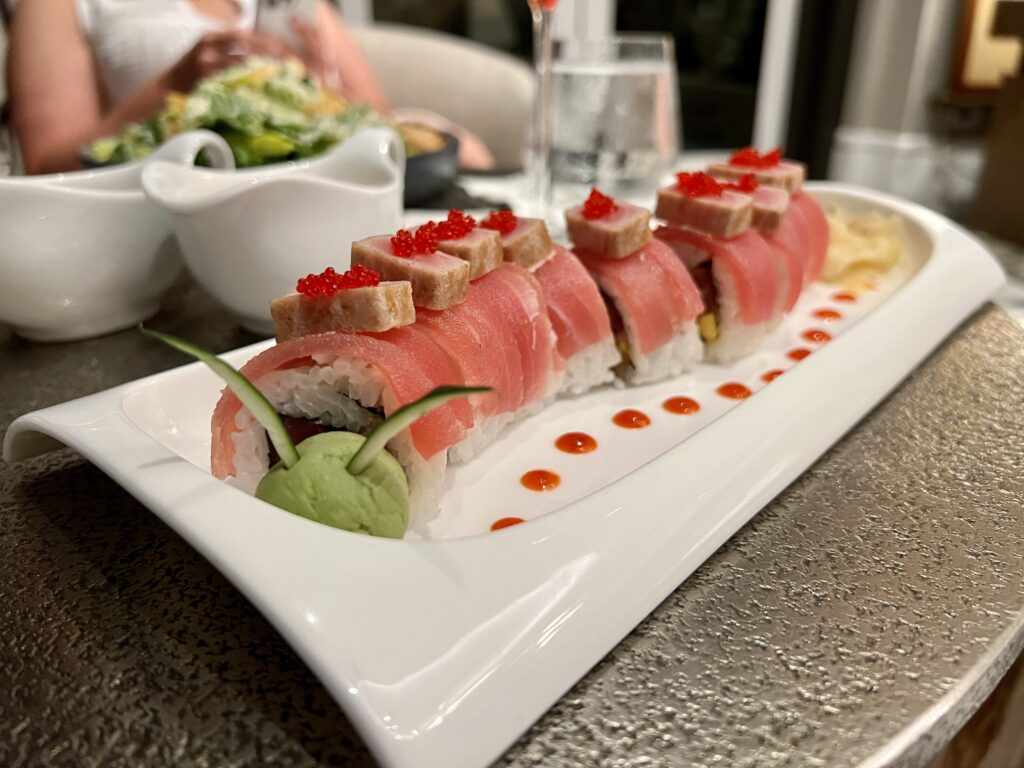 The poolside bar also serves a more casual menu during the day, which we enjoyed on arrival. Room service is also an option.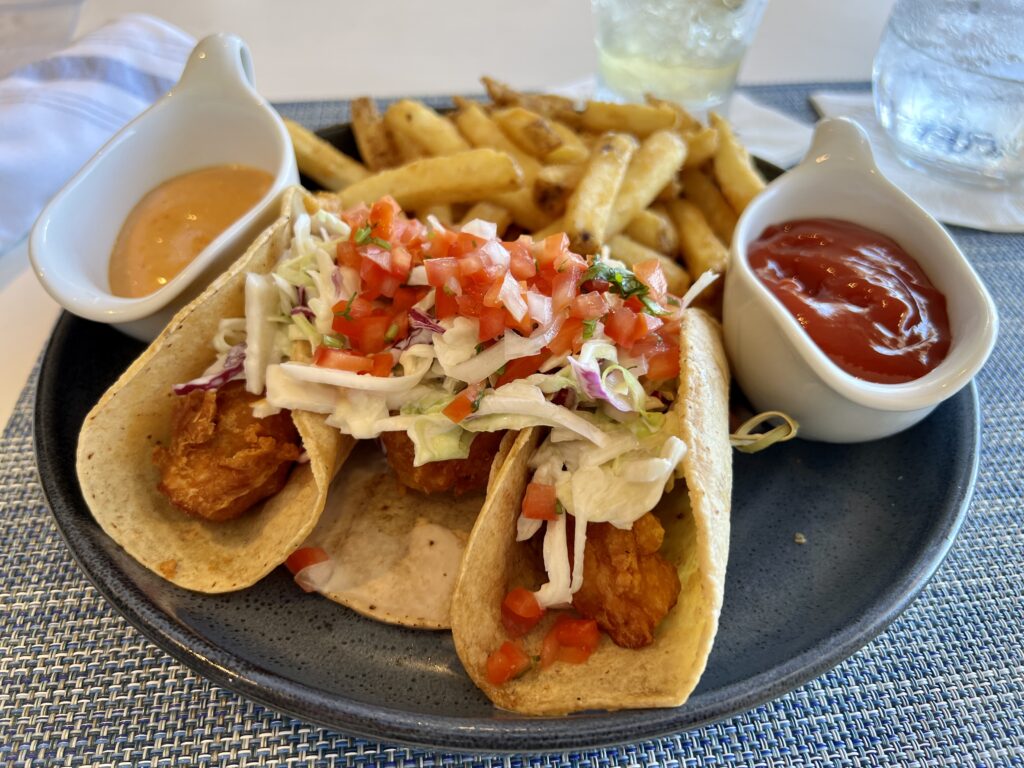 There aren't any reliable dining options immediately adjacent to the hotel, but there are a couple good spots in nearby St. George's a short cab ride or a long walk away. Most everyone we talked with enjoyed Wahoo's as much as we did.
So although there aren't as many (nor as good) options on site as say the Park Hyatt St. Kitts the food & beverage operation is solid. Plan to have some options off-site and I think you'll be left with fond memories of your time in Bermuda.
On-Site Activities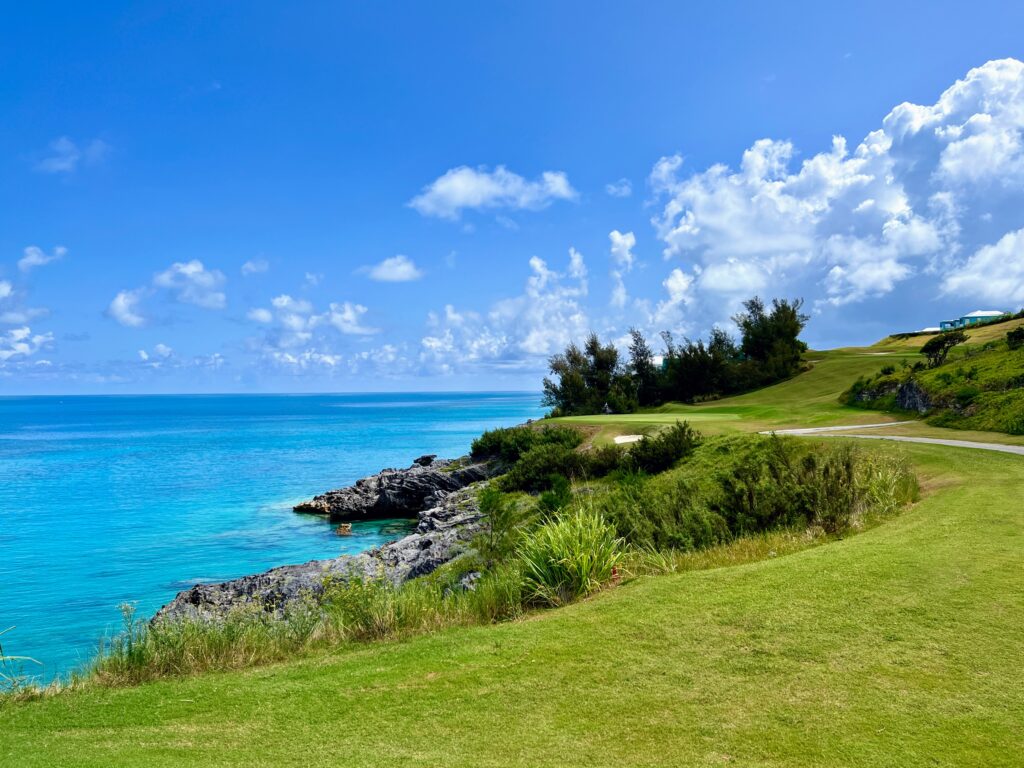 The hotel has its own Five Forts Golf Club on-site. The pro shop is literally inside the hotel. It's a short Par 62 with spectular views on some holes, narrow fairways, and hard greens. I enjoyed playing it once, but given the $150 price tag and $80 club rental fee that was enough for me. It would have been nice to have a reduced replay rate or waived club rental a second time around.
The Spa at The St. Regis was just a couple doors down from our room on the first floor.
Both the golf course and spa were wide open in terms of booking and experiencing them. I appreciated not having to book them ahead of time, and it was nice to have the golf course mostly to myself.
The St. Regis evening sabering tradition is observed each night at 6p. This is nice reason to gather and see friends you've made during your stay.
The hotel hasn't quite yet fleshed out the experience with activities you might find at other resorts like daily fitness classes, snorkel/mask rental, and rum/wine tastings. But I can see those options coming in the future. If it means no resort fee maybe we're better off for it?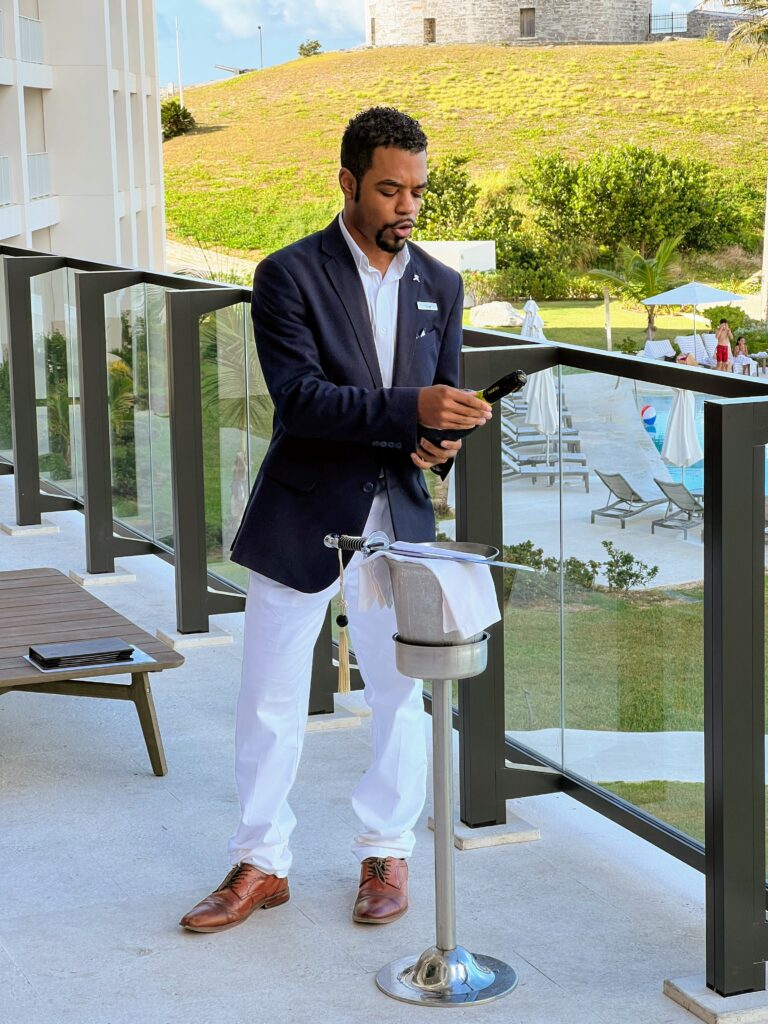 Pros
Hotel is new. It's fresh, clean and things are in good working order.
The Beach: Direct access to a very nice beach with soft sand and warm turquoise water.
Two infinity edge pools. One for families, the other is for adults.
AC is the most powerful and effective I've ever experienced.
Mattress and bedding is outstanding.
WiFi works well across the property and cell coverage is strong as well.
On-site golf.
On-site spa.
Breakfast: Very good, and $98 credit each morning w/Platinum status is strong for Marriott.
Butler Service. Just be sure to know what they can do and ask for it.
Nightly sparkling wine sabering.
No resort fee. Cash stays incur a 7% service fee + ~11% tax. Both are waived on award stays.
Cons
Hotel has a sterile feel that doesn't connect to Bermuda.
No on-site activities beyond golf and spa. No tennis. No group fitness classes. No snorkel rental. No watersports.
Butler service is "on demand" rather than true butler service like you may have experienced at other St Regis hotels like NYC. Becomes almost a glorified guest services line + complimentary room service coffee each morning.
Only one on-site restaurant.
Bottom Line
With the arrival of the St. Regis, Bermuda has a new high-end points hotel. Speaking for myself living in the Boston area, Bermuda has long been on my list of places to visit but never quite made the cut. Ease of access from the east coast combined with the ability to burn Marriott points made Bermuda the most appealing vacation option for us this year – and the island impressed us so much we'll surely return.
I read some concerning reviews of the St. Regis prior to arrival. And we did witness guests around us loudly dissatisfied with the pace of their breakfast service, being passed over for beverage service on the beach and such. By and large, the dissatisfaction was relative to 5 Star hotel service standards. I get it: When you pay a lot for a hotel you want the experience to live up to those expectations. But like I was discussing with Robin from Luxe Recess on the podcast – in travel the only thing we can fully control is our expectations.
I don't think the St. Regis is the best hotel on the island. The Rosewood and The Loren are generally more highly regarded, and after dining at each of those hotels I agree with that sentiment. Those hotels capture the feeling of Bermuda far more than the St. Regis does. But you can't use hotel points at those hotels and they're quite expensive.
That said, I think flagging this hotel as a St. Regis sets expecations higher than what they're currently delivering both in terms of the physical plant and in service standards. If it were in the Hilton portfolio, it would slot in very nicely as a Conrad. But within the Marriott portfolio, despite their many brands, it's an awkward fit. Perhaps a JW Marriott or Westin would be a more appropriate designation?
All that said, I'd look forward to a future stay at the St. Regis Bermuda. If you come in with moderate expectations, engage with the hotel in a proactive manner, and use it as a jumping off point for exploring the rest of Bermuda I think it can deliver a very satisfying hotel experience.
Subscribe to the Milenomics Podcast Network for further discussion – including how we'd go about ginning up another 400,000 Marriott points, preferrably without staying at Marriott hotels.