A few weeks back American Express seemed to have pulled the Blue Business Plus from their universal referral site. This was disappointing because I've been meaning to apply for this card for the better part of this year.  Unfortunately other cards came and went and kept this beautiful Blue card from my wallet. We talked a lot about this card as part of our Podcast, "American Express 5 card strategies"
The card is actually one of the best cards for non-bonused spend, earning 2MR (2.5%CB) up to $50,000 per year. That puts it near the top of the list, and a great earner in its own right.  It also has no annual fee, which means it can be a warehousing card for your Membership Rewards. When you close any other MR earning cards you do not need to worry about losing your stash of points. This card will keep them safe forever.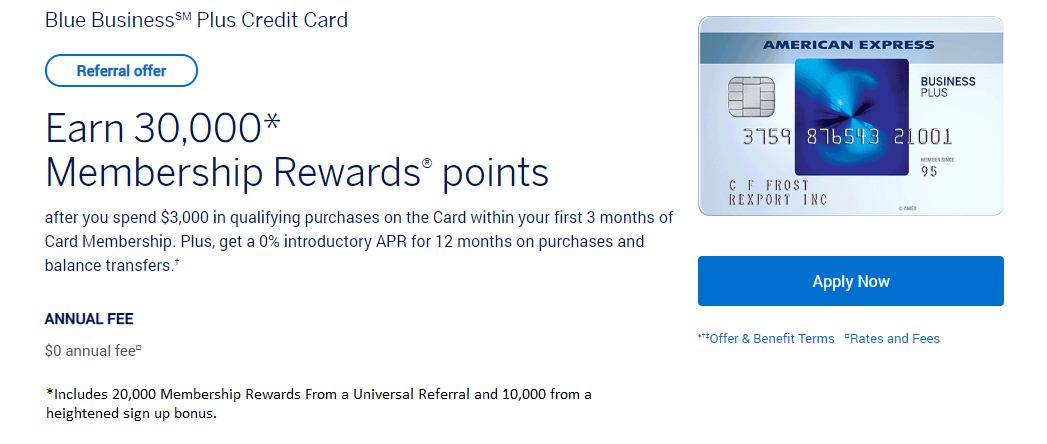 Back, and Ready to Play Ball
In the title image above you see I've created the illusion of a 30,000 MR sign up bonus. I'll step through why here and go over some of the  features of American Express applications in the process.
For those of you not familiar with the universal referral feature of American Express cards: late last year American Express opened up referral bonuses to current cardholders. This means just about anyone can refer a friend or a spouse for somewhere between $100 and 20,000 MR depending on the card you are referring from.  The undisputed king of the referral game is the Business Gold card, earning 20,000 Membership Rewards per referral.
I'm fortunate that I have this Business Gold card, and so when the Blue Business card finally returned to the referral site I snatched it up.  Not only will I pocket 20,000 Membership Rewards for the card itself, but the Blue Business Plus is actually able to be applied for with a 10,000 MR sign up bonus when referred through the universal program.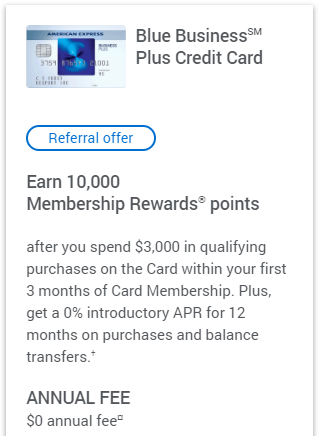 For all of the reasons I just went over it is critical really that you only apply for Amex cards through links like these where you can control the referral. I recommend if you're single finding a good friend you can trade referrals with. I do not recommend you refer yourself. Ever.
The basics of this section are that if you were to apply for this card without a universal referral link you'd be forfeiting 30,000 MR.
The Offer Goes Beyond the Sign up Bonus
This card also includes a 12 month 0% APR purchase/BT rate.  For purchases there is no fee, and you'll earn 2 MR per $1. For a BT you're looking at a 3% fee.  With some legwork you can basically come out ahead, or at a wash with the 2MR, and hold your funds for 12 months with $0 carrying cost.
With savings rates humming along right now around 2.5% let's say you capture 9 months of interest on a $15,000 credit line. That's $282 in interest.  Instead of doing this you could look at funding a healthy bank bonus like a citigold or other HNW bank account for $500-$1000 in additional income.
Of course only do this if you're able to be responsible with the funds, and won't use them over the course of the next 12 months.
The one that got away
American Express seems to be either randomly or dynamically managing what shows on the referral site, evident by this offer disappearing (and reappearing) along with some other all time high offers we discuss on our paid podcast.
I suppose (because this is Amex) it could all be random…and a byproduct of their overly complex system constantly breaking and then needing repair.  Either way with any credit card I ask you to remember the following by Robert Dwyer:
Dwyerism: You only regret the credit cards you didn't apply for….
Robert has famously used this phrase as a catchall of sorts and it is so true….
Imagine there is no tomorrow.
Apply now as if the offer would be gone in a day.
Regret nothing.