Last week Hilton announced Confirmed Connecting Rooms. This is a nice feature for families, especially since this can be a point of concern when connecting rooms are important.
The announcement got me looking into some upcoming reservations, and led to a new-to-me discovery: It's possible to upgrade award stays with cash, sometimes at very favorable pricing.
Why are Cash Upgrades on Hilton Award Stays Compelling?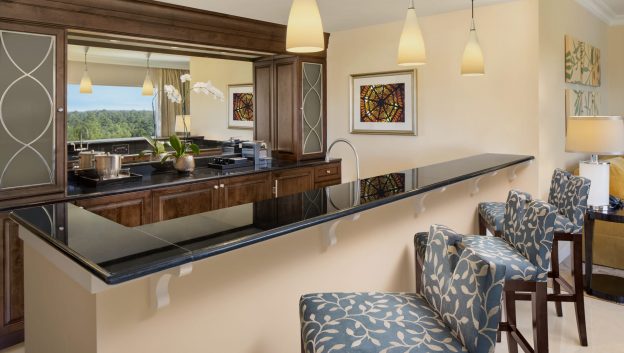 For the purposes of this post I'll be discussing Hilton award stays as either:
Standard Room Rewards
Stays booked with Hilton Free Weekend Night Certificates (usually from Amex Surpass and Aspire credit cards)
A lot of us have an abundance of Hilton free night certificates from Amex credit cards.
See: [Expired] No Fee Hilton Aspire Upgrade Offer [Regularly $450]
Hilton has been generous in extending the expiry of these certificates, and have made them usable any night of the week during the pandemic. But keep in mind: Stays need to occur before the certificates expire.
As travel returns it makes sense to look for opportunities to make use of these certificates.
See: Keep These Things in Mind About Hilton Weekend Certificates
One thing that's often frustrated me when redeeming Hilton free night certificates is how they can only be used for a standard rooms.
And when using straight points, more expensive rooms tend to be a far worse value per point.
Hilton is not known for generous complimentary upgrades to Diamond guests, even when nicer rooms and suites are available. Even if you might get lucky occasionally, it's nice to be able to lock in an upgrade ahead of time when you need it.
I've had some Hilton stays in standard rooms where they put me in a lackluster room, even with Diamond status.
Finally, an upgraded room can sometimes accomodate more guests which in turn could reduce the number of rooms required for a stay.
Put this all together and cash upgrades on Hilton award stays can be a very good option.
Hilton Cash Upgrades on Awards: An Example
First, let's illustrate a point I made above. That more expensive rooms are a worse value per point than Standard Awards.
Standard Room: $362/nt for 80,000 points = 0.45 cents a point of value
Premium Suite: $726/nt for 263,000 points = 0.27 cents a point of value
I'm not sure why Hilton charges so many more points/nt for nicer rooms. It's totally dissimilar from international premium cabin award flights which generally provide outsized value.
But we have to hit the pitch we're thrown, so here we are.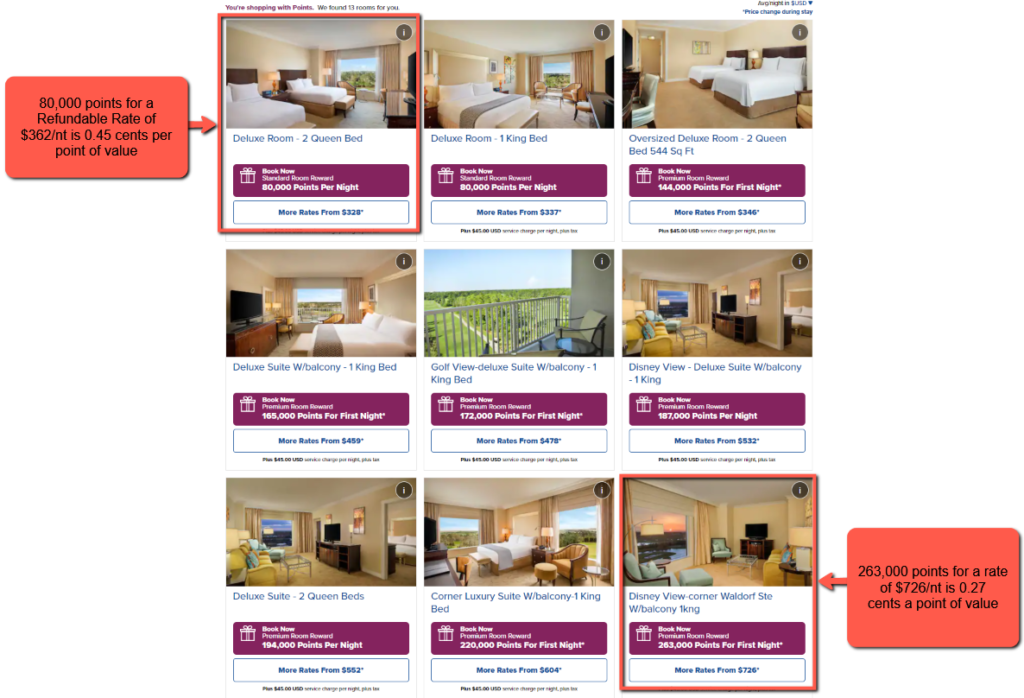 In these comparisons at the Waldorf Astoria Orlando I looked at the refundable room rate, because award stays are refundable. To keep things simple, I didn't include taxes. Resort fees are waived on award stays though so keep that in mind as well.
Second, let's look at an example of how much it costs (in cash) to upgrade an award stay.
In this example, I booked a Deluxe Room – 2 Queen Bed with a free night certificate.
I called the hotel inquiring about guaranteed upgrades ahead of time and was given these options:
The base award I booked was for a room selling for $362/nt
I could upgrade to a $459 suite (a $97/nt difference) for $50/nt
Or a $726 premium suite (a $364 difference) for $150/nt
I think this is a pretty great option compared to using straight points to ensure a suite or premium suite. Not only do I avoid squandering Hilton points at a bad per-point value for the nicer rooms, but the amount this property charges for upgrades is significantly less than the difference in cash prices for the suites compared to the standard room.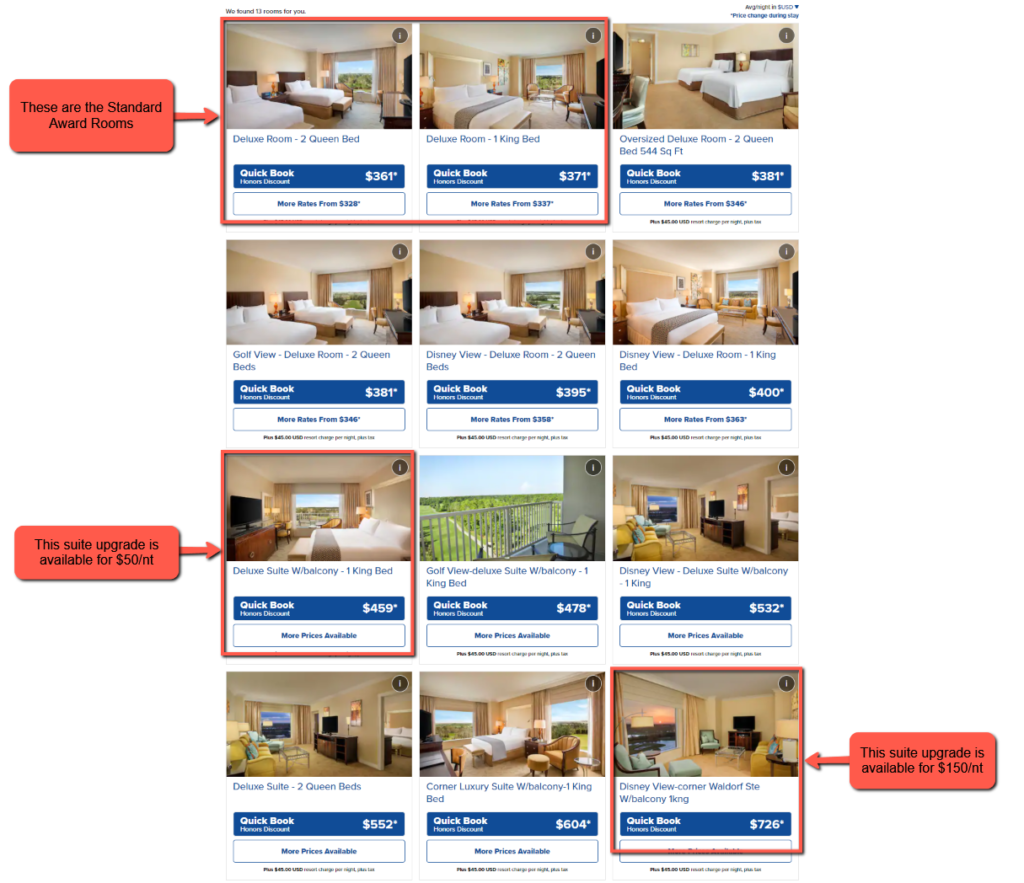 How to Upgrade Hilton Awards With Cash
Step 1: Secure the Award Reservation
While Standard Room Awards are bookable online, free night certificates are more difficult to book.
Options include:
Calling Hilton. 877-444-9847 is the "Diamond" line.
Sending @HiltonHonors a Twitter DM
Emailing diamond@hilton.com
Step 2: Call the Hotel Directly to Inquire About Paid Upgrades
This is important: You need to inquire with the hotel directly for these sorts of cash upgrades. As far as I know they're not available through Hilton central reservations.
I called the local number listed on the hotel's landing page and hit "0" for the hotel operator. I asked for the department in charge of requesting connecting rooms and paid upgrades and was transferred to the front office.
The on-site front office employee I connected with was terrific. She was familiar with which room configurations could be connected, the square footage and features of all the rooms, and patiently quoted me prices for upgrades. She was genuinely helpful and collaborative which I very much appreciate.
Bonus
If you've booked two rooms and upgrade one to a premium suite the connecting room will potentially be upgraded to a better room category as well (ie, a better view) at no additional cost.
For example if you book two standard rooms and upgrade one to a suite with a view and the rooms are connecting – it's potentially impossible for that connecting room to also not have that same view. A small but nice feature, and it would be confirmed on your reservation after the upgrade is confirmed.
Commentary
The ability to confirm guaranteed upgrades on Hilton award stays is a game changer for me personally in terms of how enthusiastic I am about redeeming Hilton free night certificates and Standard Rooms Awards.
There are some nice properties in the Hilton portfolio but the thought of jamming a family of 4 into the smallest room in the hotel often left me seeking other options. This changes that perspective.
That said, it works better at certain Hilton properties and for certain occassions better than others. For example, there may be no desirable suites in the hotel. Or the suites may be designed to be more luxurious without additional bedding.
I've said before that my idea of hotel status done right is when you book the cheapest room in the place and they give you a complimentary upgrade you to a gonzo suite.
See: Terrace Suite Upgrade at the Park Hyatt New York
I've also been annoyed by Hilton "Concierges" reaching out offering paid room upgrades, very similar to the one I've written about here in this post. I was miffed because I look to a Concierge to assist with dining/activity reservations, not sell me an upgrade I'd hope to receive by virtue of status.
But like I said upstream – we have to play the hand we're dealt. Hilton doesn't operate the way Hyatt does. Hilton has set up a program where local properties decide how they want to distribute room upgrades. If I were managing a Hilton property I too would try to sell the upgrades for cashing rather than giving them away.
Bottom Line
Hilton Standard Room Awards and free night certificate bookings can be upgraded with cash by calling the hotel after securing the award.
This enables a cost-effective way to secure guaranteed suite upgrades ahead of arrival, potentially reduces the number of rooms needed for a family, and provides more flexibility on award redemptions.
Assets are fungible. It's worth taking a look at what the optimal mix of cash and award currencies are depending on the occasion and program you're booking with.
Hopefully this enables us all to get some Hilton points and free night certificates off the book for some great vacations.
For more on this, check out Episode 128 of our podcast.